There is a bunch of stuff that can go wrong when shooting a pistol if you have a poor grip on the gun. We're going to tackle some of those issues really quick, and then go over how to grip a semi-auto pistol the way the experts are currently teaching.
Having a proper grip on your gun, which just means that you hold your gun correctly, is the fastest way to shooting properly, shooing accurately, and minimizing gun jams.
Your grip, again the way you hold your gun, is the most important aspect of shooting properly. In fact, most of the other fundamentals can be less than perfect and with a correct grip you'll still be hitting your target.
I know because I've tried it.
Moving on from that, let's discuss why the way you grip your gun is so very important.
The Grip's Role in Recoil Management:
Believe it or not, the way you grip your gun has a direct correlation to how well you can manage your recoil. And, going into the next point very briefly, managing your recoil helps you shoot follow up shots faster and with better accuracy.
But, more on this in a moment.
A good grip has the following traits:
As high up on the gun's grip as possible. This means that the web where your trigger finger and thumb come together are mashed up uncomfortably into the beavertail of your pistol.
Because the web of your hand is so high, your middle finger is also up high, mashed tightly into the trigger guard of the pistol.
Your shooting hand, so the hand that actually pulls the trigger, needs to have the fingers wrapped tightly around the grip of the gun.
Your support hand needs to wrap around the shooting hand and fill a gap in your grip and it also needs to be tight with a lot of force.
Your thumbs should rest naturally pointing forward as shown in the above picture, or the stronghand thumb flagged up.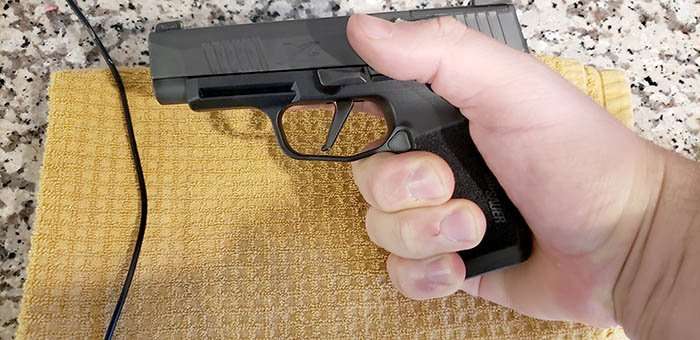 How tight should your hands be around your grip? What I do is grip the gun with both hands equally as hard until the gun and my hands start to shake. Then, I back off until they no longer shake. That is my sweet spot.
A good grip is not meant to be comfortable, though you may get to the point where you don't mind shooting this way. Remember why you're carrying the gun to begin with: To potentially save your life one day.
Therefore, your comfort doesn't really matter.
Why this helps:
Your hands being high up on the gun and wrapped tightly around it prevents the gun from having any excess movement. Because there is no excess movement it allows you to be more accurate especially in rapid fire, and minimizes the chance that you may experience a malfunction.
The Grip's Role in Shot Accuracy:
You're more likely to be accurate with your shooting with a solid grip than not. As mentioned above, this is true with the follow up shots simply because you're not having to fight the recoil of the gun as much. When you take a shot, physics dictate that the muzzle of the gun is going to rise.
A proper, strong grip will help prevent this, not completely, but enough that it allows you to take faster, more accurate follow up shots because the gun is not moving as much.
Having a tight grip is a necessity, but over-tightening it, or continuing to tighten as you're pressing the trigger, can be an issue for many people because it can push your front sight off of your target.
The reason why, is because it's hard for most shooters to isolate their trigger finger from the rest of their grip. What this means, is that as they press the trigger, they continue to tighten their grip.
This can subsequently push your shots to either side, depending on if you're lefty or right-handed. Or you can even cause yourself to shake a bit. And, if any of that happens right before or as the shot is breaking (meaning the trigger causes the hammer or striker to drop sending the bullet out of the barrel) that can spell accuracy disaster.
This is one of the areas where dry firing can really come into play, and why I recommend a tool like the Mantis X training doohicky. You mount that thing to your rail and it helps to diagnose things like this.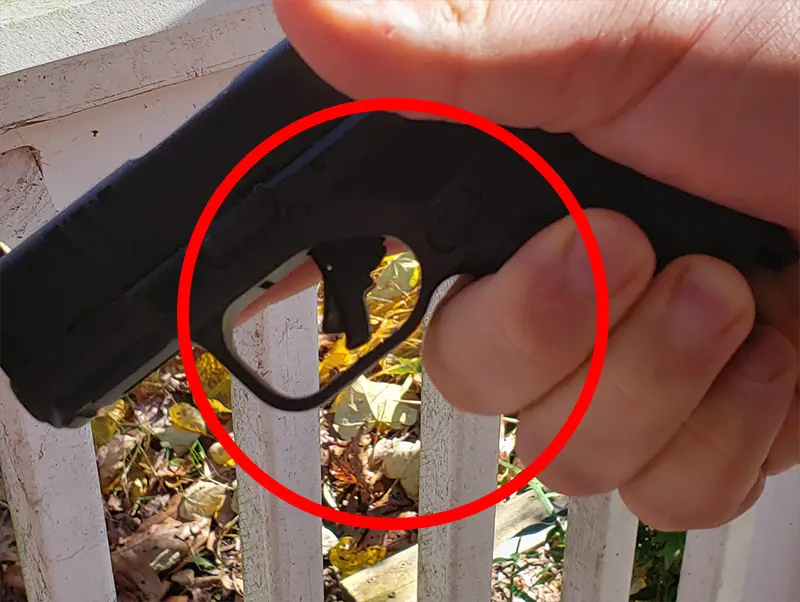 You can read my review on the Mantis X here, but the over-tightening of the grip is something I struggle with.
One way I can tell that I'm doing is to watch my strong hand thumb. If my thumb starts to move as I'm pressing the trigger it's because I'm not isolating my trigger finger from the rest of my grip.
The Grip's Role in Malfunction Prevention:
No we get to the point in the discussion that nobody wants to talk about. It's that if you have a weak grip you can be causing some malfunctions.
Now, this doesn't always happen but if you're plagued with malfunctions you may be causing them. The main reason why this happens is because the actual movement involved in firearm function is violent in nature.
If you think about it, when the primer in your ammunition is tapped inside your gun, it creates a little explosion of sorts inside the chamber. Then, the way the gun is designed, is that this explosion forces the bullet to go out the only way it can, which is the barrel.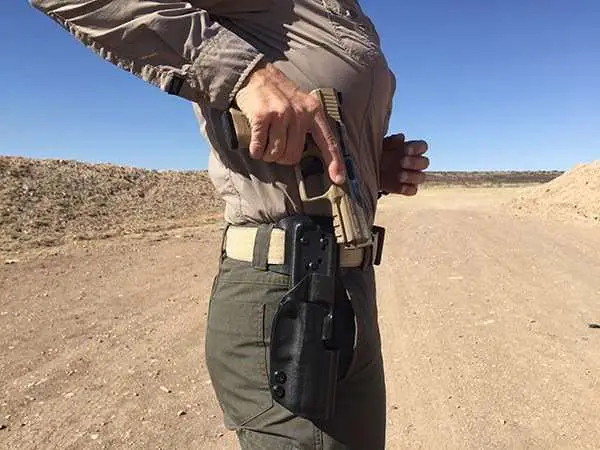 As we all learned in school, every action as an opposite action. The opposite action during the firing of a gun, is for the slide to be pushed back during the recoil process, which then picks up the new round and puts it into the chamber to fire the next round once the trigger is pulled again.
When you don't have a good grip on your gun, you disrupt this process and can cause the slide to move back into a battery at a rate it wasn't supposed to, maybe not picking up the next round, or not picking it up with enough force to go completely into battery.
Or maybe it didn't eject the spent casing completely before the slide began to close again causing a stovepipe. Any of these could be an operator error due to a weak grip or other operator error.
If you need to correct this malfunction during the course of a self-defense encounter it could spell disaster for you. This is one of the reasons why a proper grip, as well as not limp-wristing while shooting (not locking your wrist so it doesn't move during shooting) is a must.
Acquiring Your Grip From Draw:
Because your grip is so important, it pays to get your grip right from the draw so you don't have to worry about fixing it afterwards. Having a proper grip while you're at the range is one thing, but it's something else entirely if you can't get your grip right from the draw.
The only real way to do this is to practice beforehand. You need to practice drawing your gun from your holster in both a dry-fire setting, as well as at the range if your range allows you to do such training.
Practice clearing your shirt/jacket, getting your nice high grip, pulling it out of the holster, etc. You MUST practice this stuff before you ever need to do it for real. This is the one area where most defenders fail miserably. I know, because I thought I was good to go until I tried to do it several years back and I sucked.
If you don't take the time to practice drawing your gun from your holster it could cause you to not be able to defend yourself properly if you ever need to defend yourself.
Practicing beforehand is paramount to your success. And you can start doing it right now in the comfort of your own home with a dry gun.
Learn more about dry fire here.
Conclusion:
Having a good grip on your gun that is high, tight, and consistent from the draw is imperative. You must be able to do this or you risk your shooting accuracy and increase the chances of a malfunction.