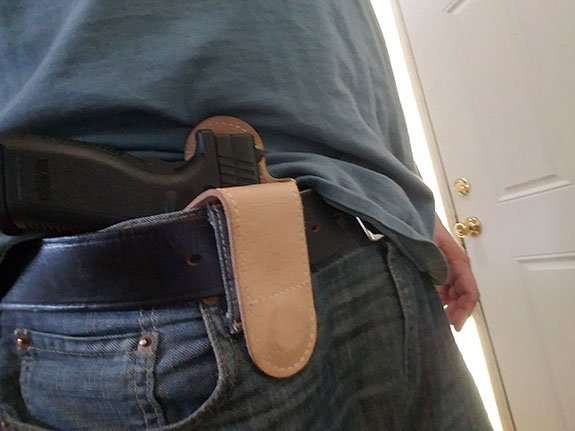 Carrying an unloaded gun doesn't make anyone safer, except for the bad guys.
When it comes to self-defense, there is almost nothing that boggles my mind more than when I hear people carrying an unloaded gun for "self-defense." I see it in forums all the time, and there are plenty of these types of sayings in the comment sections on some negligent discharge articles.
They usually sound something like this: "Carrying a gun with a round in the chamber is stupid and unsafe." Or, "he never would have shot himself if his gun wasn't loaded!"
While it is true that you cannot have a negligent discharge if you're not carrying a loaded weapon, the chance that you'll successfully defend your life against an attacker also diminishes for each extra step you need to take, while your life is on the line.
In a moment, we're going to discuss the psychophysiology of a gun-battle.
But first … Let's clear up what a loaded weapon is, and is not:
When a firearm is carried for self-defense, but there is no round in the chamber, you are carrying an unloaded weapon–even if your magazine has 16 rounds in it.
In order for a gun to be considered "loaded," no matter what anyone tells you, there needs to be a cartridge in the chamber. 
Furthermore, when your firearm needs to be manually charged, it takes precious seconds away from you that you cannot afford to lose.
When in a life or death situation, mere seconds are all that matters as we'll see, below. Here's a self-defense scenario:
Let's say that you're walking your little dog down the street late one night because he needs to get his legs moving in order to take care of business. Out of nowhere, your dog starts losing his mind, barking and carrying on.
Out of character for him, for sure, but instead of taking in your surroundings trying to figure out what's going on (called situational awareness), you shush him in an attempt to not wake the neighbors.
Out of nowhere you're attacked by a bigger, hooded person. He hits you from behind, not like that matters because you weren't paying attention to begin with. You fall to the ground, and in an attempt to defend yourself, you pull out your pistol, point it at the bad guy, and pull the trigger.
At first, the big man is visibly shaken, but once he realizes that nothing happened when you pulled the trigger, he took your gun, pulls the slide back, and points it back at you.
Before we move on to the psychophysiology and what your body goes through in a gunfight, let's analyze a few things about Mr. Dog Walker, here. Where did he go wrong in his failed attempt at self-defense?
Remember, this is hypothetical.
His first issue is a lack of situational awareness. Many attacks can be prevented, but only if you're aware of your surroundings. This past SHOT Show, for example, I was without a car the entire time I was there.
My hotel was 1.2 miles away from the Convention Center, and I walked each way. Each time I walked, I passed by some questionable people. Some of them spoke to me, some did not. On my last night there, someone tried to start a fight with me–accusing me of touching his stuff (he did not use the word "stuff" but I want to keep this family friendly).
Always taking in my surroundings and watching their movement to see if they would attempt something, my head remained on a swivel.
Thankfully, nothing bad happened because I remained aware of my surroundings.
Let's move on …
Another thing Dog Walker got wrong, was not listening to his dog. If it is out of character for the dog to bark, that should have snapped him back to an awareness-reality to take in his surroundings. If something seems out of the ordinary, that's probably because it is.
Finally, his gun was not loaded. He should have been able to pull that gun from his holster, put the squeeze on the trigger, and put that bad guy down. He couldn't because his gun was unloaded, and he had no time to react appropriately.
I do want to say here, that this is an updated article, and while I still always carry a loaded gun on my person, even in my home for self-protection, the most important thing is that you practice your method of carry. If you don't have a round in the chamber, you must practice putting one in there under stress so that you're ready when the time comes.
Speaking of time, let's take a look at how quickly an attack can happen, and how long it takes for the average person to react to one:
You've likely heard of the 21 foot rule, when discussing police officer training. While there are variables in place when discussing this, and in-shape bad guys can certainly make up that distance really fast, what I want to talk about here, is your (as well as my) reaction time.
Studies have shown that the average person realizes that their life is in danger in about .5 seconds. It then takes another full second to make the decision to act appropriately for an average reaction time of 1.5 seconds.
While that isn't an insanely long time, it is a really long time when your life is on the line.
As if those 1.5 seconds weren't long enough, your body immediately starts dumping adrenaline making you not think straight, have tunnel vision, elevate your heart rate, and have auditory occlusion.
To make matters even worse, your breathing will be erratic and you'll begin to lose blood to your extremities making it more difficult to manipulate your firearm.
Will you even remember that you don't have a round chambered in your weapon? If you do remember, are you able to pull the slide back to send one home?
Will you have the time to?
Let's visit the 21 foot rule for a second (which says that a determined bad guy can make up 21 feet in 1.5 seconds). It's even fair to say that most defensive scenarios happen at much closer distances than that which take even less time.
So, if an in-shape bad guy can make up that distance during the same 1.5 seconds it takes for you to register a threat and react (or quicker because he's already made the decision to hurt you and you don't know it's coming), what happens if he's even closer than that and you still need to get your gun out, pull the slide back, aim, and pull the trigger at an advancing target?
This is the main reason why carrying an unloaded gun is never a good idea. Whenever you need to add an extra step to anything, it's a bigger cause for failure.
It's also one of the main reasons why training yourself with your gun is so important. If you've never practiced pulling your weapon out of your holster, you'll be amazed at just how bad you are at it. Guaranteed.
And, getting your gun out even with years of experience proves to be difficult when someone is right on top of you.
Carrying a a loaded gun (with a round in the chamber) will help you save time, and be that much closer to effectively defending yourself with your gun. If you must carry your gun without a cartridge in the chamber, make sure you practice accordingly so you can be effective at stopping a threat.
Did we miss anything? Let us know in the comment section.
Read our article next:
What to do if an attacker has body armor on.