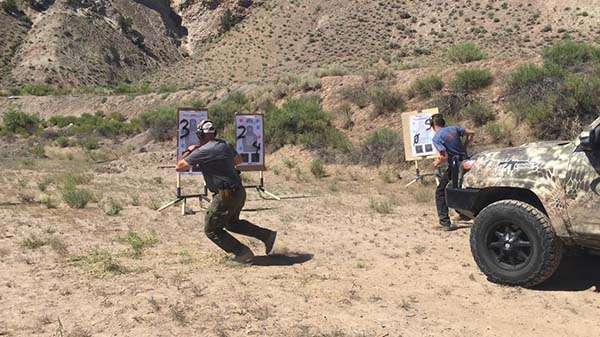 We are at a volatile point in the history of these United States. There seem to be two sides that absolutely despise each other. It has gotten to the point in some circles that they no longer even talk to each other, and some even "unfriend" each other on social media platforms.
To be sure, it is almost to the point of war. Some folks I've spoken to, on both sides, believe that a nasty fight is the only course left to fix our broken country.
The purpose of this post is not to discuss the efficacy of the two factions fighting each other, rather how you can attempt to stay alive to make it out on the other side.
Avoid Cities and Groups of People:
Your main goal after the crap hits the fan, and even now beforehand, is mass avoidance.
You'll want to avoid large groups of people and bigger cities as often as you possibly can, because if there is anything I know for sure, it's that people in large numbers are stupid. And, large groupings of people are unpredictable.
Because they are unpredictable you have no idea when an incident will pop off and they'll start to burn cities to the ground.
And we already know that one side is more than willing to burn cities to the ground.
Carry Your Gun:
Always carry your gun when you can. Also known as A-B-C or Always Be Carrying. Period.
You can't defend yourself with your gun if you don't have it. Just make sure you don't end up like Kyle did because you'll end up making yourself a huge target.
Know How To Use Your Gun:
I was just about to hit the publish button, but thought I should put a part in here about actually being able to use your gun.
If you haven't taken any advanced training from someone who knows what they're doing, the time is now. You need to figure out what you're doing and how to use your gun.
Trust me when I say you're nowhere near as good as you think you are.
Remain Aware:
This is huge. I've got an entire article dedicated to situational awareness. You should go read that, and then understand that right now things are bad in our country.
People are nuts and it's only going to get worse. If something doesn't feel right, or if you feel like you're driving into something bad, turn around.
It's better to be late to a party than not arrive at all.
Blend In:
It's always a good idea to blend in if at all possible. I don't know how to say this next part nicely, so I'll just come right out and say it: the clothes some folks buy to look like regular clothes, but are marketed toward the gun owner actually stick out like a sore thumb.
This is one of the reasons why I laugh at those friends of mine who wear tacticool clothing on a regular basis, even when out walking around town.
You can almost always tell when someone is "trying to be the grey man" because they really suck at it. They buy clothes that they think "blends in" while being useful, not realizing that useful clothes actually stick out. This is why I wear jeans and a t-shirt.
That's it. I don't wear fancy button down shirts with magnetic buttons and an undershirt to protect my gun from chaffing my skin.
I don't wear pants with 500 different pockets because it stands out. Yes, I do wear cargo shorts, but they're from Wrangler or Dickies and don't look tactical at all.
Have an Exit Plan:
It's a great idea to have an exit plan if at all possible. Look at the route to see if you have a way to escape. Do this for if you're in your car, or if you need to get out and run. Try to figure out where you can go.
Even though you should have a plan, you'll never be able to plan for all different scenarios and outcomes. Still, it's a good idea to try the best you can to have a way out.
Understand Behavior:
Chances are excellent that if you find yourself in the midst of civil unrest, you will NOT be able to find people to help you out if you need it.
If people are rioting in the streets, the amount of decent people willing to help out someone in need has dwindled down to almost zero. This means that you're on your own until you get to safety.
Conclusion:
The best policy is avoidance. If you can avoid massive civil unrest that's the only guarantee you have for your safety.
That being said, it's not always possible to avoid a situation for one reason or another. In that case, it's my hope that the above will at least get you thinking about how you can make it out alive.