Recently wandering around on a Facebook group I belong to, I saw someone ask the question: How do I buy my first handgun?"
I actually have some insight into that, since I too, had to buy my first handgun one day long ago. More than that, though, I've actually gone to the gun shop with a few people to help them pick out guns, and have been in earshot of some very bad advice given by gun shop employees.
Here's the deal, the gun shop is out to make money. Yeah, they'll help you as much as they can, but their goal in life is to stay in business. There isn't anything inherently wrong with that–just as long as you know that's the case.
What this means, is that if they've got an abundance of one type of gun, say Glock 19, they're going to try to talk you into a Glock 19 regardless of whether you want one of them or not. That's just the way it is.
There are also some gun stores who believe that people should only buy certain brands or types of guns. If you are a woman and plan to go into a gun shop you can be pretty certain that the people there will try to sell you a double action only revolver.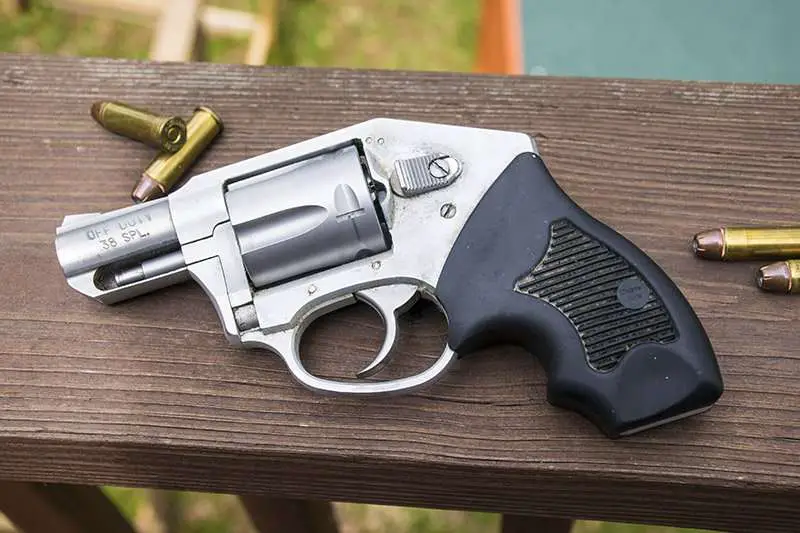 There is nothing wrong with a revolver, but guys who think that a DAO revolver is the only thing a woman can handle have it backwards. I have first hand experience with this because I bought my wife one and she could NOT manipulate the trigger.
In a perfect world, you should have done some research up to this point to find out which guns are right for you, personally. This research will include the following —
What is your gun's primary use
What is your price range
Going to the store to "feel" different guns in hand
Shooting that gun at a gun range
What kind of features will it have
Let's take a look at each of these bullet points, in turn.
What is the gun's primary use?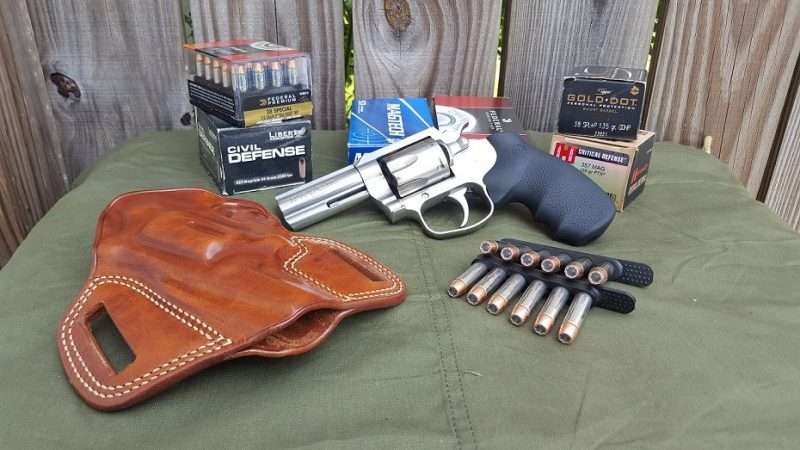 If your goal is to conceal and carry your new gun, that'll play out a little differently than it would, say, if you were just looking for something to target practice with.
If you just went out and got your permit and that's why you're here, you have plenty of options to choose from.
Things that you need to be aware of, is size VS capacity. Meaning, are you looking for the ultimate in concealability? If so, it may come at the cost of higher capacity.
This isn't as true as it once was, considering that some guns, like the SIG P365 have a capacity of a much bigger gun in such a small package.
(Read my SIG P365XL review, here.)
The above gun is no slouch by any stretch, but I have midsize guns that I can conceal on my body that hold 16 rounds. If we're going at it from a capacity-only standpoint, the 16 round gun that I can still conceal is the best bet.
To start, I believe that it's better to learn how to shoot a handgun that's a bit bigger in terms of grip size. The reason why I say that, is because it offers you more to hold on to when you're learning how to handle the recoil.
Because of this, I'd say that you would want a Glock 19-sized gun. It's something that offers you up great capacity along with giving you the controllability of having a larger grip to hold on to. Other guns in this size category are the FN 509 Midsize, the SIG Sauer P320, and the S&W M&P9 2.0.
If you're looking for something smaller than that that will conceal on your body way better than a full size handgun will, there are also plenty of options for this, as well.
Some of the best out there are the SIG P365, the Glock 43, S&W Shield, Springfield Hellcat.
You can read my head to head between the Hellcat vs the 365XL here.
Of course, there are plenty of other options that offer up great performance, like those guns from Walther and others. For a full list of what I consider to be the best 9mm handguns, push on that link. It gives an in depth resource, that shows revolvers, 1911s, striker/polymer guns, etc.
What is your price range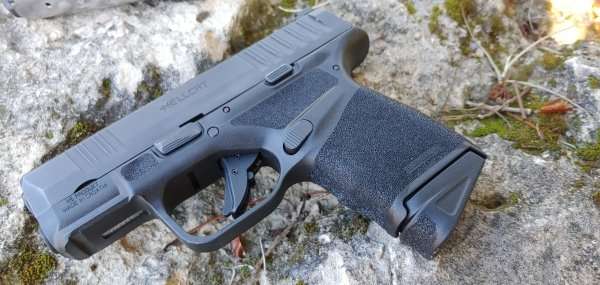 Don't let anyone tell you that you must spend a certain amount of money on a gun.
Take the Mossberg MC1SC for example. This newer to market concealed carry gun can be found for under $350 and is a great little piece.
Know what your price is, and then realize that you will spend more than that so you may need to lower your price a bit. What do I mean?
I mean you can't just stop at the gun itself. Here's the deal — You have to actually shoot your new gun to become proficient with it. This means you have to buy ammunition for it to shoot it. You will also need a holster, cleaning gear, a case if it doesn't come with one, targets, and that's just the stuff you need to get going.
At some point, you should seriously consider taking a class beyond your initial class you needed to get your permit/license.
Because, believe it or not, there is more to carrying concealed than just shooting at a static, non-moving paper or steel target.
So, back to the gun and the price of the other stuff, you have to budget for the other goodies you need to get going. You won't just need one box of ammo. Because, as you'll soon find out, you'll make the realization that you can burn through a box of ammo in 20 minutes or less.
In addition to your target ammo, which I recommend at least 150 rounds to help you break in and get used to shooting the gun, you also need about 60 hollow points for self-defense carry–if that's the purpose of the gun. See above for more information.
Why do you need 60 hollow points if your magazines (or cylinders) only hold a fraction of that ammo?
Because, you need to shoot that ammo through your gun at the range, too, silly.
Why? Because it's all about performance. It's all about self-defense. It's all about saving your life should the need arise, and you need to make sure your chosen self-defense ammo works in your gun.
I have a friend who carried a small pocket pistol around chambered in .380 ACP. Those little guns can be finicky with the ammo they like, and this one was no different.
He was told the LIE that you buy two different kinds of ammo. One of them is for self-defense, the other is for target/range practice.
One day he tried to shoot his hollow points because he was told that he should cycle his ammo every so often. After carrying the same ammo for quite a long time, he found out that it shot the first round and failed to feed on the second.
Working in Philly, can you imagine having to use your gun only to have it malfunction because you were too cheap to shoot your hollow point ammo?
I, personally, don't carry a gun unless I have 200 rounds through it with both target and my chosen self-defense ammo (combined) to make sure it works.
I cover more on this topic in this article.
Go to the store
One of the last things you'd ever want to do is buy a gun without at least getting it in your hands first. Buying a gun online and having it shipped to your FFL for the transfer is something that's totally fine. But, and this is huge, you need to get your hands on that gun before you buy it (Not that exact one, but the same model).
This means you need to go to the gun store and feel each gun on your researched list.
Ideally, you can rent the gun to put some rounds downrange for a while, getting a feel for it and taking note of what you do/don't like about each one.
Things you need to pay attention to, is can you rack the slide to chamber a round? Is the gun easy to take apart (ask a sales rep for help, don't just take them apart)? How does the trigger feel? Can you reach the magazine release and slide stop?
These are all things you need to be aware of before you buy a gun.
I've bought guns in the past that I should not have bought because I couldn't hit the magazine release right. I have big, oddly shaped hands and I struggled with this for many years before I decided that I'd just buy a new gun with an easier to reach release.
Not having to re-adjust my grip after dropping the mag saves me time on getting back to target after the re-load.
It's worth trying them all out. Try out each one on your pre-researched list in your price range.
And, don't let anyone talk you into a specific gun. Remember above when I said that the guys at the gun store have one goal which is to make money?
That's true, and they may try to sell you something they have right then and there, whether it's a good fit for you or not. Not all gun store employees do this, but I've seen it enough times that I feel I should point it out.
What features will it have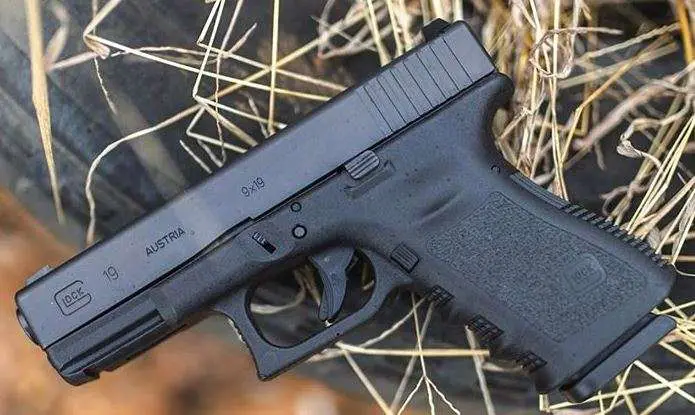 When I say features, I'm talking about safeties, size, sights, trigger, grip length, mag capacity, etc. These are all things that can be either changed by buying aftermarket parts, or a different gun altogether.
Here's my deal, I have never bought a gun and modified it if it was for something like concealed carry. If my life depends on something, why chance it? That's my outlook, and I recommend you do the same.
Think twice about certain upgrades
I know guys who will buy a Glock 19 and upgrade the trigger, sights, stipple the grip, compensate the barrel, etc., when they should have been buying ammo to learn how to actually shoot.
So now, these guys have an expensive paperweight because they have no idea what they're doing, and a trigger job gone wrong could cost you your life in a negligent discharge.
It happens way more often than it should.
Buy a gun, keep it the way it is, meaning buy it the way you want it, and then learn how to shoot it. Just like adding a supercharger to your Camaro won't make you faster if you can't drive, all the upgrades in the world won't make you a better shooter if you can't actually shoot.
My point is to buy your gun the way you want it because you've already gone to the gun store/gun range to try it out. You should know what you like at this point because you've done your research.
The gun manufacturers already have the gun worked out. They built it. I, personally, trust them more than I do myself to know what belongs on that gun.
Conclusion
Is there anything I've missed when it comes to buying a new gun? If so, let us know in the comments below.