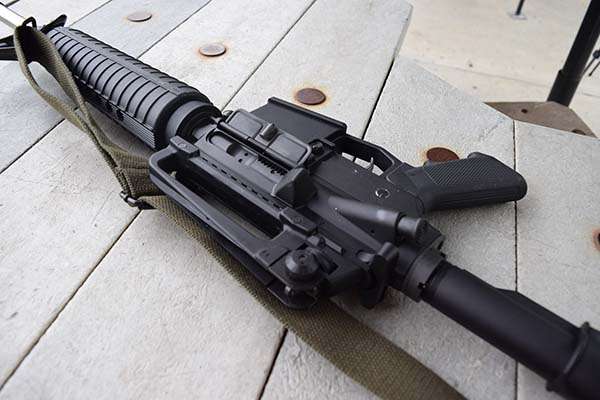 There is a lot of misinformation out there concerning the dynamics of America's Rifle, the AR-15. One of the most recent aspects about this semi-automatic rifle that is coming under fire is apparently how much an AR-15 weighs. So, we thought we'd come out and answer the following question:
How much does an AR-15 weigh?
An average AR-15 will weigh somewhere between 6 and 7 pounds with some variance based on the accessories added, the length of the barrel, and the construction of certain materials like the hand guard/rail. There are some AR-15 rifles that can weigh as little as 5.5 lbs, and some that weigh almost 9 lbs, again, depending upon the purpose of the rifle and materials used.
Competition AR-15 Rifle Weight
On the lower end of the spectrum are the rifles designed for competition. These AR-15s that are used in competition are usually meant to be ran with and have the requirement of being lighter. The reason why, is because if you have to carry one say, during a run and gun, you're running and it can take a toll on you.
A good example of a lighter than average AR-15 is the Helium from Lead Star Arms that weighs in at 3.5 pounds empty, and is skeletonized out the wazoo to trim as much weight as possible.
There are other AR-15s that are even lighter, but the point is that they're not heavy. Not in the least, actually.
Middleweight AR-15 rifles
This is the area where most of America's AR-15 rifles fall. Most of the rifles out there weigh between 6-7 pounds. For example, this one from Aero Precision is right in the middle.
These ones are on the opposite end of the middleweight spectrum of what we're calling the "average weight" for an AR-15, which, again, is between 6 and 7 pounds. Those are some of the most popular AR-15s on the market, and their main goal in life is to get guns in the hands of as many Americans as possible.
Heck, I own more than one of their rifles myself.
Heavier AR-15 Rifles
There are also those rifles out there that do weigh more than the above stated "averages." Some may not believe me when I say it, but they're out there. This one from FN for example, has a 20″ barrel, a fixed stock, and weighs 8.7 pounds.
These rifles certainly do have their place. These are great for shooting longer distance shots and are a rifle with a heavy barrel that you can stick a bipod on. Because it's so heavy it's actually great at soaking up the recoil of the already light-hitting 5.56/.223 cartridge.
Who cares how much an AR-15 weighs?
More importantly, why does it even matter how much an AR-15 weighs? It matters because there are people out there who are misinformed and compare these things that they're clearly scared of to things that will help bring on fear to other people. For example, the following video shows Rep Sheila Jackson comparing an AR-15 to 10 moving boxes.
Even the heaviest AR-15 doesn't weigh that much.
This is clearly false, maybe unless the boxes were empty, because as we already saw an AR-15 usually weighs under 7 pounds. But, based on the information we've seen above an AR-15 does not weigh anywhere close to 10 moving boxes.
But, what about the 50 caliber AR-15 she was talking about? Isn't that a 10-moving box gun? Well, no. This .50 Beowulf AR-15 is only 8 pounds.
Check out some of our AR-15 rifle reviews, here:
And, we've put together an excellent resource showing the differences between the various muzzle devices, here;