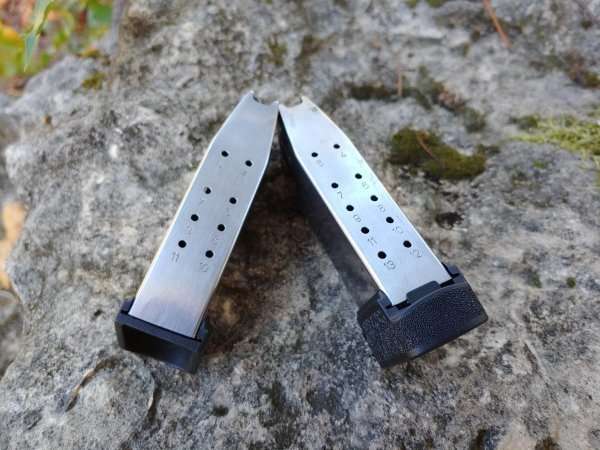 The amount of ammunition you'll end up carrying is a very subjective thing. What I deem necessary for myself may be way too much for you to consider. Or, maybe you think I don't carry as much as I should.
Either way, each person will be different. And, most people will choose to not carry extra ammunition.
I do think there is a rule of thumb concerning this, which is something we're going to discuss right now.
How much ammo should I carry for self-defense?
It's a good idea to carry as much ammo as your firearm allows, with at least one spare reload in case something bad happens due to a mag failure or you need more ammo.
Many people think something bad means that you've got more bad guys than you can handle, but the truth of the matter is that on a semi-auto pistol the magazine can be a huge failure point.
In a gunfight type situation where every second counts, getting yourself back into the fight after a malfunction is all important.
If you have a magazine failure on your hands, having a backup on you guarantees you'll at least be able to start defending yourself again.
Of course, there is also the chance that you're outnumbered by bad guys or little green men, so the chance to carry as much ammo as you comfortably can is also beneficial there.
Because of this, and the chance that maybe your gun's magazine may have a malfunction, I think it's a good idea for you to carry at least one spare reload.
This is true also if you carry a revolver, but maybe for a different reason.
For example, you don't have the magazine you have to worry about, but you do have a limited amount of ammunition. You can usually carry between 5 and 8 rounds of ammo depending your chosen revolver and making sure you've got a spare is a good idea.
You do have an extra concern here, and that is that your ammo can be more exposed depending on how you're carrying it, so always make sure you're doing your best to keep your ammo not only easy to get to, but also clean and dry.
Practice, practice, practice:
If you didn't catch my gist here, this section is about practicing your reloads. I remember the first time I ever performed a reload under stress. It didn't go the way I thought it would. I sucked at it.
In fact, if I remember correctly I think I even jabbed the magazine in backwards because it was indexed wrong in the mag pouch.
It was a train wreck that was thankfully several years ago now and I have gotten a lot better.
I urge you to try a mag reload with a couple empty mags with an empty gun (known as dry fire) in the comfort of your own house. See how it goes. How did you do?
Then after you've done that go to the range and do it during live fire practice.
If you can perform a mag change and get back on target in 1.5 seconds I'd say you're doing better than most.
Also, I recommend using a shot timer so you can see how you're doing with shooting under stress.
If you cannot do it with speed and efficiency, I'd suggest you keep trying.
This is even more important if you carry a revolver because that is a different animal altogether.
Mode of carrying extra ammo:
If you choose to carry extra ammunition, it's a good thing to consider how you'll carry it. It's generally easy to carry a reload for a semi-automatic pistol, as mag carriers are robust and tend to last a long time.
I like this one from Tulster because of the way it adjusts for your magazine. I own one of these and really dig it.
For revolvers, things get a little more difficult because cylinders tend to be different shapes and hold different amounts of ammo. But you can find something to help you carry more ammunition.
Some people carry speed loaders like these, while other people carry something like this in their pocket which is slower, but flatter in their pocket.
Conclusion:
The amount of ammunition you carry for your concealed or open carry gun will be dependent upon each person. But having an extra reload is a good idea if you have some sort of magazine related gun malfunction or if you have to engage multiple targets.
No matter what you choose, always make sure you're training for the critical incident you hope will never come.