There are a lot of things that we see gun owners doing when it comes to gun holsters that really should be addressed. These can be things that make your life harder because there are better ways of carrying, or things that are just downright dangerous.
We're going to take a look at holster mistakes we see gun owners make, right now.
Not using a holster
The biggest mistake we see, but mostly hear about, is people not using a holster for their gun. I have seen people who, for one reason or another, didn't make use of a holster.
Most of the time, this takes place when people put their gun in their pocket. They think that the pocket itself is sufficient for protecting the trigger, but this isn't true in the least.
If you're absent minded about your gun in your pocket for even a split second you can reach in and shoot yourself. Or, put something in there that shouldn't be in there with your gun, that could cause a malfunction.
But more often than not, we read stories about people who don't use a holster for one reason or another.
They don't use a holster and then end up having a negligent discharge. They've either shot themselves or another person on "accident."
And that really is the biggest problem with not using a holster when you carry your gun. Your chances of having an unintended discharge goes up drastically.
Using an unsafe holster
There are many different types of holsters that can be considered unsafe. Something specific that I see on a regular basis is the use of soft-sided holsters that don't prevent access to the trigger.
Using a holster like that is only moderately better than not using one at all.
The last thing you want is to be able to press the trigger unintentionally, and shoot yourself in the process. Any person who can be considered knowledgeable on this subject would tell you that having a holster that won't allow the trigger to be pressed from the side is actually a safety feature.
Another type of holster that can be unsafe, is one that doesn't actually retain your gun. I'm a big fan of holsters with some sort of retention device in place, whether active or passive.
What is active retention?
Active retention features some sort of device, like a thumb break on the above pictured holster, that must be defeated, or actively removed, by the wearer in order to deploy the gun.
This type of holster makes it harder for the gun to be stolen than other types, and because there is something physically in the way of the gun coming out on its own.
What is passive retention?
A passive retention device, is something that is found on most Kydex holsters with the indent wrapped around the trigger guard. It is something that grips onto the gun when it's in the holster, but is passive and doesn't need to be undone by the wearer.
Simply pulling on the grip of the gun should be enough to defeat the passive retention of the holster.
Some folks poke fun at gear reviewers who holster the gun and turn it upside down to show how well the gun stays put, saying something like: "if you find yourself in that position you shouldn't be carrying anyway."
Or similar.
That's a bad way of looking at things, because you can never guarantee that you'll be upright all the time. If you were to get into a scuffle on the ground and your gun falls out you'll wish pretty quick that you had a better holster.
Using the wrong holster
It blows my mind to think about, but I have seen people using a holster that was the wrong one for the gun they were carrying. This actually happened once in a combat pistol class I took.
I was really surprised to see one of the students holstering his gun in a holster that was too small for the gun he was carrying.
His gun did not fit much past the trigger guard. So, in other words, he was able to get the barrel of the gun into the holster and about halfway down the trigger guard, and that's about it.
At any point during the training his gun could have fallen out of the holster. Thankfully he brought a proper holster for the second day and we didn't have to worry about it.
The best idea for anyone who is serious about carrying a gun for self-defense, is to utilize a holster that your gun fits into properly.
Not using the right attachment system, or clips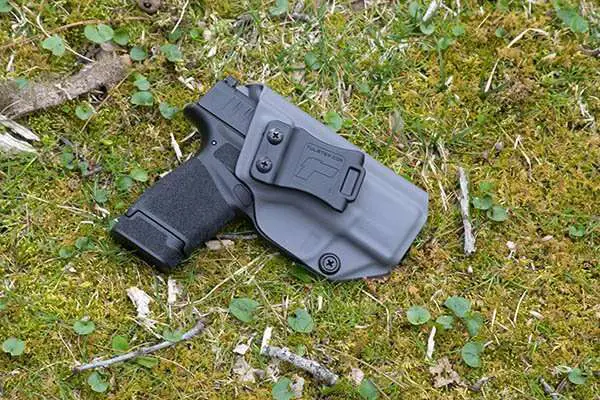 This one is more of a personal preference than anything else, until it's unsafe. There are some holster clips that can be considered unsafe.
Specifically, the ones that don't prevent the holster from coming out on the draw of the gun. I've written up an entire article dedicated to these clips and won't beat this into the ground.
Not practicing with your holster
All too often I see people carrying a gun that they're not even positive they can draw out of the holster. This happens because people don't practice.
You should be practicing every single week. Unload your gun and practice drawing it from the position you carry it in. Try to do it quickly, but if you suck start out slow.
As you practice you'll get better and better.
This is a non-negotiable. If you're not practicing, chances are good if you ever need to defend yourself you're going to lose.
Practicing with your holster gives you the side benefits of troubleshooting some of your other issues. For example, you won't know if your clips will retain your holster on the draw if you don't practice.
By practicing and finding out that your clips suck, you can buy and install better ones.
Conclusion:
Did I miss any holster mistakes? Let me know in the comments below. Read next: Best holster for runners.