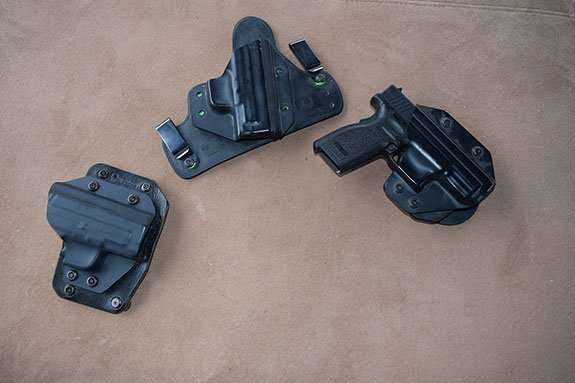 Here is a brief experience outline in my Alien Gear Holster Review:
When it's time to choose a holster for your firearm of choice, you need to choose one that will work properly, and do what a holster is designed to do. In just a few minutes, we're going to talk about Alien Gear's line of holsters, but first, let's discuss what the purpose of a holster is.
Your firearm's holster is should do a few things:
Keep your gun in the place you put it, which should be easy to reach

Allow the operator to get a solid grip from the draw

Protect you and your gun

Keep the weapon from discharging
Pretty self-explanatory, I think. But, let's dissect these bullet points a bit, just in case there is any confusion.
The gun needs to be easy to reach. If your chosen method of carry is that of concealment, it needs to be well-hidden in a place that also just happens to be easy to get. If not, you may end up spending too much time fumbling for it, instead of actually using it in defense.
When time is of the essence, you don't need to be trying to get your gun out of its resting place. This takes precious time away from you, and in a life and death situation, seconds matter.
Furthermore, your holster should allow you, the operator, to have a solid (or combat) grip on your firearm from the draw. If you have to re-position your hand, that's a problem. Re-positioning takes your attention from your attacker, and even causes you to loosen your grip even more.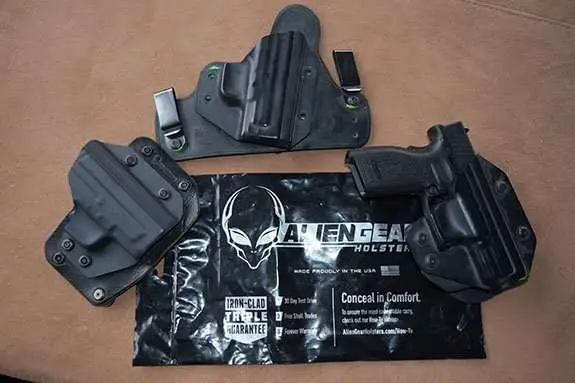 In as little as a split second, a bad guy can take advantage of that by knocking your gun out of your hand, or taking it altogether.
But if you take care to purchase a holster allowing a full grip from the draw, that's one less thing you need to worry about.
Moving on …
Your gun needs to be protected so that your body's sweat, and other grime doesn't get on it. It should be no surprise that moisture is bad for firearms. 
And, reversing that, it's helpful if your holster protects your body from the inconvenience of carrying a gun. If you don't know what I mean, go rub some sandpaper on the side of your belly and then get back to me. If your pistol grip has any type of gritty feel to it, it'll drive you nuts.
Hopefully your holster of choice helps to mitigate that to some degree.
Most importantly, your holster needs to be designed in a way that protects the trigger from being pressed unintentionally.
This means that your holster should be sufficiently designed in a manner that totally covers the trigger. I won't talk badly about any-one holster manufacturer here, because that's not the point. There are a plethora of holsters on the market that don't do a great job of protecting the trigger.
Some of them leave an entirely exposed trigger, while others cover it with an easily moved cloth. When enough pressure is put on the trigger, it could send the hammer or striker home.
Trust me when I say that the last thing you could ever want is a negligent discharge. Sadly, these happen way more often than they should.
Holster care:
Just as important as choosing the right kind of holster, is the simple fact that your gear needs to be checked on a semi-regular basis to make sure there aren't any defects. Too often has a holster malfunctioned, causing a piece of clothing or the holster itself to get snagged on the trigger.
Not good.
Periodic condition checks are a necessity to make sure that your weapon doesn't discharge unintentionally by snagging the trigger.
When you inspect it, look for any kind of damage that could end up causing a problem for you, and then contact your holster company about it. Those companies worth anything will warranty their products, sending you a replacement free of charge.
Those who don't, well, you do the math.
Speaking of warranties, while on the subject let's take a look at Alien Gear's:
Forever Warranty: They say that if any part of the holster ever breaks for any reason they'll replace it.

Free Shell Swaps: If for some reason you decide to sell a gun to buy a new one, just swap the shell out by sending them the old one. They ship you the new shell for free. (more on this in a minute).

30 Day Test Drive: They allow you to try out their holsters for one month. If you don't think it's awesome, send it back to them–no questions asked.
Their warranty is one of the best in the industry, and one that others try to mimic. But, that's not all they did right. They can offer that excellent warranty because their product is good enough that they rarely ever have to use it.
Granted, you can't please everybody. And they do have unhappy customers, as every company does. However, they have done it right, and set a precedent for the rest of the industry to follow.
In fact, one of the things I do on the side, is run a small firearms consulting company where I give advice on how firearms-related manufacturers can market their product better and sell more stuff.
There are always two types of example companies I use to demonstrate to my clients. One of them speaks about what TO do. The other, tells them what NOT to do.
Alien Gear has been on the "what to do" side for a while now, and will likely continue to be into the future.
In other words, when I talk to company execs about how to grow their gun business, I use what I believe Alien Gear did as an example. Even though I'm not 100% sure how they did it, some things are obvious. 
I want to say right here, that they are not paying me to say any of this about them. Nor do they even know that I'm saying these things. It's just that, if you do things the right way, people notice.
It's that simple.
Their Website:
It all needs to start somewhere. When you go to order a new holster, or anything for that matter, if the site is difficult to navigate, you're not going to buy anything. Well, I won't anyway.
The way the Alien Gear website is set up is interactive in nature. When you get there, you're greeted with information about the products, with the ability to search by firearm type. And, they have a lot of firearms to choose from.
In fact, chances are good that they have your firearm listed, unless it's an oddball. When you find your carry gun of choice, simply click on it, and you're prompted to learn more about all the holsters they have for that gun.
Ease of Use:
One of the best things about their holsters is the simple fact that they can be swapped out for other guns. In other words, if you own 12 guns, you don't need to own 12 different holsters.
You can own one holster, with however many shells you need.
If you wake up and are in a Glock 19 mood, but wore a 1911 yesterday, all you need to do is swap out the shells via four Allen head screws.
As far as I know, all of the holsters in Alien Gear's lineup are capable of shell swaps.
Products:
I have received a few of their holsters, but I'm not up to date. I do not have the new mag pouch, though I do plan on getting one in the near future. So far, I have and can talk about:
Cloak Slide

Cloak Tuck 2.0

Cloak Tuck 3.0

Cloak Mod
Not all of those were given to me by the company. After they sent me the first one, which I really liked, I bought myself the other model that I didn't have. Here they are in the order I received them:
Cloak Slide:
This holster was sent to me by the company a couple years ago when I worked for guns.com. This is still one of my go-to holsters when I decide to carry a gun Outside the Waistband (OWB).
Overall, it is one of the most comfortable holsters I have.
I can put it on with a full-size handgun in it, lay on my bed, and not be uncomfortable. The backing is made of leather, and the belt loops are also leather. 
Overall quality is high, though the loops do seem to have stretched out a bit. Still, I wear it without issue, and will continue to do so.
Cloak Tuck 2.0:
I actually liked the Cloak Slide so much, that I purchased the 2.0 when I needed a new IWB holster. I bought it several months before I realized the 3.0 was on its way, or I would have just purchased that one, instead. 
I don't see this one listed on the website any longer, so we'll move on.
Cloak Tuck 3.0:
This is the updated Inside the Waistband holster. It's a two-clip type that is great for holding heavy guns. It's best fit when worn on the 3 to 5 o'clock position (or reversed if you're a lefty).
The absolute best thing about this holster, is that there is no break-in period whatsoever. There is a soft neoprene backing, and mashed in between that and the front is a spring steel plate that helps it bounce back to the original shape once it is taken off for the day.
I've been wearing it on and off depending on my setup for the day since they sent it out to me, and can say that it never lost shape.
Overall, I'm confident to say that this is one of the best holsters I've ever worn of this style.
Cloak Mod:
This is their latest edition, revealed at SHOT Show 2016. It's a paddle style holster, that can also be used as a docking station on a fixed item, like in your car or on a dresser.
Of all the holsters they've released, this is my least favorite one. It is too big and bulky for me, but it seems to be designed for the growing number of open carriers out there, than for those of us who like to conceal their firearms.
While I do have one of these, I never wear it because it just is not practical for me.
Conclusion:
Alien Gear is on the forefront of the holster industry. They are innovative, willing to give the customer what they want, have an awesome warranty, a great product, and the ability to put those products in front of self-defense enthusiasts at a price point they can afford.
You won't break the bank with an Alien Gear Holster and you'll get much deserved quality from an American company who stands behind their products 100%. That concludes my Alien Gear Holster Review.