With the NRA Annual Meetings solidly behind us, I feel as though I should start to talk about what I saw a bit. What follows are some of the better pictures I took while there, and some info about the guns and gear I saw.
Henry never disappoints at the NRA Annual Meetings. This time around they brought what I guess I'm calling a tactical lever action rifle, complete with MLok rail and non-wood-looking furniture (though I think it is actually a wooden stock). This is definitely a step in a different direction for the classic lever-action rifle maker. But, I guess if anyone can make this sort of thing work, it'd be Henry Repeating.
My favorite shotgun maker has been in the news a bit lately, as they cut off Dick's. I couldn't help myself, there. The Mossberg 590 Sockwave also now comes in .410, which is another great option for a truck gun.
Believe it or not, this was my first time holding a Rhino in my hand. Interesting concept and I'd love to actually get my hands on one at the range. This one just happens to look sexy as hell in my favorite color: Olive Drab.
I think we were all expecting Beretta to release a compact and carry version of their APX, and they brought it with them to the NRA Annual Meetings 2018. Here is one of the iterations.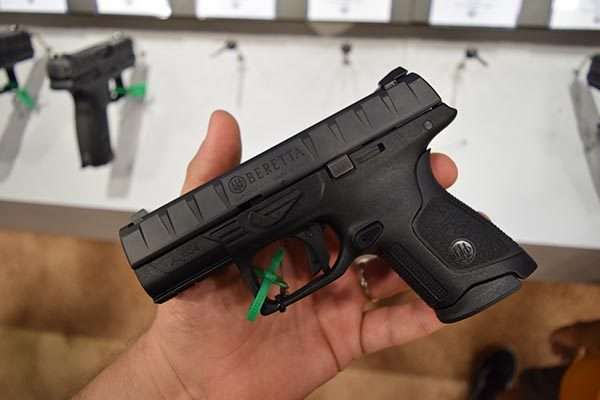 This thing is pretty innovative. I got some shots of it broken down but they didn't come out all that well, so this is all you get. Sorry.
At the Kahr Arms booth, and couldn't resist getting some updated Tommy Gun photos. Here's one of them. Though, looking at it now it looks like one of my kids took it.
Canik was there. I'm a huge fan of this gun, and any gun, where my strangely shaped thumbs can actually manipulate the magazine release without having to re-position my hand. This one fits that bill. I may need to buy one. Here's a list of what I consider the best 9mm handguns on the market.
Here is a Sphinx.
This is actually a little single shot .22 lr handgun that folds up to the size of a credit card and fits in an Altoids tin can. Talk about concealed carry.
I always appreciate clear magazines because there is no guessing how much ammo is loaded up. Hex Mag just recently released a new clear AR-15 magazine to their lineup. Here is one of them.
Believe it or not, this thing is chambered in .45-70 Government, that has been de-rimmed and is meant to take an elephant or anything else you can think of. Imagine, if you will, a 325 grain .45 caliber projectile moving at 2,500 fps. That's what this thing does.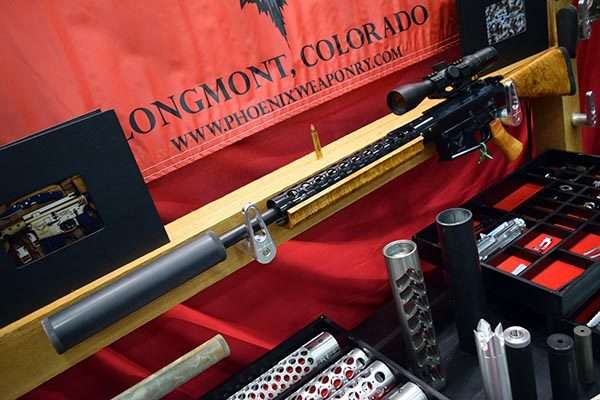 I'm always a fan of sexy rifles. I believe I was at the Aero booth here. By the way, Aero Precision is listed in my best AR-15 Rifle manufacturer article I wrote up. Have you read it yet?
I got to spend a lot of time with my friends from JM4 Tactical. Here's one of their new hats. Also stay tuned for a holster review I've got coming your way.
Here is a new pistol from Taurus. Only time will tell if it takes them two years to release it or not. I won't get my hopes up.
Here's another angle of it.
This shot was taken on day one. There weren't that many people there that day. But, most of us have jobs. Saturday though, was sheer insanity.
Here is the newest Blackhawk leather holster, the MBoss. It's made of Italian Leather, which, is strange. But, they know holsters better than I do.
Here's a 1911 from Magnum Research. I'm going on record as stating that this is the year of the sexy 1911 pistols. I'm doing a separate post on the history of the 1911 pistols, as well as the best 1911 pistols, and many of those pictures are going in that article. Stay tuned for it.
I needed another picture of a Desert Eagle, and that's the only reason why this is even here. Is it kind of sexy? Sure. Is it a lot of fun? Absolutely. Is it practical? lol …
This thing is pretty nifty from Iver Johnson. It's essentially a 4-barrel .22 with a rotating hammer. Here is what I'm going to call the action of this little gun.
And here is the gun itself. It's small, fits in your pocket, boot, or wherever else you may want to stick a gun, and, according to the guy I spoke to, they may be having talks of offering it in .22 WMR. If that's the case, I'd buy one for sure if it works.
That about does it for this year's 2018 NRA Annual Meetings. It was a good time, I got to meet some great, like minded people, and spend time with my folks from the day job at Concealed Carry. Share any of these pictures you'd like, just make sure you link back to this page so I get the credit.
And, make sure you stay tuned for that 1911 piece I mentioned. I've been writing it for about a year and it's finally almost done.