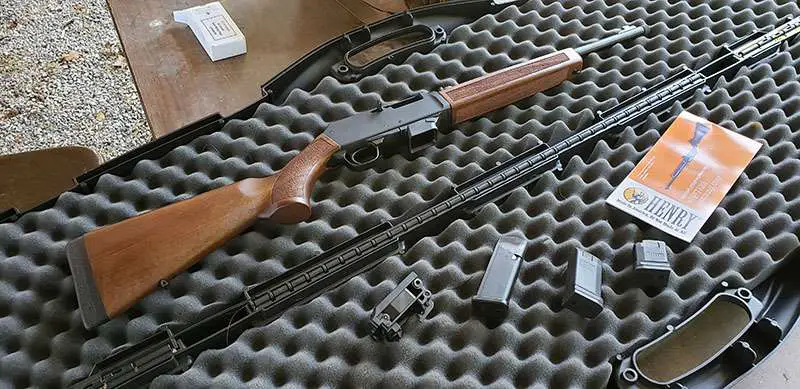 I think we were all shocked when Henry Repeating Arms announced the release of their first semi-auto rifle earlier this year. I know I was surprised, and vowed to get my hands on one to do a review.
I'm glad to say that I've had the rifle for a couple of months and have shot several hundreds of rounds through it in both the stock and Glock form.
For the most part, this is a great rifle and a strong addition to Henry's family, with a few small bugs that need to be worked out. Let's take a more in-depth look.
Henry Homesteader Review
The Henry Homesteader is a 9mm semi-automatic rifle with functional versatility. To me, it looks like something built by the famed lever action rifle manufacturer, which is always a plus. Aesthetically it's right in line with anything you'd expect from them.
First up is the wood. The American Walnut forend and stock, along with checkering (though, I don't think checkering is the right word, more of a texturing) really pops against the black hard anodized receiver.
It looks great.
There is a pair of sling studs to help offset the weight if it needs to be carried for any length of time. It isn't terribly heavy, but does have some heft to it at 6.6 lbs.
The rifle I got came with the stock magazine well and two of their proprietary magazines with the option to swap it out for the Glock mag well.
I'd like to state here that it is available in a few different setups. First is the stock setup with their proprietary mags. Another one is for use with Glock magazines. And a third is for SIG or S&W mags.
I don't currently see an option to buy just a mag well, which would be nice because I have a lot more SIG mags than I do Glock, but magazines are cheap enough that it doesn't really matter.
I shot both the stock and Glock configurations so I could get a good feel for things. Their mags worked well, and if you're not a capacity snob like I am then this is a good way to go.
However, the versatility and option to swap into a more popular setup with bigger capacity called my name. I'll opt for the Glock configuration from here on out.
I will say that if there was a point of weakness, not that I've had any problems with it yet, it would be the mag well. There is a lot of wobble in the magazine in both the stock and Glock configurations.
I haven't had an issue, but feel as though this should be pointed out. There are some videos on YouTube of some folks having several malfunctions per magazine, and this could be the reason why.
Again, mine has performed exactly how I expected it would, being that it's from Henry Repeating Arms.
Mag well swap
While I'm mechanically inclined, I'm far from a gunsmith and was more than a little worried about swapping the magazine wells out. On the plus side, I'm glad to say that my fears were misplaced because it's really easy to do.
The manual tells you how to do it, and yes you should always read your manual.
Give the pins the tap-tap-taparoo and then it slides right apart. I was able to shoot with the Glock mag within 5 or so minutes, but I wasn't timing myself.
I will also say here that the pins did look like they started to walk out a bit, but I may have been so excited to shoot it that I didn't seat them all the way back in. After I re-sat the pins in their proper spot they didn't walk out again after 150 more rounds of shooting.
The only reason I mention it is because I want you to be aware that you need to make sure they're seated, too.
Henry would have had a much harder time selling rifles if they hadn't included the functionality of swapping magazine wells to already available mags, instead of forcing users to buy proprietary magazines without the option of increased capacity.
It's always nice when a manufacturer looks after their consumers (looking at you SIG and Colt).
Shooting the Henry Homesteader
I shot a few hundred rounds in each setup using PPU 124 grain 9mm NATO, Federal Premium 115 grain American Eagle, and 124 grain Federal Premium Punch hollow points.
I didn't have one malfunction the entire time I've had it, which is great news. Recoil is obviously minimal considering its heft and the fact that it's only a 9mm cartridge.
The rifle is plenty accurate. While I didn't push it too far, 25 – 35 yards, and shooting offhand, I was able to keep it, for the most part, in the center of the target.
The rifle was accurate with all of the ammo I used, and at least a part of the reason why it works so well is because of the open sights it comes with. There is a front blade and an adjustable ring out back.
I didn't have to make any adjustments to it and was able to pull it out of the box and put accurate shots on target. As you'd expect, and as most guns are, it is fun to shoot. I'm limited to what I can do at my local indoor range and I can't shoot steel or anything. But, it is still fun nonetheless.
The trigger is nothing to write home about. There is a small bit of takeup before the trigger breaks. I didn't put a gauge on it, but if I had to guess I'd say it's somewhere in the neighborhood of 5-7 pounds.
I loved the placement of the safety pictured above. I'm a Mossberg 500 kind of guy, and this was very intuitive for me.
Homesteader Issues
There are some minor issues that I had with this rifle, most of which aren't really worth mentioning, but I always say that I'm an ambassador for the gun industry at large, not for any one company.
My goal is always truthfulness, and that's why you're here.
First, as mentioned above, the receiver pins began to walk out a bit. They didn't move far and they stayed put after I tapped them with my rubber mallet. It may just have been that I didn't put them back in right.
This did NOT happen before I swapped the magazine well out. So I do think this one was a user error. I was excited. Can ya blame me?
Second, as already stated, is the magazine wobble. I had no problems with it other than the worry that the wobble might cause a problem. But other folks have reported some issues.
Check out Honest Outlaw's videos.
Finally, one that I haven't mentioned, is that the muzzle thread protector also needed to be tightened down several times while shooting. I could have cranked down on it if I wanted to, but I didn't want to use a tool while out at the range because I didn't have anything besides cardboard to prevent marring up the knurling.
In my opinion, none of the above are deal breakers.
Conclusion
After it's all said and done I think this is a fine rifle that isn't without its own minor issues. Then again, all guns tend to need some love when they're first released, and this is a very early version.
I think if they get the magazine wobble figured out, they'd have a real winner on their hands. I personally like it and may have just found my new truck gun.
After all, mine works.
Learn more about the rifle on their page.
Next, read Terry's Big Box X Review.