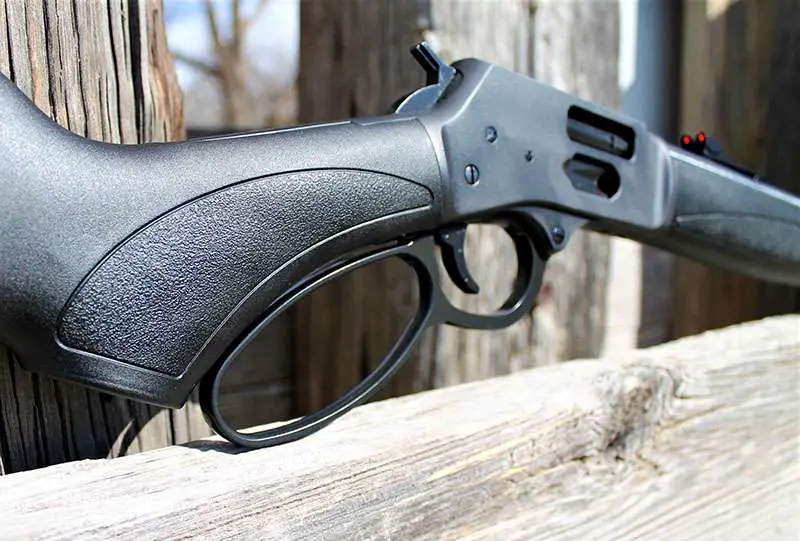 The lever action carbine has certainly regained much popularity since the days of your granddad's ole 30-30. Most shooters have opted for higher capacity, semi-auto platforms in a handgun, rifle, shotgun, or modern-day bolt actions for hunting.
Today if you want to take another look at the lever action with a new twist, look no further than Henry Repeating Arms. Henry offers what many consider the traditional Western-style lever guns in a variety of configurations. But one of their newest models which was first introduced in 2020 has changed how many folks see the old lever gun of days gone by.
Enter the Henry Big Boy X Model. The Big Boy X-Model comes standard with durable synthetic furniture and is equipped with integrated mounting points for a sling. A solid rubber recoil pad, and both Picatinny and M-Lok accessory slots to aid in attaching any tool you may need.
The carbine-length barrel is topped off with both front and rear high-vis fiber optic sights. The muzzle end is threaded (5/8×24 thread pitch) to accept a suppressor or other muzzle device. A screw-on thread protector ensures your muzzle threads stay in top shape.
Henry's Big Boy X Model utilizes a 7-round removable tube magazine for convenient unloading, along with a side loading gate that allows that magazine to be kept topped off without needing to remove the tube or suppressor.
Key features of the Big Boy X Model include:
17. 5-inch round blue steel barrel
Weight of 7.3 pounds
14-inch length of pull
36.3-inch overall length
7-round magazine capacity, side gate, or tubular load
Fully adjustable fiber optic rear sight and fiber optic front sight
Receiver, blue steel and drilled/tapped for scope mounting
Stock, black synthetic
Transfer bar safety
Large loop lever for gloved hands
Swivel studs, Picatinny rail and M-Lock
5/8×24 Threaded Barrel
Bottom line if you're looking for a new-era carbine lever gun that is a bit more tactical looking, the Big Boy X Model is it and comes standard with a threaded barrel for a suppressor. Calibers offered include .44 special/.44 magnum, .45 Colt, and .38 Special/.357 Magnum.
Additionally, X Models are offered in .45-70 and .410 Shotgun as well, however not in carbine length barrels, and are listed as large frame rifles on Henry's website.
For 2023 are the X Model in the new .300 Buckhammer (more on this in a future article), and the 30-30 Winchester, both also listed as large-frame rifles. 
All X Models, carbine or rifle length are currently listed at an MSRP of $1,091 on Henry's website.
Make no mistake, I enjoy my so-called "evil black guns," but also quite appreciate a short-barreled lever gun, whether it be a rifle caliber or a pistol caliber model. Another consideration, you may well find one of these lever carbines on your retailer's shelf long after the AR and AK platform guns have all but disappeared!
Check it out, on Henry's website.