Not all gun-related companies are struggling. But, if you hadn't noticed, the firearms economy is in a bit of a rut right now. Not as many people are buying guns as they had in the previous years leading up to the election of Donald Trump, and that's been proven by the number of NICS checks that have been done in recent months.
It's down from previous years.
While plenty of us are still buying guns, the frenzy has slowed way down, which, as I'll point out in a moment, hurts more than we initially thought.
There are many reasons why sales are down, or at least on a roller coaster ride of ups and downs, to include a relaxed group of firearms enthusiasts. History has shown that we generally tend to be up in arms whenever we think the president is anti gun or wants to take our guns away.
That's what happened starting in 2008 with then President Obama. We all thought he was going to take our guns away and out of fear we all ended up buying a lot of guns, gear, and ammo.
He was nominated gun salesman of the year for 8 straight years and because of that, the gun industry boomed. It brought on many new faces making products just to keep up with the demand of everything that was required.
It boomed. And, because it boomed there was also a bubble of sorts. Those companies including firearms retailers and smaller manufacturers have been the first to go. Many of them are already gone because they just couldn't compete with selling firearms at a 20$ markup.
Furthermore, even some internet retailers are struggling. I am immersed in this industry more than the average person is, so I see it first hand.
I don't just run this blog and concealedcarry.com's blog … I also own a marketing and consulting company that caters only to the outdoor industry and hear the struggles first hand from companies who have been hit hard, as well as others who haven't been hit hard, yet, but are trying to stay proactive.
Just like big box retailers trying to compete with Amazon, the gun and gear manufacturers have to think outside the box if they want to be successful and remain in business.
That's a good thing, by the way because it forces us all to stay on our toes, creating new products, and keeping us moving forward with new technology.
And, honestly, that's exactly what started to happen the past couple of years and has continued on into this year's SHOT Show 2019.
Anymore, a company can't just rely on their brand name to sell product. They have to bring customers to them. Actively. If they don't, they'll feel it in their wallets.
There are a couple ways companies do this. One is by appropriate marketing channels and the other is by being creative/listening to what your customers want.
We see examples of this all the time in our industry, more and more as of late.
For example: Last year SIG Sauer shook the entire industry up with the release of their P365. I've spoken to several gun shops who say that the 365 is the hottest selling gun they have. They can't keep them in stock and are usually off the shelves within hours of them getting placed there.
Oftentimes they don't even make it to the shelves because they're back ordered.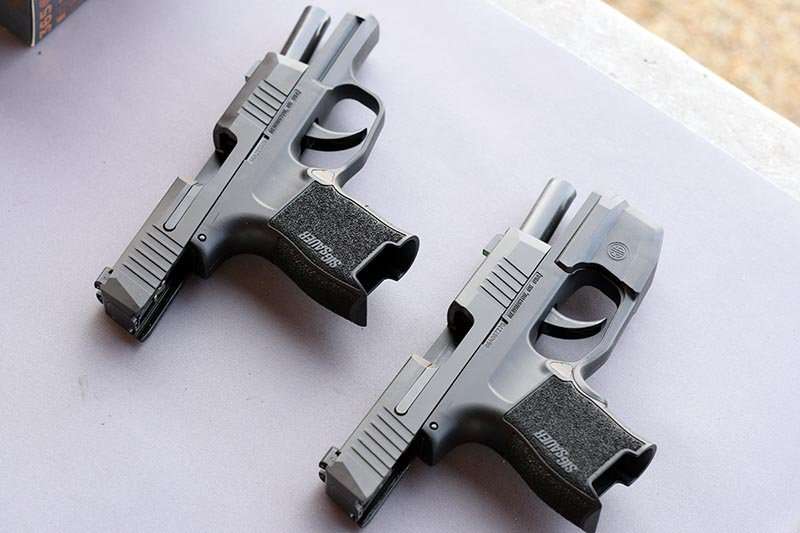 That's a great problem for SIG Sauer. They make them as fast as they can, continuing to improve upon the product–making it better. Consumers rave about the product, driving sales up further, and there is no sign of it slowing down. It's a never ending cycle.
The P365 sells itself. And why? Because SIG addressed a problem and fixed it. They recognized that the biggest problem to any self-defense scenario is capacity. So, they gave us a 12 round 9mm pocket pistol that shoots like a big gun.
A side benefit, and making matters more interesting, is what happens throughout the rest of the industry. I've spoken to holster manufacturers who've said that their holster models for that gun are their fastest selling holsters they have, still–even after a year of the 365 being out on the market.
I spoke to one company out at SHOT Show who said that sales of their P365 holster is basically the only thing keeping them afloat right now. I won't say who that is so I don't embarrass them, but that's a huge deal.
The sale of one gun holster model is keeping the lights on for that company. Let that sink in for a moment.
But SIG isn't the only one innovating new products. I look all over the gun industry and see changes to product lines, thinking outside the box, etc. Those who refuse to do this will continue to struggle and may go out of business, just because our industry is always seeking the next thing.
Take Mossberg for example. Mossberg traditionally manufactures long guns like shotguns and rifles. They've had huge success in that market, but you know all that.
There are essentially three different camps you fall into if you're a shotgun lover: You either love Mossberg 5XX shottys, Remington 8XX, or any of the others (combined because they're not as popular).
A huge population of gun folk love Mossberg shotguns, which shows when you take into account that Mossberg is listed at number 5 in the top 10 biggest gun manufacturers.
But the percentage of business they've likely missed out on over the years due to their decision to not make handguns is clear. They were missing out on a ton of business. On the plus side they already have a cult-like following who will snatch up their guns like a fat man in a hot dog eating contest.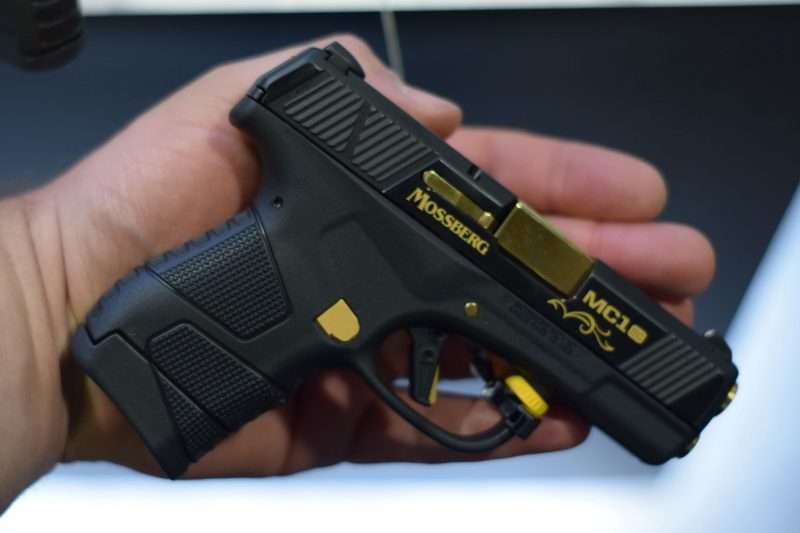 And, after shooting their new pistol, I can say that I don't think they'll have any issues moving them. That little thing is excellent so far after about 150 rounds and no gun-related failures (I did have a light primer strike due to some reloaded ammo).
They (were) missing out probably on about 50% of the industry's business just because they chose to not make handguns. And no, I'm not insinuating that their sales will go up 50% based on this pistol just that they were missing out on a lot of business just because they didn't have anything that appealed to the concealed carry market.
They recognized that they were missing out on a lot of business, adapted their business model with an excellent product, the MC1sc, and have hit the ground floor running. If there is one thing Mossberg knows how to do, it's make guns.
And that little sucker received great remarks from everyone I spoke to who shot it.
They have successfully shaken up the industry just by entering the sub compact pistol market. Everyone else will now sell a few less pistols, and Mossberg will sell a few more guns. And, usually, a company will enter the market with a sub compact just because it is a bigger market.
What many folks don't realize is that it's a sign that there will be an entry with other size and caliber offerings to follow, gobbling up even more sales from the stagnant competition.
I see a compact and a full size on the horizon, perhaps in a couple other calibers besides 9mm, as well. Time will tell, for sure.
You may disagree with me and that's fine, but I shot it and thought it was great and have plans to buy one myself, as does at least one person on my team. Here is a video of it from the range:
Another example is the new Colt revolver line. Two years ago they re-released the Colt Cobra, likely out of necessity due to a slum market and no new excitement for the brand, and this year they did what nobody thought they'd ever do: release a .357 magnum revolver.
I mean, there were articles dedicated to telling fans to stop asking because Colt would never release another .357 Mag revolver.
Well, they did and I know why. It's not because they wanted to release a 357 magnum revolver like the King Cobra, but because they had to. Why? Because when your customer base asks for something, the smart thing to do is give it to them.
That revolver is sexy as hell with a trigger unlike any I've felt in a DA revolver. Colt heard what the industry wanted, and gave it to them.
Can you imagine a world where that happens? The people who make and sell the stuff actually listen to the people who want to buy the stuff.
And if you were unsure, yes there is still a market for revolvers. Colt had to re-break the mold to bring back what people wanted. And, they're likely smiling about it now because after shooting that gun, I can say that I'm also in the market for a King Cobra for my walks through black bear country.
Just between the trigger being like butter, the oversize trigger guard, and the 6-shot capacity are enough to sway me from Ruger or Smith. Check out our video with a senior VP over at Colt, Paul:
The companies who are first to this thought process of listening to what customers are asking for and/or innovating new products are the ones who will stand up to the test of time and thrive through another term of Trump. Those who don't will continue to struggle. Sure, some companies will stay around just because they have die hard fans. Those fans will likely be enough to keep them around, but they won't thrive.
So, because of the innovation of some companies, it'll force others outside their traditional thinking just to keep up and our industry will be better off for it.
What's another product people have been screaming from the hilltops for? Everything in 10mm. More than that, however, a 10mm pistol caliber carbine.
So, what does Stag Arms do? Release a brand new to market 10mm PCC that is flawless. I've heard other manufacturers say that they couldn't get them to work right, but Stag stuck with it and I'm happy to report that I shot the hell out of one at the range before SHOT Show started and couldn't be happier with it.
They listened to what people wanted, and BOOM! Insta-Sales. Well, they haven't hit stores as of this writing, but you get the point.
Speaking of hitting the stores, you may or may not know this but Stag Arms allows you to order direct from their website and ship to your FFL with free shipping over $99 to the lower 48 states.
The market will continue to shift and get more competitive. More companies will innovate, doing things that they've never done before, making the industry more competitive and driving more companies out of their comfort zone to stay profitable. It's a cycle, and about time it's happening on a large scale in our industry.
Heck, even Hi-Point is innovating to stand out from the masses.
Time will tell how far we go, but one thing's for certain, I can't wait to see what's new at next year's SHOT Show, 2020.