Your guns are a lot like your body, needing to be fed on a regular basis. The things that you put into your body should be decent, won't make you sick, or send you into cardiac arrest. Much in the same way, your guns need good ammo that doesn't suck, break the bank, damage your gun, or make them too dirty.
I recently had the opportunity to put some serious lead downrange from a newer ammo company who supplied me with a big-ass bag of .223 ammo to do a review on.
The results of this .223 rifle ammunition?
Well, it's hard to do an ammunition review because, it either works or it doesn't. Truth be told, if it works it's kinda boring to do a proper eval on, because there really isn't anything to speak about. Of course, we could speak about whether or not the ammo burns clean, how accurate said ammunition was at the range, and a few other things.
I didn't experience any malfunctions in the bag of remanufactured .223 ammo God And Country Munitions gave me to test out, so I guess this'll be a boring review.
Accuracy: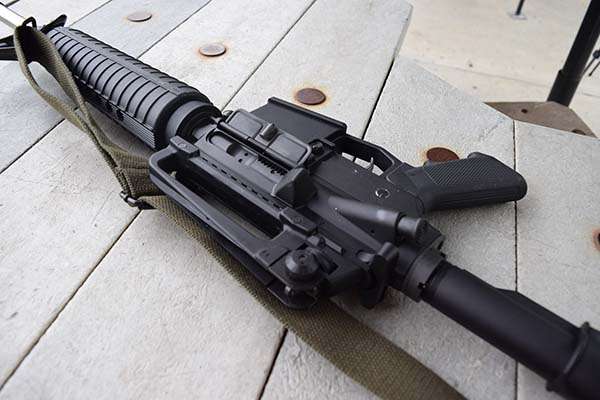 So, the rifle as tested is chambered in 5.56 NATO with a 16″ stainless steel barrel and a 1:7 twist rate, at 50 yards with open steel sights shooting at a lone, white, 9 inch paper plate. Yeah, I'm old school without a single optic on any of my rifles, even though I own three scopes (two of them have never left the package).
I also want to note that the tested rifle is one that I built myself from the ground up from an 80% lower and a budget PSA kit and upper. In other words, this is my budget AR-15 build and if I was going to witness any malfunctions, I believe it'd be with this one. It's not the best AR-15 out there.
Anyway, after I realized I was sighted in for 100 yards with the open iron sights, I got on target and utterly destroyed that little target with each squeeze of the trigger.
These Full Metal Jacket Boat Tail 55 grain projectiles stabilize nicely and out of the mostly-shot 250 round bag, I didn't notice any tumbling rounds on impact. That's all great news, and as you likely know, 55 gr .223 bullets are good to shoot in barrels with 1:7; 1:8; 1:9 twist rates and should stabilize nicely in all of them.
That's one of the reasons why you almost always see 55s for sale in the store, they're the most common because they shoot well through many different barrels and platforms.
Now, as a side note, I usually opt for 62 grains and up in my 1:7 twisted barrels, just because the heavier projectiles usually perform better from my barrel. 55 grain projectiles are likely the smallest I'd use in this AR-15 barrel.
Dirt Factor:
Ammo is dirty. You can have the cleanest ammo available, and it'll still leave some residue on your internals. This stuff burns pretty clean. Is it the cleanest? I'd be lying if I said it was. If I had to compare it to something that you're likely familiar with, I'd say it's somewhere along the lines of PMC.
Again, it burns pretty clean, and I'm told that the powder they use is hard to get because it's some specialty recipe. At some point in the near future, I'll be doing a white glove test with the next batch of this stuff I get. Why am I going to keep getting it? Because it's effing cheap!
Cost:
Listen, I shoot guns for a living. I can get a lot of ammo for free, but nobody is sending my poor butt cases of ammunition to shoot like I'm some famous YouTuber. Because of that, I still need to buy my ammo, and I know where I'll be getting it from, from here on out. Well, in the calibers this guy currently offers, which is 9mm and .223.
I am told that there are plans to move into a few others in the near future, though, so we look forward to that.
So what's the cost? Well, you can buy a case of 500 rounds for $147.50, shipped. That means that this is the total price you pay. Shipping is included every time you buy, not just the first time.
This is a 250 round bag, that sells for CHEAP.
Remanufactured, reloaded, or new?
This is likely one of the most misunderstood aspects about buying ammunition.
New ammunition is something that should be understood, right? It is never-fired brass that is loaded from a factory like Hornady, Federal, PMC, etc. Re-manufactured ammunition is that whose brass goes through an arduous inspection process at a factory before loaded to SAMMI specs on professional equipment, and finally, checked for quality. The rest of the parts are new, projectiles, powder, primers … all that's re-used, are the brass cases–which are inspected.
Reloaded ammo, on the other hand, goes through the inspection of the dude reloading in his basement on a machine he bought at Cabela's, sipping on a cool Budweiser. Nothing wrong with that, at all, but it is a different process.
Re-manufactured ammunition, in theory, should be totally fine to shoot through any modern firearm, but always check your owner's manual first. You do read your gun's book, right?
Conclusion:
This is good stuff. It's pretty clean, shoots well, didn't jam up my cheap rifle, and is super cheap.