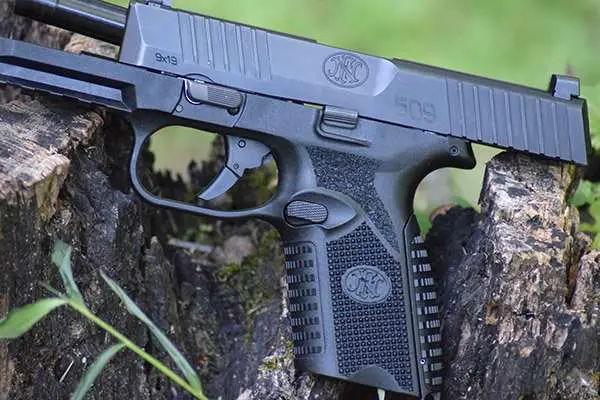 A few years ago the Army was in search of a new sidearm to replace the Beretta M9. The M9 was a gun that I had qualified with when in the Marine Corps. It was and is a good gun, even if the Marine-issued sidearms were utter turds that were beaten under generations of abuse from my fellow jarheads.
That's the backstory for the FN 509. When the US Military looks for new guns, a host of manufacturers step up to the plate in an attempt to deliver something special. It turns out that SIG Sauer won the contract, but even though they did, the civilian market ended up as the winners with a few new gun models hitting the scene.
One of those guns was the FN 509. It was insta-love for me as a big fan of FN and the guns they make. And kind of special is that FN usually remains out of all the industry drama. When I say that, I'm specifically thinking about Glock and Sig hating on each other, or SIG suing Springfield.
Stuff like that.
FN Herstal doesn't usually have that drama for one reason or another, and that's kind of refreshing. FN is in the business of making guns, and it shows.
FN 509 Midsize Review:
The 509 is a 9mm handgun that comes in multiple different sizes and models. For my review here, I have the Midsize, but there are Tactical, compact, and MRD models available as well. I've shot most of them and can say that they are very similar besides weight and balance.
Other than that, most of what makes the 509 a good carry gun, will be found across all models. Some of what I really like is the grip and its texture, the trigger break and reset, and some of the other smaller features. Let's jump right in.
FN 509 Grip:
The grip on the 509 is excellent right out of the box. I'd go as far as to say that in terms of helping a gun stick to your hand it's one of the best. One of the reasons why I think so highly of it is because it offers multiple different textures in the right places to really enhance how well you can hold onto the gun while shooting.
Even with sweaty hands, the gun stays planted firmly where it's supposed to while shooting. The reason why I make this such a big deal, is because during an incident when you have to defend yourself you'll probably have sweaty hands.
In such an event you'll need all you can have on your side, to include a gun with a grip that helps you hold onto it.
FN 509 Trigger:
The trigger on the 509 is one that offers up a very crisp break after a little slack. I didn't measure it, but I'd guestimate that it would be somewhere around 6 pounds.
It has a flatter face, or shoe, than others but is not a flat trigger, as it is still somewhat curved.
I go more into the trigger in the below video and actually show it being pulled during some dry fire so you can see the take up, break, and reset.
FN 509 Controls:
The controls on the FN 509 are both intuitive and ambidextrous. If you're left-handed, there is no need to swap anything out because they come as fully ambi from the factory with both the slide stop and the magazine release.
The magazine release is an updated design that sticks out more than the FNS9-C's release did that was harder to reach for people with thumbs shaped like mine. This one is better in shape, but not perfect yet for me. Still, the mag release drops the magazine free from the gun as it should.
The slide stop works well as a slide release as well, if you're like me and use it as such in your training to send the gun into battery. The gun goes back into battery without malfunction whenever I employed this method.
FN 509 Sights:
The sights are really nothing special. The standard sights are luminescent 3 dot sights, but not tritium like these ones are. They're luminescent in that they require a light source to charge up, and they dim relatively quickly.
The rear sight does have a flat face on it for emergency slide racking, and they are combat height sights.
FN 509 Accuracy and Reliability:
The 509 is accurate at all defensive distances, as well as out to 40 yards, which is the furthest I shot it from. Most of the time I'd shoot at a steel plate, so I'm talking about defensive shooting here, not shooting tight groups.
Though, I'm sure in the right hands that it would shoot tighter groups than I could shoot.
The gun is also very reliable. In the two years I've had it I cannot remember any malfunctions using the plethora of different ammunition types and brands that I've put through it.
This is a good, reliable, and accurate defensive pistol.
FN 509 Specs:
These are specs taken from FN's Website.
CALIBER: 9mm
OPERATION: Double-action
MAG CAPACITY: 10 or 15 Rd.
WEIGHT: 26.5 oz.
BARREL LENGTH: 4.0″
OVERALL LENGTH: 7.4″
TWIST RATE: 1:10″ RH
HEIGHT: 5.2″
WIDTH: 1.35″
TRIGGER PULL: 5.5 – 7.7 lb.
SIGHT RADIUS: 5.79″
Conclusion:
The FN 509 is a real contender for the throne in the personal defense gun market with the MRD model being on my list of the best optics ready guns available right now.