In terms of things you'll use more often than your gun, a tactical flashlight is up there at the top. The reasons are many why you'd want to have and carry a flashlight, like maybe you dropped something in the dark and need to find it.
Also, most violent crime happens after dark. As a gun owner, you're responsible for every projectile that leaves the muzzle of your gun. In some situations, lighting up an area with a weapon-mounted light is risky and even negligent.
It's only logical, then, to own a good tactical flashlight—preferably more than one.
A firearm kept for protection should be accompanied by a flashlight, at least at home and in the car.
Not all flashlights are up to the task of target identification or other emergency applications like signaling from a distance. Here are five points to look for as you shop for your first, or next, tactical torch.
Tactical Light Brightness
This is the most important factor. For most residential applications, look for a lumen rating of 70-100. Brighter than that, and most indoor spaces reflect too much light off walls, mirrors, and such to see well.
Higher than 100 is usually necessary for lighting up most backyards and the area around your car if you have to pull over at the roadside. To light up the world as far as 100 yards away with sufficient illumination to identify targets, choose 700 lumens and higher.
Lumen rating and price are almost always positively correlated at around 300 lumens and above.
Under that, prices vary depending on other features. If the light has no lumen rating on its packaging/advertising, it's not going to be bright enough for consistent target identification and other tactical or hunting purposes.
Be aware that some companies' claims of illumination at seemingly impossible distances, like 700 meters, is only sales talk. Exaggerations are not uncommon in flashlight marketing.
Tactical Light Switch
Here's a feature that separates good from not-as-good where tactical use is concerned. The term pressure switch indicates the light can be turned on and off with simple pressure from the thumb.
If the light is dropped, or pressure released during an encounter with a violent criminal actor, it simply goes off, making it impossible to accidentally cast light on you. This is also an advantage when hunting legal game at night.
A pressure switch can also be "clicked" to stay on, like a normal flashlight. But the pressure option is a highly desirable one.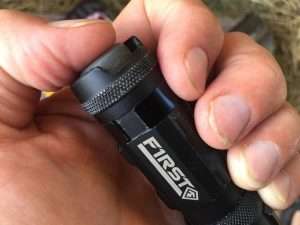 This type of switch is nearly always accompanied by placement at the tail end of the light, opposite the bulb. I prefer this type as it saves having to consume time and effort searching for a side-mounted switch.
Tactical Light Options
My favorite tactical lights have three modes—reading brightness, full brightness, and strobe. For outdoor chores, range, and self-protection applications I use them for, this is all I need.
A strobe isn't necessary, but a handy gadget for unwanted guests, especially in the event your bad guy is under the influence. Its confusing effects can purchase valuable seconds.
Even with just three modes, I often find myself cycling the strobe mode when It's not wanted. Imagine the trouble a student had when he showed up for a timed nighttime drill wielding a light that could cycle through these plus several filter colors, i.e. blue for blood tracking, red for reading, and so on.
He finally ditched his full-featured camping/hunting light and borrowed a much more boring but practical one for shooting.
Color and brightness options are very useful in some situations. In general, the light kept for defensive use should be relatively simple.
Some lights have a bezel end for use as a kubaton-like striking tool. All but the smallest of flashlights can become a back-up weapon. Here again, purpose-made tactical lights, with their aluminum or steel housing, will hold up better than plastic.
Tactical Light Power source
Want really bright light? Choose a torch that's powered by CR123A batteries. These batteries are usually a mail order item, and are usually more than twice the price of dime-store batteries. They produce light that's free of the yellowish tint that's visible in most comparisons between traditional battery-powered lights and these.

The downside? When they're depleted, they check out with little or no warning. If you choose CR123A power, have some backups on hand at all times. First Tactical's small TriTac and the LA Police Gear EDC are two with this battery type I own and use and have been very pleased with.
Rechargeable batteries are another option. I've not had the best of luck in the longevity department with these batteries, though it's possible they've improved overall since my early trials with them.
Some companies offer lights that can be powered by either battery type—really an ideal option. People who are very light-sensitive may find they prefer the somewhat softer light emitted by traditional battery power. Rechargeable batteries are becoming more common, and also more reliable than in the past.
My own experience is limited to one "imitation" tactical light (no pressure switch, no lumen rating). So far it's run about two hours on a battery charge before starting to dim, but it's still working.
Carrying Your Tactical Flashlight:
The shape and size of light you choose should depend on your desired use. I prefer a longer light for shooting drills, as it makes the light easier to retrieve from my armpit during reloads.
Alternatively, First Tactical's Small TriTac includes an elasticized thumb or finger loop that's easy to index without even looking at the light, allowing me to run reloads without the light leaving my support hand.
DIY wrist or digit lanyards are a fine addition to a tactical light. It's wise to craft one that allows the light to fall away easily when the hand is relaxed, though. Having a tightly attached object to your hand can spell disaster if the light gets caught in some object or if an assailant grabs and pulls the light.
Your hands are unique and what's comfortable for you in terms of the light's girth may vary depending on task. I find short lights easier to hold onto while performing property chores, but a long, skinny light less distracting while shooting, yet annoyingly easy to lose when carried in jeans pockets.
Conclusion:
I can't count the number of students who've shown up at class, despite having been provided a couple basic parameters for an acceptable range light, with something that seemed bright in the store, often a multi-LED bulb model.
On the dark range, the light fails to help the shooter see whether the subject on a paper target just 10 yards away is holding a weapon.
While it's easy to believe whatever marketing language is on the "tactical" light packaging at your local Everything Store, take this message as a recommendation to try a light that fits the five traits mentioned here. You owe it to yourself to be able to identify a threat quickly and accurately.
Because at the end of the day, being able to ID your target is of utmost importance. The last thing you need to do, is make a mistake and shoot an innocent.