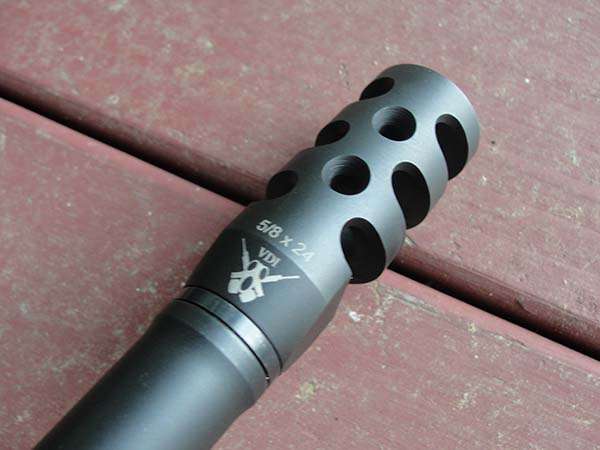 The AR-15 is the most popular firearm in the country, and with good reason: It is the most capable, widely available self-defense tool that most Americans can own.
I won't dissect that any further in this post, but suffice it to say that you're here reading this article right now because you already own one of them and want to know:
Does my AR-15 need a muzzle brake on it?
Probably not, unless you're into precision shooting, are using a bigger caliber AR-15 that produces a significant amount of recoil, or you don't cherish your ear drums.
Now that we answered the primary question, let's dissect the reasons why you probably don't need a muzzle brake on your AR-15, more in depth.
What does a muzzle brake do?
A muzzle brake is a device that attaches to the end of your rifle's barrel that helps the shooter control the felt recoil of the gun so that it hits the shoulder less.
The end result is simple: Faster target re-acquisition because the rifle recoils significantly less. As an added bonus, the gun is more fun to shoot because it doesn't hurt as much, and you'll be able, and willing, to shoot more often and get better with it.
Please note that a muzzle brake performs a different task than the other devices, like a compensator.
I won't go into detail on that, but discuss the difference between a muzzle brake VS a flash hider VS a compensator in that article.
AR-15s don't recoil hard:
Why don't AR-15s need a muzzle brake? Because they don't really recoil hard enough to require it. The AR platform rifles have a great recoil mitigation system put in place, before you take into account that many of the calibers don't really recoil all that hard anyway.
For example, if you were to stick a 223 Remington AR-15 and put it next to a bolt action of the same caliber, the bolt action would most likely feel like it hits a bit harder. The reason for this is because there is a big spring inside the AR-15's buffer tube that absorbs a lot of it.
But even in the bolt action rifle, the 223 Rem isn't a hard hitter.
That said, if you were to put a 223 chambered AR-15 and stick it next to a 6.8 SPC, you would notice a difference with the bigger one hitting harder. But it is still manageable for most people.
If it becomes unmanageable, then using something to help mitigate it would be welcome. However, even then, I wouldn't start with a muzzle brake. I'd start with a recoil pad or something like that.
I'll discuss the reason why I'd start somewhere else, next.
The drawback of a muzzle brake —
The above-stated purpose of the muzzle brake does come at a cost, however, which is an increase in muzzle blast.
When I say that, I mean that it is much louder and is often accompanied by a bigger flash of light. If there is one thing that is super annoying whenever I go to a public range, it is when I have to shoot in a lane next to someone with a muzzle brake attached to their rifle.
Even the smallest of calibers like a .223 Remington will produce significant muzzle blast when equipped with such a device.
The reason why it does this is because the brake diverts gases in such a manner that it forces the rifle to recoil less. The muzzle brake actually forces the rifle to hit the shoulder less.
Whereas the rifle's gases are usually forced out to the front of the rifle without a brake, with one installed, the gas is forced to the side. It can be very loud.
In fact, the above-pictured brake worked so well, it was the only time I've ever hurt my ears while shooting with hearing protection on. I was messed up for hours afterward. Of course, the hearing protection I had on wasn't the best and it was a 308 Winchester AR-10.
Not all muzzle brakes work:
I'd feel like I did a disservice if I didn't at least mention that not all muzzle brakes work, or are even intended to. Some of them are merely for looks, while others are sold as a working item, but aren't as good as others.
If your goal is to reduce felt recoil then make sure you get one from a reputable company like VooDoo or Lantac.
If you're just into the look of the muzzle brake, which is totally fine, then there are plenty of options.
Consider a compensator:
The above article which discusses the difference between the popular muzzle devices is a great read if you don't know which to get. More often than not, when someone is looking to add a muzzle device to their AR-15, they should add a compensator which works to minimize muzzle rise (or flip).
In my opinion, all an AR-15 really needs is a flash hider, but I understand the whole customization thing.
Always cover your muzzle threads with something, even if it's just an $8 A2 flash hider like this one found on Aero Precision's website.
Conclusion:
The way you customize your rifle is totally up to you. Just know that more often than not it isn't needed, and can actually be annoying for both you as the shooter, and others at the range.
Next, check out if your AR-15 made my list of the best AR-15 manufacturers.