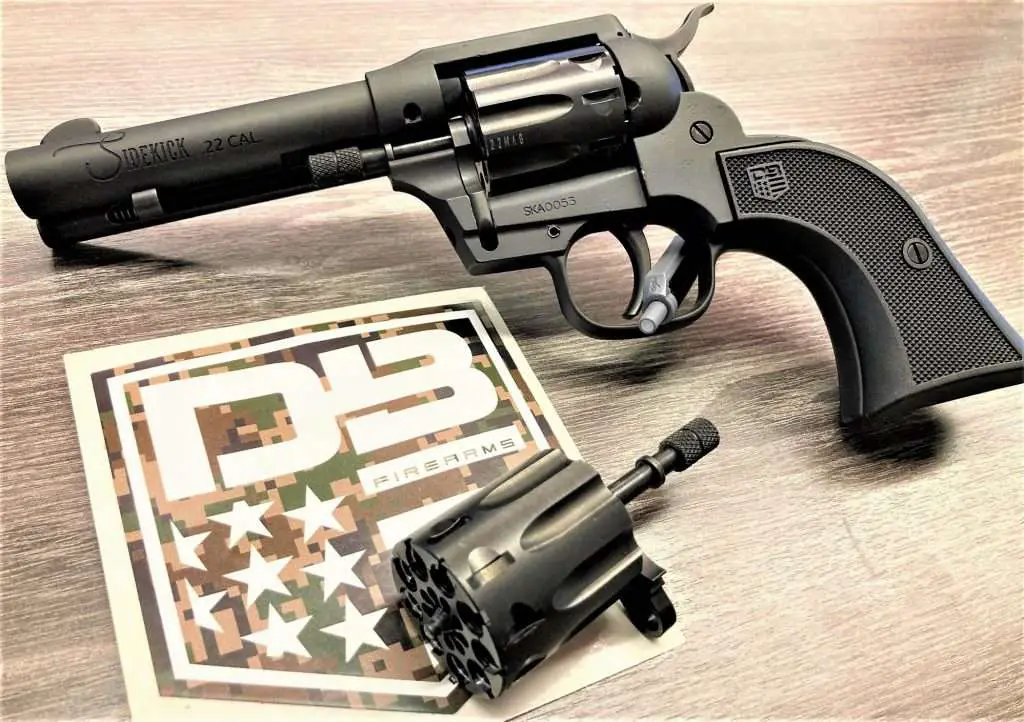 Read our Diamondback Firearms Sidekick Review.
Based in Florida, Diamondback Firearms just recently announced a new revolver with an old west flavor. The Sidekick, a nine-shot revolver in single and double action in .22 LR or .22 Magnum. 
For folks wanting a lightweight revolver for hiking, small game hunting and back country utility the Sidekick may just be the ticket. While the .22 LR cartridge is an all-time favorite, the option of the .22 Magnum brings out additional versatility for hunting and even self-defense.
Both cylinders utilize a quick convertible swing-out arm allowing the user to switch between standard and magnum cartridges in a matter of seconds. 
The Sidekick is reminiscent of the old Colt Single Action combining the often sought after classic western style and modern-day revolver features. Sporting a 4.5″ barrel, smooth black Cerakote finish, and checkered polymer grip panels.
An old school ejection rod allows for easy ejection of spent casings. The revolver weighs in at 32.5 ounces overall with a 1:16 RH twist and six groove rifling barrel that sports a fixed front blade sight. Rear sight is integral to the frame.
I was able to get my hands on this revolver at the recent 2021 Outdoor News America Writers' Conference in Grapevine, Texas. I fired several cylinders of both .22 LR and .22 Magnum and found this little gun to be reliable and just plain fun to shoot.
Specifications and features for the Sidekick are as follows:
Caliber: 22LR / 22Mag Convertible
Grips: Checkered glass filled Nylon
Rear Sight: Integral on frame
Frame & Handle Material: Zinc
Frame & Handle Finish: Black Cerakote
There is little doubt the Sidekick will be a great choice for first-time gun owners, old west firearms enthusiasts, and those wanting a good companion in the outdoors. Diamondback will officially offer the Sidekick on November 22, 2021.
MSRP for the Diamondback with both the .22 LR and .22 Magnum cylinders is $320, and more information on this gun as well as other products from Diamondback Firearms is available at diamondbackfirearms.com.
Read next: