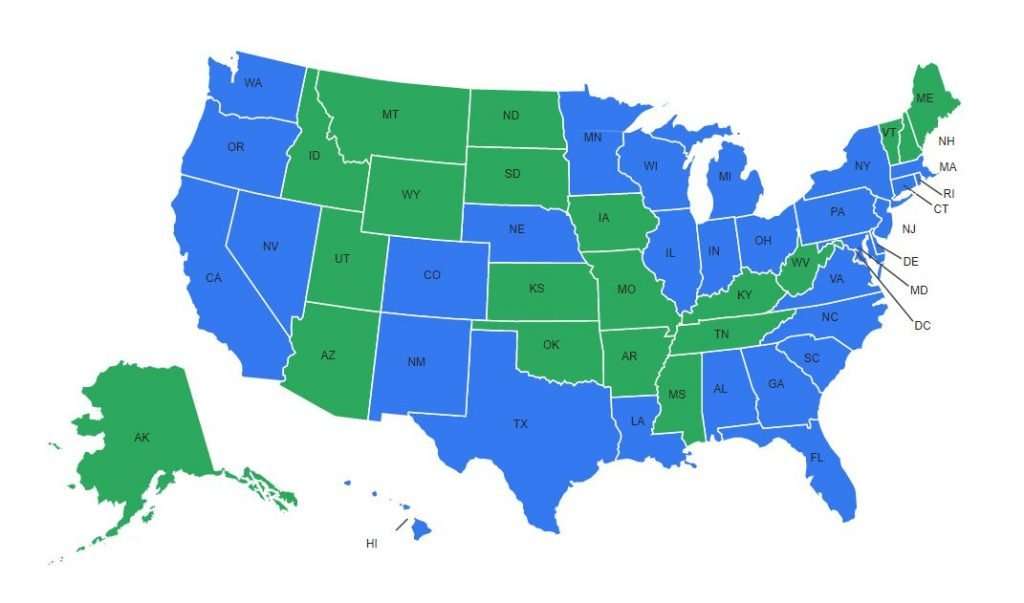 Constitutional Carry Map:
I thought it'd be a good idea to put together a map of Constitutional Carry states and update it each time a new state joins the ranks.
The states that are green on the below map are those that are current Constitutional Carry states, or those with passed legislation but with laws that haven't reached their effective date as of yet.
The blue states are those where a permit or license is still required in order to carry a concealed gun for self-defense.
A recent addition to the above map is Florida which goes live in July, 2023. Another recent addition to the map is Nebraska which is live in June.
The number of pro-gun states flipping the bird to big government is growing. Some of them are doing so by passing Constitutional Carry legislation, while others are taking a more indirect approach.
Before we get there, let me answer the following question for those who don't know:
What is Constitutional Carry?
Constitutional carry, or permitless carry, is when a state says any legal person can carry a firearm for self-defense without a permit. Other websites FALSELY claim that this applies to open and concealed carry, but each state sets its own rules.
I strongly urge you to check your state's rules, as some states only apply this to their residents, or say that it must be concealed carry.
For example, North Dakota is on the map, but it only applies to residents. This means that if you were to go to that state with your gun, you need to have a permit from your state that has reciprocity with it.
Some states also only allow Constitutional Carry for concealed handguns. For example, North Dakota and Utah both only allow Constitutional Carry for concealed handguns. It does not apply to open carry as other websites falsely claim.
Therefore, make sure you check on the laws to make sure you know if you're breaking any.
Each time a new state passes permitless carry legislation I'll be sure to update the above map so we can keep you updated as much as possible.
Leave your thoughts on this in the comments below.