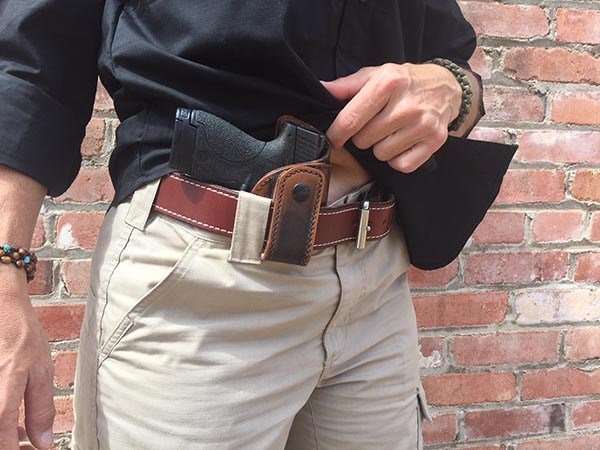 There are more new concealed carriers over the past year than in recent times. This means that there are a lot more people who know less than they should about how to conceal a gun correctly on their body.
This article is meant for people who have been carrying a gun for less than one or two years, but I assume that anyone can learn something from this article.
And of course, I go into this entire thing as someone who has been carrying a concealed gun for a long time, and as a guy who just finished up his tenure as the managing editor for ConcealedCarry.com.
In other words, I have more experience than the average person does, when it comes to concealed carry. This article assumes two things. First, it assumes that you already have your concealed carry gun.
Second, it assumes that you have a desire to protect yourself and/or family from a violent threat.
Let's get started, and go right into tip number one:
Concealed Carry Gun:
Yes, I assumed above that you already have your concealed carry gun in your possession. However, there are some things that you need to consider here.
Have you put the necessary range time in?
Do you know the ins and outs of your gun?
You need to have a solid understanding about how your gun works, and therefore you must be able to shoot your gun with some level of proficiency.
But it goes further than that, I've seen some people who were gun owners who were unable to manipulate the controls of their gun. These are things that you need to practice. Yes, I know that ammo is expensive right now, but you have to just buy some and go to the range to shoot your gun.
Dry fire –
Even more than that, however, you can manipulate and do something that is called dry fire in the comfort of your own home. This is possible only when your gun is dry, or empty, of any and all ammunition.
Also good to practice, are things like pulling your slide back, locking it to the rear without a magazine, sending it forward again, etc.
You can do all of this from the comfort of your own home, again ensuring your gun is unloaded first.
Our dry fire resources:
Is it safe to dry fire my gun?
Live fire –
But there is no replacement for actual live fire shooting with ammo while at the range.
When you go to the range there are a couple of things that you must take note of, first being that your gun actually works when loaded and the trigger is pressed.
Second is can you actually shoot the gun with live ammunition. Do you hit or target or are you dancing all over the place? Can you shoot with a rapid cadence if needed, meaning, not just slow fire?
All of the above are needed to improve. And yes, we're all still practicing.
Your Concealed Carry Holster
A lot of people put much time, effort, and research into the gun they're going to get. They spend the money, usually hundreds of dollars, and then go to the local WalMart, buy a cheap turd of a holster, and say they're ready to carry their gun around town.
This is a bad idea for a few different reasons. First being that WalMart, to my knowledge, doesn't sell good holsters. And even if it isn't a WalMart holster, chances are good that your first gun holster is not good.
Even if you put any amount of research into buying one and you read the reviews on the website, chances are excellent that it's still not the best holster you can find.
Those reviews, usually say something like this: "This ___ is the best holster I've ever owned."
While that may be true, the person who left that review forgot to mention that they've only tried two other holsters and don't really have any experience.
While reading customer reviews is always a good idea, you don't know the experience level of the person leaving the review. That person might be an idiot, and you just don't know. The best bet here, is for you to research reviews from people in the industry who have had the chance to test dozens or even hundreds of different holsters.
If the gear you're looking at doesn't have any reviews on any third party websites you should consider that as a red flag and stay away. There are some real turds out there.
Your holster is meant to keep your gun in the spot you put it in. It needs to be able to conceal your gun on your body while preventing you from shooting yourself.
Concealed carry holster primer
You Need a Concealed Carry Belt:
About half of you reading this are saying: "no I don't" while the other half are saying "what's a concealed carry belt?"
First of all, yes you DO need a concealed carry, or gun belt. Second, the reason why is because it is designed to hold up the extra weight of your gun and anything else you may be throwing on your belt.
The only time you don't need a gun belt is if you're carrying not on your waist, or are carrying in a holster that does not require a belt like a belly band, the JM4 Tactical QCC, or Brave Response Holster.
Otherwise, if you are carrying a Kydex or leather holster that requires a belt, you need to use one that is designed to be rigid and not flex or sag under the extra weight of your firearm, holster, ammo, etc.
I like these two belts, personally, but any gun belt will work.
Practicing Your Drawstroke:
I have a quick question for you. This question does not need an answer, but is just something for you to ponder.
What good is concealing a gun on your body if you can't get it out fast enough when needed?
The answer? It's not good. But I can't just leave that there, I have to go further in depth. So I'll say that you need to practice your drawstroke.
The drawstroke is just a fancy term some dude or dudette gave the form of drawing your gun from the holster and presenting to target.
When you're just starting out this is not an easy thing to do. The only way you'll be better is by practicing. You can do this with your dry fire practice.
Trust me when I say that every sucks at this the first several times they do it. You'll get better with practice, and acquiring a firm shooter's grip is the most important step in the process. Without that grip, you'll have to correct or be forced to defend yourself with that poor grip.
If that's the case your recoil management goes right out the window, as does any follow up shots. Oh, and you might cause yourself a malfunction.
Anyway … back to the point of dry fire and your drawstroke –
Ensure your gun is unloaded and practice drawing your gun and presenting to a target on the wall.
At some point adding a shot timer to the mix to test how quickly you can do it is a good idea, but it is more important at first to train yourself so it becomes automatic.
Other stuff you need:
Obviously you'll need certain other gear in order to be effective at your concealed carry journey. In addition to the above stated stuff, you'll need ammo, hearing protection for your time at the range, dummy ammo to help you practice both in your dry fire and live fire training, eye protection, extra magazines, and a way to track your progress.
Concealed Carry and Travel:
If you plan to do any sort of traveling with your gun while you have your concealed carry permit, it's imperative that you know the laws in the states that you plan to both drive through and visit for an extended stay.
The last thing you want to do is get pulled over and then arrested because you didn't follow some arbitrary law in that state.
I STRONGLY recommend this book to you, which is something that I actually had a very small hand in helping to create. It is a fantastic resource that should never leave your car. It is also available in physical or digital form.
The Legal Aspect of Concealed Carry:
A lot of people strap their gun to their waist and assume that the hardest part of any scenario would be the incident itself.
While it is true that the incident, or your defensive gun use, is a serious endeavor to be sure, the actual struggle can begin after you defend yourself. There are tons of things that can go wrong after the fact.
For example, you may end up incriminating yourself if you say something stupid. Or, you may get sued by the family of the person you defended yourself against. There are a couple of things you can do ahead of time to ensure you're as prepared as possible.
First, join a program like CCW Safe. These guys have a track record of coming out and helping people who had to defend themselves. They represent you in court and the cost is minimal when you think about the headache you're avoiding.
Second, read up on some actual legal advice beforehand. I recommend something like this from Andrew Branca, who is the lawyer who literally wrote the book about self-defense.
Closing thoughts:
Concealed carryis a journey and one that you must continually try to improve upon. I still practice and brush up on my skills, even though I've been doing this for years.
All of the best of us do continue to learn. This is why none of us claim to be an expert in these things. If you have anything to add, please do so in the comments below.