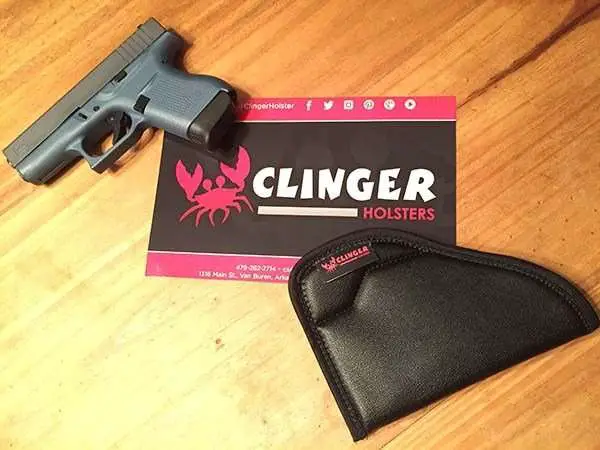 Here is a Comfort Cling Review:
Seems like every week there's a new concealment holster on the market. Many fall short of expectations for both seller and buyer for being uncomfortable to wear. Others lack sufficient retention of the gun or protection of the trigger guard, and are thus unsafe.
But there's a new clip-less holster on the market that, in this gun wearer's opinion, avoids those problems and has made its way into my very small stable of everyday carry (EDC) holsters.
The holster, called Comfort Cling, is made by Clinger Holsters of Arkansas.
It's a sheath, lined with non-marring ballistic nylon, and covered in an undisclosed fabric that's soft and tends to cling to what's touching it.
Between those layers is sandwiched another proprietary, gel-like material that's lighter than foam and meant to cushion the gun, protecting the wearer from nasty poking or abrasions during all-day wear.
Around the outside is binding secured by zig-zag stitching, holding the two halves of the sheath together.
Clinger says this style of stitch won't allow binding to catch on the gun, and so far, that's proven true. It makes a quite smooth junction where the binding meets holster material.
Designed for inside-waistband (IWB) or pocket carry, Comfort Cling features a tab in front of the trigger guard, extending to underneath the muzzle end, to keep it oriented inside a pocket.
It's not the first holster designed this way, but it is the first I've seen on which the tab is padded like the rest of the holster.
The Comfort Cling comes in just two sizes—single and double stack. For the last month or so, I've been wearing the single stack model IWB at the two o'clock position.
In addition to mundane activities like errands and work around the house, I've ridden horses and did an eight-mile strenuous hike with the Comfort Cling and a Glock 43 inside it as companions.
Even though the official testing is over, I'm still wearing the holster—and it takes quite a winner to tear me away from my go-to holsters for any length of time.
I've worn the Comfort Cling primarily with two belts—the Exos bridle leather gun belt and Nexbelt, both made for carry.
With higher-waisted, snug pants, I can also wear it with no belt at all—with the caveat that the grip tends to tilt forward and print, or at least feel like it will, unless I maintain perfectly straight sitting posture.
It's remained as secure than one of the other two holsters I wear habitually, the Sticky Holster. It differs from the Sticky in its slightly more grainy, less tacky texture, and lighter weight.
As for the texture, imagine attempting to scoot across a soft leather couch with bare legs. It's comfortable. It's clingy.
In what could be applauded for truth in advertising, Clinger Holsters' description of the Comfort Cling says it can be worn in beltless waistbands, but the tighter, the more secure.
That's accurate. Even pajamas, sweats, and gym shorts, it goes on to say. That's a stretch, unless those garments have a drawstring. Placing two, not just one, half hitches at the beginning of tying a bow will make a waistband tight and keep a holster secure.
The Comfort Cling is safe in terms of retention and trigger guard protection, for a majority of daily activities. Jobs that include turning upside down or crawling on one's belly, if carrying IWB, could spell trouble for retention.
Could I press a solid, narrow object into the trigger guard sufficiently far to activate the trigger? Yes, but with great effort, and that ability is removed when the holster is also protected by a waistband. For me and my fairly active life, it's perfectly safe.
The company says the Comfort Cling doesn't collapse when the gun is removed—a potentially huge advantage where re-holstering into any soft holster is concerned. While It doesn't go completely flat, I still find myself "fishing" a bit with the muzzle in order to reholster.
That's never acceptable for safety. It's really no problem to withdraw it, holster safely, and reinsert the whole works into the waistband or pocket.
Remembering the correct name of Clinger Holsters' Comfort Cling holster may present a challenge for modern minds, usually full of useless but competing information from commercial bombardment. To complicate matters, the company logo is a cute, cartoonish crab.
I find myself wanting to say "Crabby holster" before sorting through all the similar words under the brand to arrive at the correct one.
Maybe that's just me and the effects of too much unventilated indoor shooting earlier in life. A little branding issue doesn't reduce my affection for this easy-wearing holster.
Comfort Cling is allegedly more durable than the Sticky brand. Had I a few more years to test it and get it to the state of wear my Sticky is in, I might be able to comment with a qualified opinion. Both last a long time; longer than expected for an economy holster.
Speaking of money, here's where the Comfort Cling wins the day as a relative equal to the Sticky Holster. $19.99 is the price, with a two-week refund policy and a one-year warranty.
Sticky, by comparison, retails for $29.95 and has a lifetime workmanship guarantee. I now use both, depending on the gun I'm carrying.
Both serve me well. The Comfort Cling can be a great choice for anyone searching for a secure but comfortable and quick to don or shed carry system, and the financial risk is low; very low in comparison to some systems.