Bushnell TRS 25 Review, Is it the best red dot sight for the money —
Cheap Optics. Two words that when put together make me cringe, especially when it comes to cheap red dot optics. Most are junk, better suited for Airsoft guns than actual firearms.
I'm a big proponent of hobby grade optics for hobby grade guns. I'll never say you need an Aimpoint, Eotech, or Trijicon for every gun you have, but some guns are just made for fun and affordable optics are a perfect pair.
With this being said there are tons of optics made from Chinesium that are going to fall apart very quickly and be a total waste of money.
However, I've found one sub 100 dollar optic that isn't hot garbage and that's the Bushnell TRS 25. It's a serious contender for the title: best red dot sight for the money, at least if you're in the market for a more affordable option.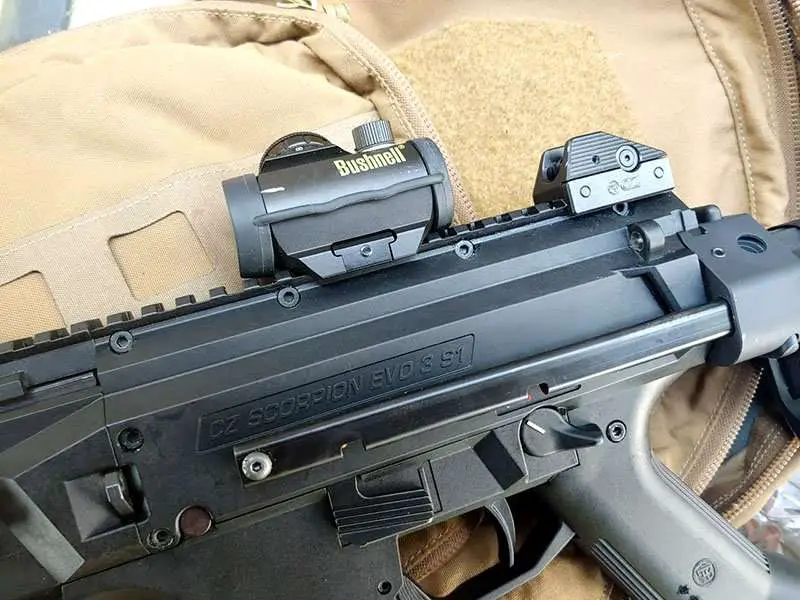 The TRS 25 is a compact red dot optic designed to be lightweight and easy to use. We recommend not buying from Amazon because chances are good you'll one directly from China that is a knockoff.
Instead, buy direct from Bushnell, here.
The TRS-25 has been around for a while now, and it used to be priced right around a hundred bucks. I was timid then, but once the price dropped to 42 bucks I finally pulled the trigger. 42 bucks isn't a lot of money.
My pocket knife cost more than that. A few boxes of defensive ammo costs more than that. And, the cheapest 80 lower jig I have actually costs less than that.
In those last few months, I've tossed it on an AR pistol, and now a CZ Scorpion and have been impressed by its overall performance.
The TRS 25 – What's in the Box
The optic comes with a built-in Picatinny mount that is very low which is why it swapped from my AR to my Scorpion. Higher mounts are available, but the Scorpion needed an optic anyway.
The 25mm objective lens is well suited for smaller guns but is big enough to be quick to get on target. The Bushnell TRS 25 has a 3 MOA red dot, and 11 brightness levels. The dot is crisp at most intensity levels, but from 9 to 11 the dot begins to have some blur to it and loses that crispness.
It weighs only 3.7 ounces and is 2.4 inches long and will fit on the most compact of guns. The lens has a slight, bluish tint to it but is not darkened in any way. You also get a battery, an Allen wrench, lens covers, and a lens cloth.
How Does it Hold Up?
The TRS 25 is not trying to be anything other than a simple, reliable, best red dot sight for the money. It's not a duty grade sight, and it's not designed to be used for any kind of combat role.
It's a solid little tool meant for the range, for training, and maybe even for hunting. In those roles, it won't disappoint. Just don't expect it to help you take Fallujah.
As a red dot sight, it is faster and easier to use than iron sights. Zeroing it is a quick and easy affair and you'll be ringing steel before you know it.
The dot allows you to quickly transition between targets and to get on target with some blazing speed. Out to 150 yards I could see and hit a steel USPSA target with my AR pistol. The dot is plenty sharp for engagements out to 200 yards and beyond.
The Dot is rather dim on any setting below 7, with 7 and 8 seeming to be the sweet spot for bright days. As an added benefit they don't compromise the dot's sharpness.
The view through the optic is nice and clear, especially for this price range. There doesn't seem to be distortion around the edges. It's not Aimpoint clear, but it's clear enough for the best affordable red dot for the money.
It's held zero with both 5.56 and 9mm without issue. Could it be used for larger calibers? For sure, but I didn't have anything crazy to test it on. The biggest downside is the battery life. It advertises 3k hours, but that's optimistic.
That would be 125 days continuous use and I've already swapped batteries once in 4 months. I also don't leave the optic on constantly.
Final Verdict?
If you need a hobby grade optic for plinking then go for it. The TRS 25 works wonders in that category. Stop buying absolute trash optics and spend a hair more for the TRS 25.