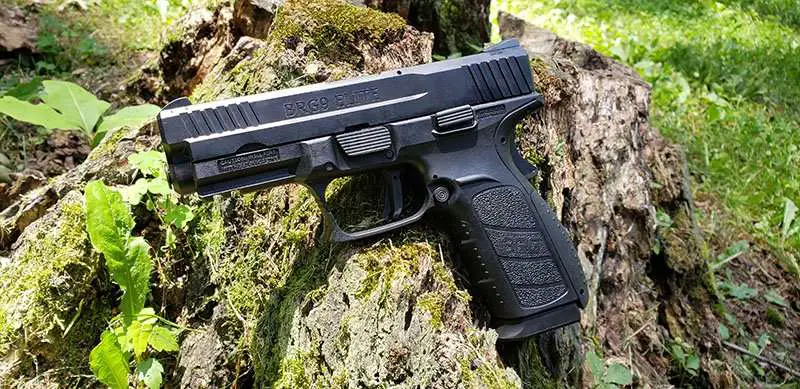 Announced at the 2022 SHOT Show, is the brand new to market BRG9 Elite. This pistol is brought to us by the combined effort of Burgu Metal and Buffalo Cartridge Company and is made in Turkey, like so many pistols these days.
Here is the pistol out at SHOT Show 2022:
I had the chance to shoot it while out there, and decided that I wanted to shoot a few hundred rounds through one so I could try it out more in depth.
The sent me one to try out, and what follows are my initial thoughts on this new pistol.
BRG9 Review —
For me, it looks like Springfield Armory and Canik got together and had a baby. Ergonomically, it feels great in hand, and it does shoot well.
I will say that I'm not a fan of a grip safety on anything outside of a 1911, but I understand that some folks prefer this type of safety as an added measure against stupidity.
*Please know that the only safety you should trust is your brain*
It has a full grip that allows you to really clamp down on the already minimal 9mm Luger recoil. Speaking of the grip, there are a few different grip inserts that you can customize to your most comfortable, to help aid in your shooting.
Something that I'm not usually a big fan of are grip indents suggesting where you put your fingers. I will say that they're not incredibly pronounced and I barely notice that they're there.
The grip does not have an exaggerated stipple to it to provide that extra stickiness, and I'm sure some folks would modify it to get it to stay in their hands during sweaty shooting.
Then again, I always take the easy way out and buy a set of Talon Grips so there's no chance that I'd screw up the gun itself with my limited ability.
While at the range I have had a chance to do some drills, as well as some good old fashioned target shooting, but so far I've only had the chance to put two different kinds of ammo through it:
115 grain Federal American Eagle
124 grain PPU
After all, ammo is still pretty expensive, and I'm having a harder time replenishing it. Still, in order to do a gun review I've got to shoot the thing.
First, the issue —
No firearm is going to be perfect, no matter what lies the fanboys may tell themselves. This particular pistol seems to malfunction with 9mm cartridges that are a little longer, for whatever reason, from the factory.
For example, a handful of the PPU ammo I shot were a little longer and got hung up on the way up the ramp, as seen in the below picture:
This isn't the biggest deal because it only did it a handful of times in 100 rounds of that ammo. That being said, this ammo came from a 1000 round case I purchased a while back, and other guns have eaten it up without issue.
After speaking to a local gunsmith who has fired one of these, he confirmed that his had the same issue, and didn't like longer ammo usually associated with 124 grain projectiles.
I assume the reason why is because 124 grain projectiles get their extra weight because they're longer, not wider. Some of them may not have seated all the way in the case during manufacture, creating this malfunction.
I did NOT have a single malfunction with the 115 Federal American Eagle, however. And, I've not shot any hollow point ammo through it at this point.
BRG9 Accuracy
I wasn't able to push the boundaries all that much with this pistol, but I did shoot it at 5,7,10, and 15 yards both one handed and utilizing my traditional thumbs forward grip.
I am happy to report sufficient accuracy out to 15 yards and it shoots better than I'm able.
As you can see from my target, I was shooting to the left, which is something that I do by habit, and have a hard time breaking except under very strict circumstances.
BRG9 Trigger
One of the biggest draws for this pistol, especially at this price point, is the trigger. The trigger has a blade safety which must be pressed in order to fire, but that's not what I'm talking about here.
For a pistol like this, there is a bit of take up, without any resistance, until you hit the wall. Once the trigger reaches the wall, it is a short, crisp break.
The trigger resets quickly and allows you to get back on target with a new shot with accuracy.
The trigger is also mostly flat faced, after you get past the blade safety, which allows the trigger to break at just past a 90 degree angle.
BRG9 Mag Release and Controls —
The magazine release is a point of contention for me on just about every gun I own. Even with my enormous hands, I cannot hit it without changing my grip.
I don't think it is a problem with the pistol, specifically, but more of the way my thumb bends. I did do some quick magazine changes while at the range, and as usual I'm able to work through it once I realize that there is an issue.
The 16-round magazines fell right our when the release was hit, and the new one always inserted with ease.
During my shooting I always vary up how I send a round into battery after changing a magazine, and I had not issues with either method. The slide stop is nice and big, sort of like my old Springfield XD9, and is easy to hit.
I never had a problem with it going into battery, accept on those times where the ammo was too long as discussed above.
BRG9 Sights and Slide —
Something that I tend to nitpick on many pistols are the shoddy slide serrations, or lack thereof. In many pistols these days, the slide serrations (which are the things meant to help you get back into the fight) are not deep enough to work properly.
Then, if you have wet, sweaty, or bloody hands, it causes an issue of life-threatening proportions.
This pistol does not have that problem. Both the front and rear slide serrations are pronounced and do their job well. I did not manipulate it with wet hands, yet, but don't see it being an issue with how pronounced they actually are.
As far as the sights go, there really is nothing special going on here. These are traditional three-dot sights, with the front being a reddish-orange.
That being said, they do look windage adjustable if necessary, as well as removeable if you desire aftermarket sights.
I'm not sure who makes sights for this pistol, or if they take another pattern sight right off the top of my head.
BRG9 Elite Case and Accessories —
It looks like they put a lot of thought into the case and its contents. Everything has its own place and it allows the owner to have an extreme amount of order.
Having a mag loader and the grip inserts makes a lot of sense, and I did put the speed loader to use while at the range, after having left my Uplula in my other range bag.
That being said, I'm not sure there are many gun owners out there who don't have cleaning supplies that they have access to. I know that I have several cleaning kits. One for each range bag and a main one that sits in my office.
I did use the included cleaning supplies once, but only for review purposes and I'll likely never use them again unless I had nothing else.
Personally speaking, I'd like to see the top half of the case scrapped for a third 16-round magazine.
A third mag goes a long way in the eyes of any gun owner, because it is one less that they have to buy. And in my humble opinion, you should have at least three mags for each gun — if not more.
Two is never enough.
Conclusion:
Overall, the BRG9 Elite is a great handgun that will cover the bases for a budget shooter that is mostly reliable with the right ammo.
I plan to keep testing this pistol, and record myself doing so in the coming months, so make sure you stay tuned for that if you have desire to see the updates.
For more information, please visit the company website.
Check out my list of what I consider to be the best 9mm handguns, next.