While I was out at SHOT Show 2022 I was contacted by a newer rifle case manufacturer to see if I'd be willing to do a review on one of their rifle cases. I tend to lean toward the whole "you can't have too many" of certain things, rifle cases included, so I said yes.
This is your typical long gun case, with a few key differences and some room for minor improvements. This is not a paid review, but the company is an affiliate of mine so keep that in mind going forward.
There are a few small issues I take with this rifle case, which are outlined below. But first, let's talk about what sets this rifle case apart from the competition, and is actually kind of cool about it.
Bone-Dri Keeps Your Guns Dry:
The main draw for any of the Bone-Dri gun cases is that they will keep your guns dry in wet climates. They're also good for pulling moisture off of your gun, if you happen to find yourself hunting in the rain or something like that, or if you're one of those who has to dive to the bottom of the lake after the boating accident.
The way it does this, at least how I believe it does, is by utilizing pockets of silica gel throughout the case itself. Right where my finger is in the above picture, is where I feel silica gel-type material underneath the padding.
While I'm not 100% certain that they're silica gel, it is what they feel like and I can feel these pockets in various places throughout the entire case.
Much in the same way your products come shipped with silica gel packets inside the box to keep moisture off your goods, this company uses similar technology to keep your guns dry.
One thing that many folks don't realize is that silica gel can often times be dried out and reused. The Bone-Dri case can be recharged by placing it in the sun and drying out the absorbent material.
The Case Itself:
The case itself is constructed well. The padding is consistent throughout the entire thing, and does a good job of protecting the contents from damage. One end of the case is wide enough for a standard buttstock, and the other end is narrow for the barrel of the rifle.
The outside is constructed of a canvas-type material that is strong and holds up to abuse.
The stitching seems strong, as does the zipper.
There is a single, adjustable strap that you can use to sling the case around your shoulder to transport it around. Just make sure that if you've got anything in the external pocket, that you really make sure the Velcro is secured because I dropped a magazine out of it the first time I carried it this way.
There are also a pair of carry handles if you'd prefer to use your hands to transport your gun case around.
Now let's take a look at a few of the smaller issues I have with this case, because I wouldn't say that it's perfect, even if it does have features that other cases do not.
Internal Strap:
The strap on the inside of the case that is meant to secure the rifle on the inside seems to be more of an afterthought than something that was purposefully put there to hold the gun in place.
It's like a one size fits all sort of thing, that really doesn't secure any of the guns that I put in there. Above you can see my Mossberg 500 which is swimming around inside, and below you can see my AR-15 not doing much better.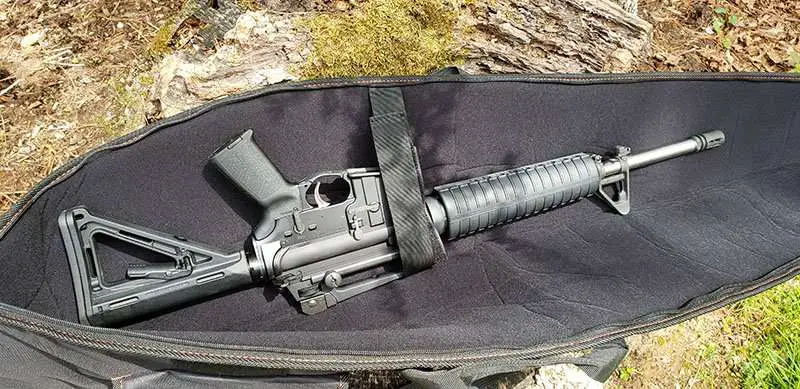 The strap is sewn to the inside of the case so there isn't much room to fix it, and it cannot be moved anywhere else. The inside of the case will allow you to attach Velcro straps to it, however, which is a good fix to secure your gun to the inside.
Then again, I have soft cases of this shape that do not have a strap on the inside at all, so them putting one in there is a step up from those other cases.
Case Size: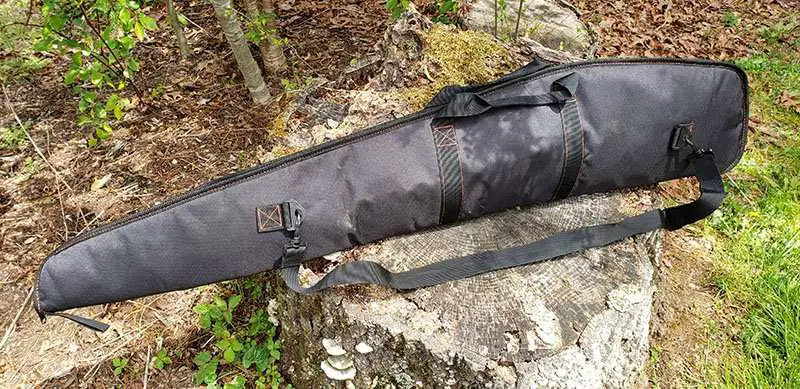 Length wise, the case is good to go. It fits every single long gun I have with ease. Where the case begins to struggle is if you've got a scoped rifle with a pistol grip.
I added a rifle with a scope to the inside of the bag and would not zip closed. This isn't the biggest deal if you're a fan of iron sights, but if you're into optics this may be a problem.
A slimmer bolt action rifle with a scope (or rifles without a pistol grip) will fit just fine, however.
Below is a picture of how much room I had with the AR-15 closing without an optic, and you can see that it is already pretty close.
The bag did not zip closed when the rifle was flipped in the other direction, with the grip facing away from the zipper.
Conclusion:
Overall for what you're getting with the moisture fighting Absorbits material on the inside of the case, I'd say this is a good buy. There are some things about it that could be improved, but having a strap in one of these cases that is form fitting to your rifle isn't the biggest deal.
And because I live in a literal rainforest, it just makes sense to me to have a case where moisture damage is limited.
If you want to learn more about this or any of their other gun cases, check out their website.