Blackhawk's new interpretation of the leather holster
The firearm accessory market, dominated in recent years by synthetic, tactical-looking, mostly black materials, is taking a turn back toward nostalgia and tradition.
Wooden handguards for the AR platform are now available. And leather is back, surprisingly heralded by none other than the most tactical of companies, Blackhawk.
The Blackhawk Premium Leather line is a series of full- and compact-size, inside-and outside-waistband, series of all-leather holsters, mag pouches, and soon, belts.
Recently, I've had the opportunity to test an IWB model, secured with a belt strap/snap, for the Smith & Wesson Shield. Metal clips for IWB and slotted pancake models for OWB are also offered, as are matching mag carriers.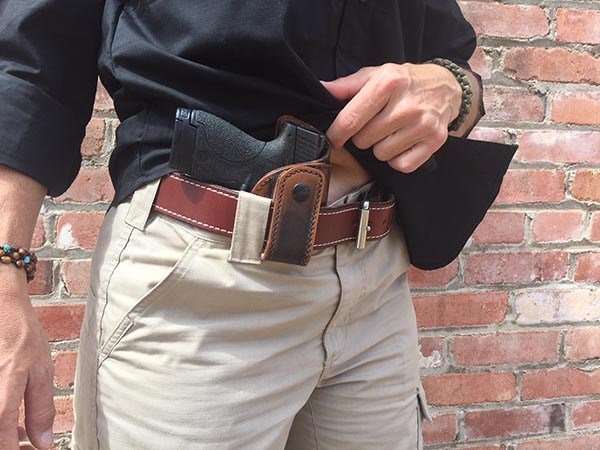 The most striking aspect of this product line is its appearance. There are two shades of brown offered, both with an antiqued look and semi-gloss finish. It's utterly classic and attractive in either shade. The belt strap only enhances the classic profile on the test model.
Visible branding is minimal and classy. Blackhawk's adaptation of the trident symbol is stamped at the bottom and occupies less than 0.5 square inch.
On the rear is stamped the model and caliber for which the holster is made, Blackhawk's web address, and the manufacture month/date. It sounds like a lot, but it's subtle and not visible when wearing the holster.
This Italian-made leather gun holster is sufficiently rigid to sustain its open shape while empty and under a belt, at least so far. Model-specific fits for most major brands are available.
On the Shield in this test, the cut is entirely custom, and perfectly so. There's no wasted material to add bulk around the handgun. There's just enough excess around the rear of the slide to prevent skin-to-steel contact.
Behind the trigger guard, thoughtful sculpting allows the wearer to obtain a firing grip while the gun is still holstered.
To my mind, the ability to get a firing grip on the still-concealed gun is the first essential beyond the safety considerations of adequate trigger guard protection and gun retention. This Blackhawk Premium Holster has all three.
Fitted for the 9mm or 40SW Shield, the holster is 4.0 inches at its widest, and 6.5 inches from rear of the slide to the end of the slide. The muzzle end is open.
Re-holstering is a breeze and can safely be done while the holster is in place inside the waistband. A retention screw, a design element borrowed from synthetic holsters, adds customizable retention and peace of mind to this platform.
Though I haven't worn this holster long enough to assess whether re-holstering will remain safe as the leather breaks in, I can attest that it is comfortable when walking or sitting for extended periods.
It doesn't squeak when I walk, and drawing/re-holstering are silent—a good indication it'll be easy on the gun's finish over time.
Only one trait of this holster is unappealing, in my estimation. As an equestrian who thinks the smell of luxurious leather is euphoria-inducing, this piece doesn't cut it.
Something about the treatment of this leather lends a mild odor that disappoints when I'm expecting the scent of a tack shop. But that doesn't matter much since it's worn a long way from the nose.
Colors are burnished or antique brown. Each piece is hand-crafted; no two are alike. These holsters can be found on Amazon.
MSRP for the Blackhawk Premium Leather IWB holster is $99.95. Matching mag pouches are $49.95. The company anticipates a complementary belt release soon. For a custom leather holster look with wearable comfort it's hard to go wrong with this one.
What are your thoughts? Do you think you'll be in the market for one of Blackhawk's new holsters? Let us know in the comments below. Next, find out which guns Josh thinks are the best 9mm handguns.