My views on what makes a good SHTF gun has changed from what it used to be. It used to be that I'd recommend these guns for your SHTF scenario, but I have since expanded my thoughts. The main reason why, is because the world went to hell in a hand basket and everything changed.
You can't find ammunition for the popular guns we used to recommend and if you're just getting into this I think it'd be a mistake to buy certain things. And while I still recommend everyone have a 9mm pistol and an AR-15 chambered in 5.56 NATO, it has to go much further than that.
Before we move on, why am I writing this article? Because I live by the thought that you can never have too much ammo. This is especially true if you're training and shooting on a regular basis like you should be.
If you are shooting and not replenishing, you'll eventually run out. I have thousands of rounds of different calibers, but I don't like not being able to buy so I'm changing my thoughts a bit.
Let's take a look at the post-pandemic SHTF best gun list, starting with what I like to call "dual-purpose" guns.
Dual-Purpose Guns:
The more you can do with less the better off you'll be. What I mean by this, is that it doesn't really matter what caliber you go with, as long as it's an off-caliber gun with availability in multiple different platforms.
For example, just a year ago we'd recommend a revolver chambered in 357 magnum because it gives you the ability to also shoot 38 special, like this Colt King Cobra (you can read our review on this revolver here).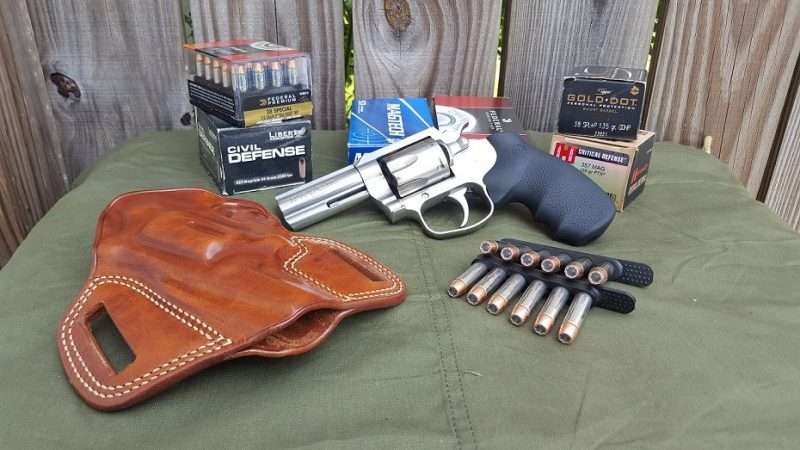 I no longer recommend this approach because finding either of those calibers is getting harder and harder. It's a similar approach, but has been tweaked a bit.
Let's take a look.
44 Mag revolver and rifle —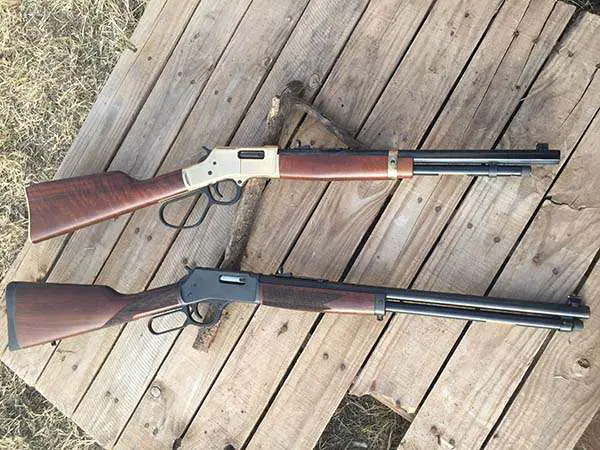 At the end of the day you've got to go with what you can find. So going with .44 Magnum gives you options in ammunition that are still available, or at least more available than many of the others. You can get a 44 mag revolver, like those from Ruger, S&W, and Taurus that can also shoot the tamer (but still potent) 44 Special.
Then, you can also get a lever action 44 Mag from someone like Henry that also shoots 44 Special.
Dual purpose out the wazoo, here, because you can also hunt with these to bring food home. This is the perfect SHTF scenario combination.
And, 44 mag, ballistically, is just about as ideal as you can get both defensively and for hunting. (Here is our 44 mag ballistics chart).
And the main bonus here, is that both 44 calibers are readily available at sporting goods stores as well as online.
You don't have to choose 44 magnum though as your caliber. You can get creative if you don't like this one, or would prefer a softer-shooting round that's not 357 (remember, 357 and 38 are nearly impossible to find right now).
Like what?
327 Fed Mag —
The 327 Federal Magnum is a potent little sucker that also just happens to be a dual purpose cartridge in many different ways. For example, guns that are chambered for it can also shoot 32 H&R magnum, meaning that you can look for two different types of ammo at the store, as opposed to just one.
And, I hear those of you who don't want to stock different kinds of ammunition because of space prohibitions and what not. To me, I'd rather have ammo of different calibers than none at all.
Further, you can buy revolvers chambered in 327 Federal Mag as well as lever-action rifles. Ruger's SP101 chambered in this little mover even gives you an extra round in the cylinder over their bigger sister, 357 magnum revolver.
And of course, the rifle can be hunted with and Henry makes good guns.
They are also very sound ballistically and are similar to 38 special and 9mm. Scroll down to 327 Fed Mag on our handgun ballistics chart to compare them.
Off-caliber AR-15 round —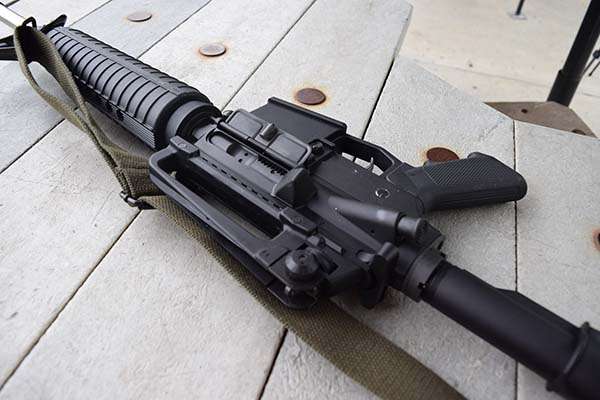 I'd never suggest getting rid of yours (or mind for that matter) 5.56 NATO chambered AR-15. However, if you haven't noticed, ammo is nearly impossible to find for it. One of the coolest features of the AR pattern rifle is just how versatile they can be.
What I mean, is that you can have one lower receiver and numerous upper receivers, only having to do the one background check for the lower, if money is an issue.
So, right now, I've got my regular 5.56/.223 AR uppers, but I also have a 6.8 SPC upper. The beautiful thing about this if I didn't have a dedicated lower for both, is that I could remove the one and attach the other if needed.
And, being that 6.8 SPC is still widely available in my area at the local sporting goods stores, I have no issue buying this ammo, even if it is more expensive than I'd like.
There are plenty of other off-calibers you can choose for the AR-15 besides the one I've got. A few others still available at least in my area, are 6.5 Grendel, 224 Valkyrie, and 450 Bushmaster.
I'd strongly recommend buying an off-caliber upper for your AR-15 lower, and you can do so here at PSA.
Off-Caliber Pistol —
I have a lot of 9mm ammunition in the "thousands of rounds" area. Still, I live my life by saying that you can't have too much. Most of my pistols are 9mm, and I have a 9mm pistol caliber carbine (<– Review) that is part of my home defense strategy, and I'd feel comfortable hunting with if it came down to it, though it wouldn't be my first choice.
Still, I find myself in a predicament because I like to buy ammunition at regular intervals and 9mm is scarce right now. This has forced me to think outside the box A LOT more than ever before.
Main reason being, this ammo shortage is different than the last one. People of all walks are genuinely freaking right the frig out right now. There are more new gun owners than ever before and with good reason.
Things are melting down right before our eyes. I'm not trying to fear monger here, this is truth. Turn on the news if you don't believe me. And, the virus only hurts things, most of what is going on is because of other things.
So I've found myself rethinking things. I do own pistols in other calibers, like 380 and .45 — as well as my revolver calibers. Still, I've been thinking about buying a pistol in 40 or 357 Sig for the first time ever.
The main reason why is because these calibers are still available on the shelves.
I'm not really a fan of either one, but am quite capable of shooting either accurately. But because they're readily available and I'd rather continue to buy ammunition than not, I'm considering it.
Shotgun:
Shotgun shells are still readily available on the shelves for the popular gauges in my area. Still, with 12 gauge being the most popular, it couldn't hurt to have a 20 gauge.
I actually do have a 20 with some slugs for this very reason.
The shotgun is the ultimate in dual purpose guns. Ammunition can range from clay targets to bird to buck to slug.
And while most people don't think about the shotgun as an accurate shooter, this simply isn't the case.
With Sabot (pronounced Say-Boh) Slugs I'm able to consistently hit a man-sized target at 75 yards. Certainly not the best accuracy, but that is a devastating round even at that distance.
Of course, a shotgun can be used in defensive situations and for hunting, and the shells are readily available, at least in my area.
Russian SKS:
I'll admit that I'm a recent convert to the Russian SKS platform. I've always been a fan of the 7.62X39 round for its affordability, as well as the AK-47. In some regards, an SKS actually makes more sense than many of the other firearms on this list. 
For example, because it utilizes a 10 round internal box magazine, and doesn't have any scary looking furniture on it, it can be passed off as a "safe gun" in many different, anti-gun states. 
It looks like a hunting rifle, and utilizes clips for feeding ammo instead of an external magazine. 
But with the right combination of practice and speed, you can actually re-load one of those 10 rounders really quick to get back into the fight. It's true that 7.62X39 isn't as cheap or as readily available as it once was, but it is still more affordable than many of the other options out there.
For more information you can read up on our SKS History Article, here.
And when you're done with that, check out the top 5 best mods you can buy for your SKS.
Conclusion:
Things are hitting the fan around the entire world. Everyone has this bad cough, people are rioting in the streets, and things are just generally all around bad.
What's next? Some are predicting a financial collapse greater than the depression and mass hunger around the globe. If it comes to that, I'll be eating (and feeding my family) the food I hunt.
Because of all that's going on, the regular guns and calibers are flying off the shelves in record numbers, leaving us forced to re-think our position for survival.
It's my hope that I was able to open up your eyes to something you haven't thought about before.