The above picture only has four of the best shooting ear protection muffs, because I couldn't find my Howard Leight muffs in time for the photo. Last time I used them was for yard work and it seems as though they've been sucked into the abyss of my garage.
Don't buy from Amazon:
If you learn nothing else from this article except this point, I'm okay with that: Don't buy any hearing protection from Amazon. Chances are excellent that you'll receive a knock off from China.
For example, these Howard Leight Impact Sport muffs on Amazon are notoriously counterfeited. Just scrolling through the comments section proves it.
It happens way more often than it should.
Now let's get started –
Why You Need Hearing Protection:
Why do you need hearing protection? Well, because you've only got one set of ears.
When you think about what your hearing protection is supposed to do, it has to block, or at least muffle, sound from getting in. If your ear canal isn't totally blocked off by your protection, or you go to the range without anything, you may cause irreversible damage to your ears.
Take it from me, because I have damaged ears. You only get one set, and once they're damaged there's no getting them back. That's one of the reasons why I have no problem spending money on ear protection to preserve what I have left.
My ears ring constantly. Even now as I sit here and write this, my ears are ringing. I was stupid when in the Marine Corps and decided that I'd try to shoot an M240 Golf without my hearing protection in.
It was one of the most idiotic things I'd ever done.
Another time I got an Adams Arms Battle Rifle in .308 Winchester to test that had their VooDoo Muzzle Brake on. I only had el-cheapo muffs that barely fit my head and I paid the price for days because the blast was effing atrocious.
Finally, at SHOT Show 2017, I didn't bring hearing protection because a company sponsored that event to hand them out. What I didn't realize is that they were the inserts and my canals are much bigger than the average person's are, and they didn't fill my ears.
The point, is that the only way to operate when you're at the range, is with using high quality ear protection. Hear me out, now, because high quality doesn't always mean uber expensive.
In fact, you can have a decent set of muff-style range hearing protection for about $40 that you can use each time you go to the range. The phrase "buy once, cry once" comes to mind.
Over time, you'd not only save your hearing, but a few dollars along the way because they'll pay for themselves.
Foam Inserts Are Not Good:
Before we move on, I want to caution you against using the regular foam inserts that you can get at your local hardware store, or even in some local gun shops. Reason being, everyone's ear canals are shaped differently and they may not fill your canals properly enough to protect your ears.
For example, I have very large ear canals that the foam inserts don't fill. And, even if I did, I am not sure I'd chance them not being in right.
Top 5 Shooting Ear Protection:
Axil Bluetooth
ReadyUp Roger 22
Walker Razor
Howard Leight Impact Sport
Peltor Sport Tactical 100
Axil Bluetooth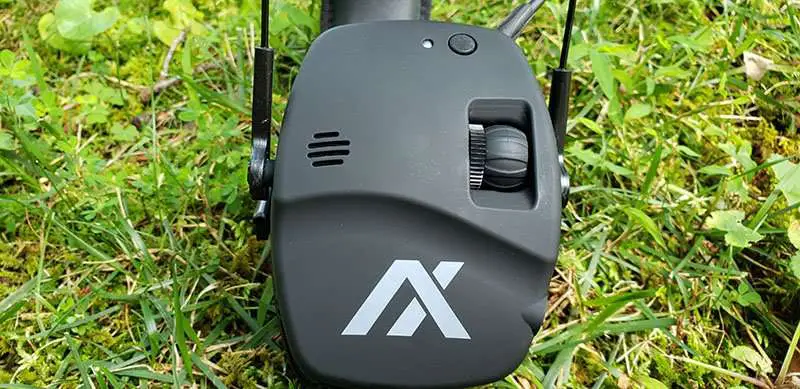 The Axil Bluetooth electronic hearing muffs are my newest go-to hearing protection. The coolest thing about them is that they can connect to my phone, computer, or any other Bluetooth device, as well as protect my precious ears.
In fact, as I sit here and write this I have the Bluetooth connected to my computer for background music AND to drown out the sound of my wife on the phone (we share an office).
I have these on because my kid stole my wired ear phones, and these are my new backup.
What's even cooler, is that the Bluetooth sound is completely independent of the amplified sound. So, as I sit here and listen to music streaming from my computer, I can turn the outside sound of my wife making phone calls all the way down, and still be able to hear the music.
Then whenever she needs to talk to me I just turn the sound of the amplification up until she's done and I turn it back down.
So, if I'm trying to listen to a book or my favorite podcast on a plane, I can drown out the sound of the engine and let the passive noise cancelation of the muffs themselves do their thing while turning up the book.
This is also helpful if there is an emergency at home and my wife is trying to call me–I can answer the phone with the simple push of a button even while at the gun range. They're pretty cool, and they amplify sound well.
The downside to these is that they're the most expensive hearing protection on this list at about $160.
You're essentially paying for the Bluetooth, and if you don't need that feature then going with a different brand on this list is completely understandable. If you're looking for Bluetooth, these are the best ones I've come across.
Roger 22
The Roger 22 is a relative newcomer to the world of hearing protection, but from my time with these electronic hearing muffs so far, I can say that they're quite good, especially for the price point.
This is a lower-profile set of electronic hearing protection, that is some of the lowest price electronic shooting protection that you can get.
They seem to be well made and are very similar in design to the above listed Axil muffs. In fact, they almost seem to be cut from the same mold.
There seems to be a little more crackle than the other models. For example when the volume is being turned up I hear something extra that goes away when I get to my intended volume.
I'm willing to deal with that for the price. Which is really the best thing about the Roger 22 by ReadyUp Gear. They're only $40 and they work just fine.
They fit my head and ears well and block the loud concussive noise from firing a gun.
The Roger 22 is the best affordable electronic shooting protection I've found.
Walker Razor
Until recently, my Walker Razor ear muffs have been my go-to hearing protection for a couple of years. And even though they're not my main muffs anymore, they're the ones I keep in my truck in case I forget my main ones.
And the fact that I keep them in my truck is the reason why the muff's cups look the way they do in the following picture:
Those cups, or pads, are interchangeable as they are on all of these models. The important thing is that the muffs fit my head well, and are comfortable.
In terms of price, these are in the middle of the other brands on this list, and also have a bit of a different offering. I personally like the volume knob the most on this one because there is no mistaking that I've got it in my fingertips.
These are also some of the slimmest shooting hearing protection you can buy, which is important for when you're shooting rifle and/or shotgun.
These block the sound well and can be found on a website like Brownells for between $70-80 bucks.
Howard Leight Impact Sport
Again, I couldn't find mine in time for the picture, but I promise to upload one at some point.
I've personally never had a bad experience with Howard Leight hearing protection, and this company, owned by Honeywell, is one of the best hearing protection companies out there.
In fact, if you were to ask a group of 10 shooters which muffs they preferred, I'd bet at least 5 of them would name this one.
I own some of these, and have even given some to other people because I like them that much. Plus, my ears are pretty big and I know they fit inside these muffs, where they don't on some other brands (Champion comes to mind).
To me, the direct competition for these Howard Leight muffs, are the above mentioned Walker's which, to me, are just slightly better.
Brownells usually has these in stock, and they're right around $65 dollars, give or take.
Peltor Tactical 100
I was given a set of these at the Sig Sauer's VIP Range Day at SHOT Show 2018 and even though these are the most comfortable shooting protection this list, they're my least favorite.
Part of what makes these so comfortable is the soft seal cups (the part that comes into contact with your head). And it almost feels like they're not as tight, but that could just be the seals.
Overall these work well, but my main complaint is battery life. They definitely don't last as long as the other brands do.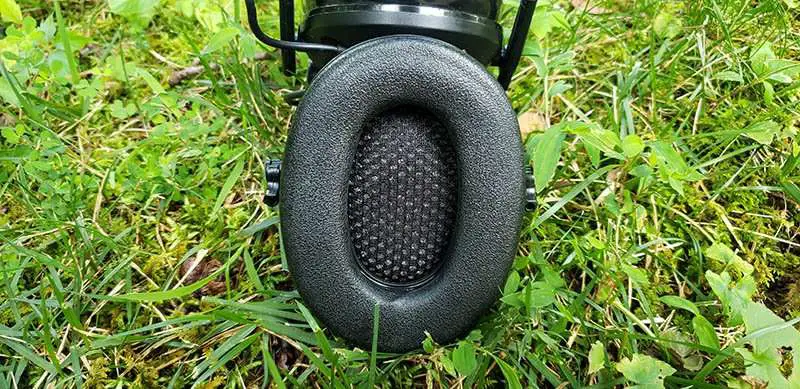 These Peltor Tactical 100 will cost you about $90 on the ConcealedCarry.com website. I've included these here because they're the most comfortable on this list. They are also the thickest, and will work the worst with a rifle or shotgun because of how far they stick out.
Conclusion:
There are a couple of things you shouldn't mess around with. The first being your eyes is hopefully obvious.
However, your hearing is also important and it boggles my mind to hear about folks who don't protect their ears when shooting. I hope this list of what I consider to be 5 of the best electronic hearing protection muffs is helpful to you.