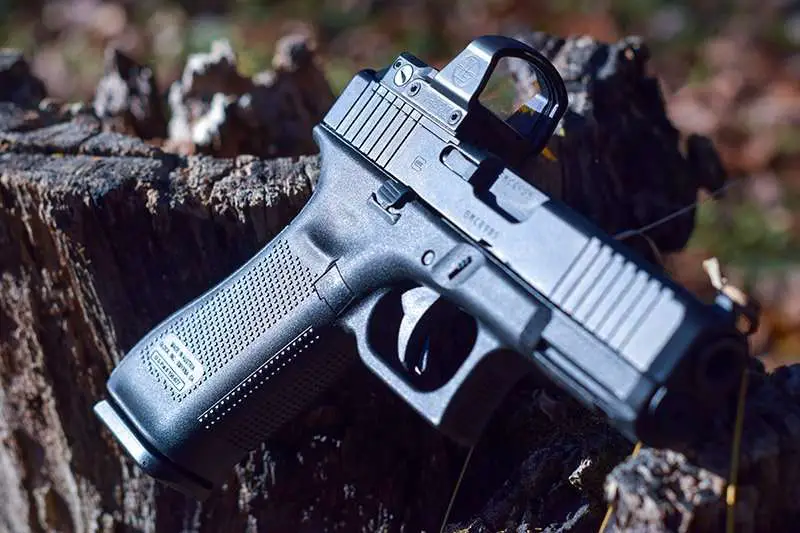 It's been said that the best gun for your defensive situation is the one you've got in your hand.
While this is true, I'm a firm believer in stacking as many cards on my side of the stack as possible. Because of this, I have chosen what I'd consider to be the best home defense gun for myself.
And in fact, I have several that serve different uses after putting much thought into my home defense strategy.
I plan to show you what my best home defense guns are, in the following article.
Let's take a more in depth look at the —
Best Home Defense Gun:
We're going to take a more in depth look at several of the different options as well as some pros and cons to each one of these options. The main goal with this article is to help you pick out what the best home defense gun will be for you.
Home Defense Shotgun:
If you were to ask 10 gun owners what their chosen home-defense gun is, more than half of them would probably say a pump action shotgun. It's a noble choice and will certainly get the job done.
There isn't that much that needs to be said here. This is a long gun that can be hard to maneuver and generally holds less rounds than a handgun or rifle will. It also recoils a lot more into your shoulder.
Still, there are some things that I can say about the home defense shotgun. Namely, much of what you've been told if you are new to this, is false.
I've dedicated more time to this in my article here about shotgun myths, and I urge you to read it if you believe that all you have to do is rack the pump to send an attacker for the hills, or if you don't think you need to aim.
The problem here is that folks believe what they see in the movies. People don't fly back 15 feet when they're hit with a shotgun, nor do they run away at the sight. Read the above-linked article for more shotgun myths.
Some of the best home defense shotguns are as follows:
Mossberg 500
Remington 870
Really, any pump will suffice
Here is an example of an 74 year old man who defended himself against a burglar twice in one night with his shotgun.
Home Defense Handgun: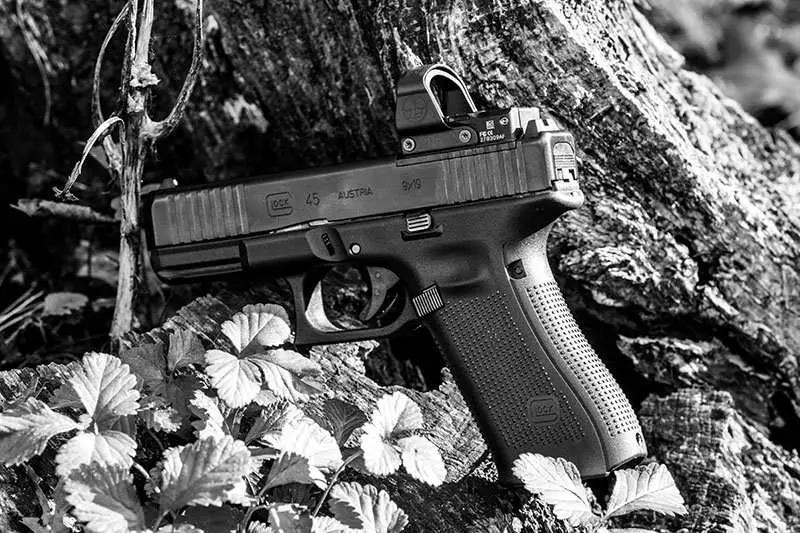 There are plenty of different thoughts concerning the home defense handgun. As someone who is a concealed carrier, and an advocate of anyone who wants to do so, most people reading this blog own a handgun.
In fact, I am a firm believer that if you can only afford to buy one gun then it has to be a reliable handgun. There is just too much purpose behind the ability of a handgun. For example:
You can carry your handgun for self-defense out in town
You can carry your handgun for home-defense in your home
You can have your handgun ready for home-defense in the middle of the night as you sleep
No matter the situation, the handgun is the most important gun because you can bring it with you when you leave, and have it with you when you're home.
Let's break down a few different aspects even further for the different sizes of handguns to give you something to think about:
A bigger home defense handgun:
A bigger home defense handgun is one like a Glock 19 or similar size that you're comfortable shooting. This is a gun that will excel being in a safe when it's not on your body, ready for you to grab it and go.
The biggest benefits of a bigger home defense handgun, are as follows:
They're easier to shoot because they're bigger and absorb more recoil
They're easier to shoot because they have a bigger grip that allows all of your fingers to get on the grip
They usually hold more ammo which is great if you're confronted by several bad guys at once (like this story)
Bigger handguns are usually more reliable in that they will cycle a greater number of different types of ammo (thought this isn't as true as it used to be)
Some good bigger home defense handguns are as follows:
Glock 19 or 17 (or 21, 22, 20, etc.)
Full size Springfield XD
Beretta 92FS
Check out my list of what I'd consider to be the best 9mm handguns.
A smaller home defense handgun: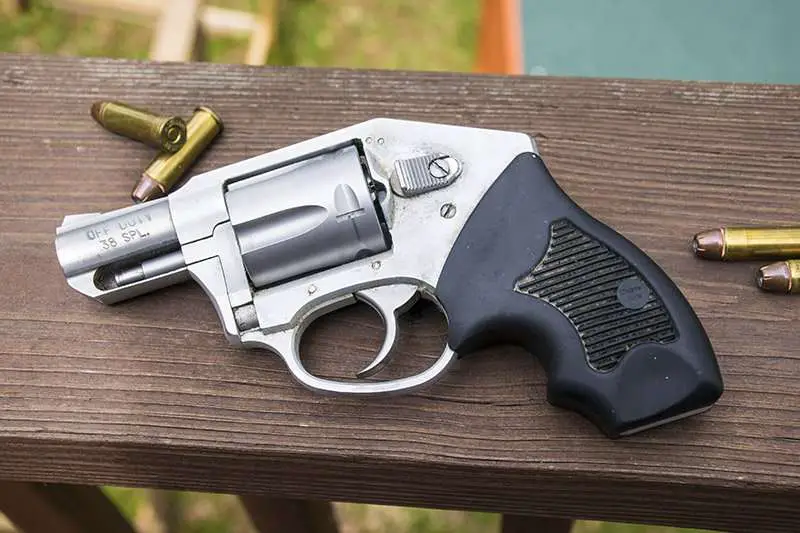 Why on earth would you want to have a smaller handgun for home defense? There are actually a couple of reasons why this is a benefit. First, if you can only afford one gun and it has to be a carry size compact or smaller, then I believe this is the best thing for you to do.
The reason why, as stated above, is because you can carry it around town and have it for when you're home. A gun is a gun, whether in the right hands for self-defense, or the wrong hands of a bad guy who wishes to do you harm.
The only difference is, one of them is meant to protect and the other is meant to hurt.
The other reason is because carrying a smaller handgun on my person while at home is just more comfy. I've bee known to drop a small snub nose revolver in my pocket holster to walk around my house.
The reasoning behind this is because it is more comfortable. It is more comfortable because it is small and I don't notice the gun on me, but know it is there in case of a break-in.
Then I can use the smaller gun as an instant response, in an attempt to get to a better gun in a different room, or something similar.
Great smaller guns are as follows:
Springfield Armory Hellcat
SIG 938
Pistol Caliber Carbine for home defense: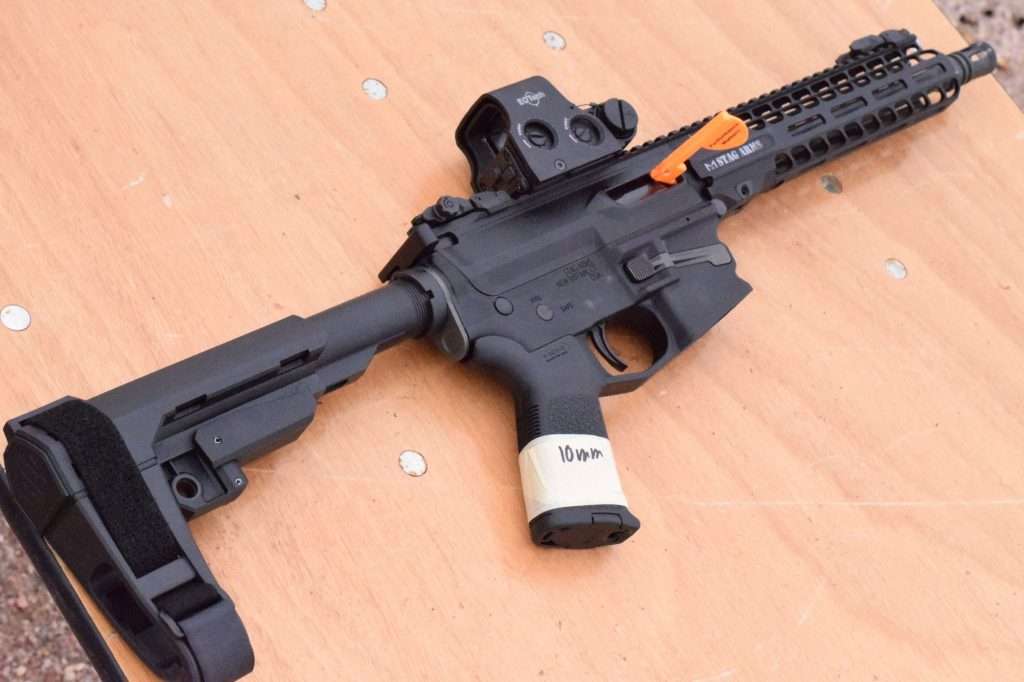 The pistol caliber carbine is still on the rise in popularity as more manufacturers make these kinds of guns. I personally have a PCC in my home defense strategy, and these make sense for a few different reasons:
They are easier to shoot accurately than a handgun
They increase bullet velocity and terminal energy over a handgun
They recoil lighter and have slightly less muzzle blast over a rifle
Many people still don't see the purpose of this platform, but please understand that it's not going anywhere. The PCC is here to stay and has earned an excellent reputation for both the home defender, as well as those who take their guns on the road in the form of a "truck gun."
Some of the best PCCs for home defense are as follows:
CMMG Guard
PA-9
CMMG Banshee
Foxtrot FM9
Home Defense AR-15:
The AR-15 is more popular than you may think as a home defense option. In fact, it is something that I have in my home defense strategy and is what I'd choose if I could only get to one gun.
You'd want to have as short of a barrel as possible so you can maneuver as necessary, though we aren't advocates of going and looking for trouble.
The reasons why are many:
The AR-15 is easy to shoot
They are accurate
They are lighter recoiling in certain calibers (like .223/5.56)
In terms of ballistics the rifle calibers perform much better than handguns
Because I don't live in a restrictive state I have 30 rounds in one magazine and can engage multiple attackers if necessary
Check out our list of the best AR-15 rifles on that page, but some ideas are those from:
FN Herstal
Daniel Defense
CMMG
PSA
Conclusion:
Being prepared for a home break-in is important. Do you have a preferred gun for your home defense strategy? Let us know in the comments below.