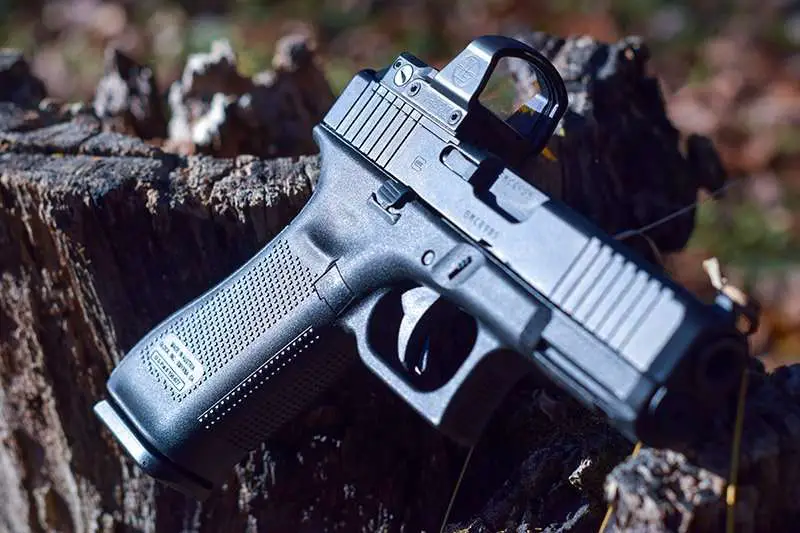 Something I see a lot in the gun groups and in forums, is a question that actually drives me nuts. That question, is "I bought a new Glock (or whatever) concealed carry gun, what should I do to it first?"
My answer is always the same: "Leave it alone." Usually followed by, "if you can't shoot your stock gun, you won't be able to shoot your upgraded gun either."
I make no apologies for the above statement. This is even truer when you consider that these people bought a new gun and want to change stuff before they even know what they like, or don't like about it.
Only after you have learned how to shoot your gun, and have become proficient with it and how it works, will it make sense for you to change something.
But I want to be perfectly clear on something very important:
Leave your gun alone mechanically unless you're having a knowledgeable gunsmith doing the work for you. Doing work to your own gun if you don't have the training can be dangerous. Many people have shot themselves after doing their own trigger work.
Don't be that guy or gal.
What are the best concealed carry gun upgrades?
The best concealed carry gun upgrades are things like adding a gun grip, night sights, drop-in trigger upgrades, or a red dot.
All of the above listed items will enhance your ability to defend yourself under the right conditions. However, you should always learn how to shoot and respect your gun in its stock form.
Let's take a look at each of these in more detail:
Concealed Carry Gun Grip
When I say gun grip, I really mean any kind of grip that will enhance how well you hold onto your gun. For example, in this article about 365 accessories I mention a Hogue rubber grip. That one beefs up the circumference of the grip making it easier to shoot.
Not all gun's need that treatment, though, and may just need a way for you to be able to hold onto it better when shooting.
I love Talon Grips for this. I first used them for a gun review I did several years ago for a different publication. The main plus for me when using Talon Grips, is that they're not permanent and can be removed if I want to return the gun back to stock form.
Brownells has Talon Grips in stock, or you can get them off Amazon if you'd rather.
If I were to do a stipple job and screw it up, it'd lose value.
The benefit to this for for resale value. I once sold a pistol that I had Talon Grips on and was able to remove them first. Because the gun was still stock I was able to sell it very easily.
And because they change the way the gun feels in hand, making it "grippier," it increases your ability to hit your target under stress because you can hold onto it better. If you suffer from sweaty hand syndrome (not a real thing), then you'll need all the help you can get.
Concealed Carry Night Sights:
I think changing the sights out on a gun makes sense for most shooters, and depending on how your eyes work. Hopefully we all know how proper sight picture works, along with front sight focus.
But sometimes eyes can get distracted. I suffer from this, personally. If I'm shooting a gun that has a prominent rear sight my eyes tend to drift a lot more than they should. One way I combat this is by blacking out my rear sights as much as possible.
Or, I just buy a gun with the sights I want on it, first. I really like the X-Ray 3 sights that Sig puts on some of their guns. Night Fision and XS Sights also offer up some great options. The rear sight is still luminescent, but isn't very visible in the day. I can still line them up properly and ring that steel when shooting.
And because the rear sight isn't as prominent I don't focus on it too much.
Brownells sells them all if you're in the market.
Since I've started using this type of sight, my shooting ability has gone up. Certain guns, like the Springfield Armory Hellcat (<- our review), are hard for me to shoot because the U-shaped rear sight is too distracting.
Concealed Carry Drop In Trigger:
Above I said that you should leave your gun alone mechanically. I stand behind that statement. Most of my pistols have stock internals. There are some instances, however, where it makes sense to upgrade.
But there is a caveat to this. You don't want to adjust your own trigger, or throw something in it that hasn't underwent an enormous amount of testing.
Going with someone like Apex Tactical with their proven drop in triggers is just about the only way I'd go. I have an Apex Tactical trigger in my Hellcat (pictured) and it's much better than stock.
Another company that I've heard good things about but haven't personally used all that much is Tyrant Designs. I have a friend who uses their products and loves them, but I cannot personally vouch.
Concealed Carry Red Dot: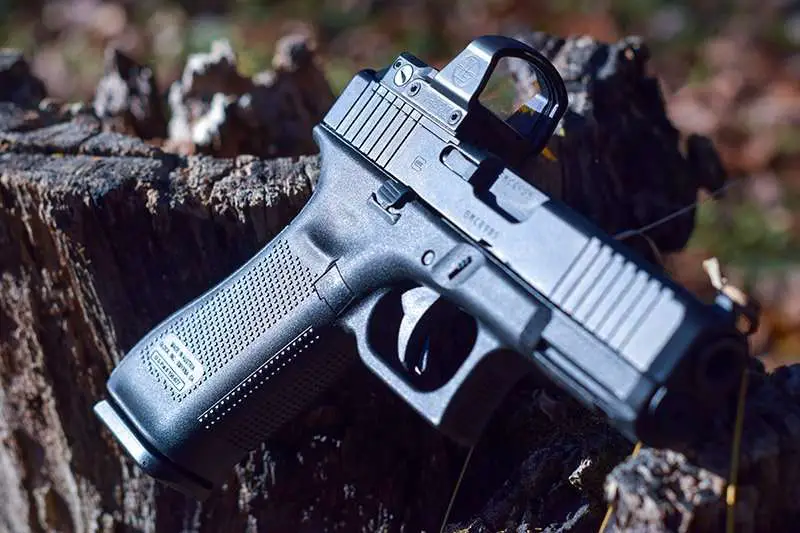 The pistol mounted red dot is the wave of the future. In fact, it is here now, and here to stay.
The industry as a whole has moved towards using a red dot, and I have the firm opinion that any pistol you plan to buy should have a cut for an optic. That way, even if you don't want it now, you have the option to mount it later if you choose.
When I say the industry as a whole is going this way, I mean that more and more holsters are being made for guns with red dots, and even competitions are being made for carry optics.
You can't stop this train. You don't have to get on board, but there is no stopping it.
One thing I would suggest is having a red dot that co-witnesses with your sights so you can still use them in a pinch.
Primary Arms has a good selection of red dots in stock if you are looking for one.
Conclusion:
There are a few upgrades you can give your concealed carry pistol. Just don't buy the gun and then attempt to change everything on it. Learn to shoot it first. The manufacturer often knows what is best, and it pays dividends to know why they put the trigger on it that they did.
Once you have mastered it, upgrading may be a good idea, but figure out what you need and then go from there. Don't just buy the pistol to upgrade.