It's really hard to narrow an article down to just four guns on something so versatile as a 38 special revolver. There are many different revolvers that are excellent and likely could have made this list. However, this list is based on my own personal experience and time shooting these guns.
I'd never recommend you buy something I don't have any time with, which is why this is the 4 best 38 Special revolvers for concealed carry, and not a higher number.
Don't get me wrong, I have shot plenty of other revolvers. We own a 38 Special Taurus, for example. There is absolutely nothing wrong with it. But I don't have as much time with it as I'd like and would not recommend it to you.
These are guns that I either own or have shot on numerous different occasions. The only requirement to be listed here is that the gun be a concealable 38 Special revolver that I have enough experience with to be considered the best.
Oh, and they still need to be manufactured.
Best 38 Special revolvers for concealed carry:
Charter Arms Off Duty
Colt Cobra
S&W J-Frame
Ruger LCR
Each one is on here for specific reasons, like cost, capacity, shootability, etc. Let's look at each one more in depth.
Charter Arms Off Duty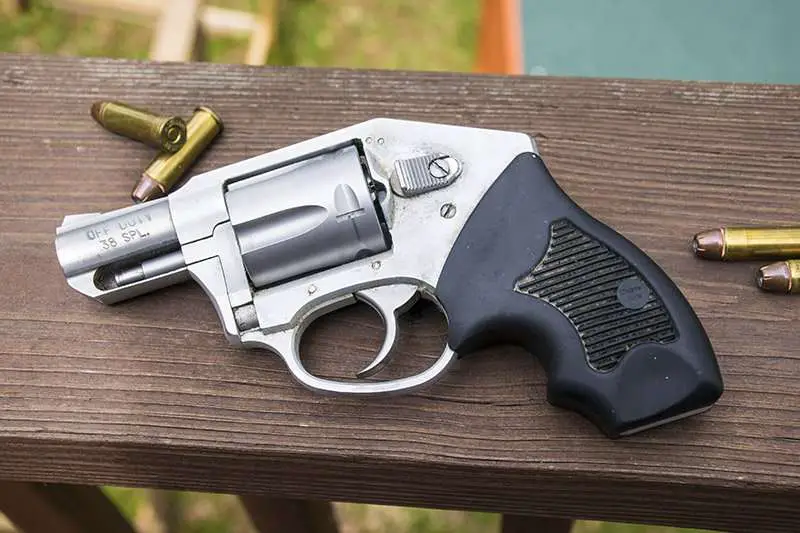 The Charter Arms revolvers offer the perfect balance of affordability and reliability in a small, concealable package. I've said much about the pictured gun, my Charter Arms Off Duty in other articles, like the linked review.
But each of the Charter Arms 38 Special revolvers I've ever handled, and the ones my friends own, are all reliable. The fact that they're also cheap and accurate at defensive distances is only a plus stacked up on the side of positives for this gun.
The trigger is a long, hard pull that needs deliberation in order to fire the round. Pictured above is a double action only (DAO) revolver, with an internal hammer which is great for pocket carry. Pocket carry, by the way, is my primary method of carrying this little revolver (in a holster, of course).
Some folks would call the long trigger a negative, others look at it as a safety device. I tend to be the latter, but if you have weaker hands beware that you may not be able to accurately shoot one of these revolvers because they require a lot of hand strength.
I would call the trigger found on this revolver to be the worst one on this list, in terms of how hard it is to pull.
Another potential negative is the recoil. If your revolver is meant to be a concealment gun, having one without an extended grip could pose a problem because at 12 ounces, these aluminum-frame guns are lightweight and don't help a lot in terms of recoil management.
That said, you can install an extended grip very easily on one of these to help you hold onto it better if desired. MSRP starts at $420, but these are easily found in the $300 range, which is approximately what I paid for the one pictured above.
The Charter Arms Off Duty is on this list of the best 38 special revolvers for concealed carry because of its low cost.
Colt Cobra
Colt recently, as in within the last few years (2017 I think) re-released the first of their iconic snake guns. A snake gun isn't a gun designed to shoot snakes, though you could do that with the right ammo. Instead, the snake guns are Colt's revolvers with snake names:
This particular one was the first in the lineup of the re-release of Colt's famed revolvers, and is called the Cobra. To date, it is the only currently-made revolver Colt makes that shoots ONLY 38 Special. I really like this gun.
I think Colt did a fantastic job on certain details that really set it apart from the competition. Often, it's the little things in life — like an enlarged trigger guard.
I have massive sausages for fingers and in some of these guns I find myself short-stroking the trigger on the reset. The reason why I do this is becuase my finger hits the trigger guard and I think the trigger has fully reset itself, but it hasn't.
I don't have that problem on the Colt Cobra because of the enlarged trigger guard. This is also great if you shoot with gloves on, or if you need to defend yourself with your gun and are wearing gloves.
Keeping things in the trigger area, the Cobra has the best trigger on this list. There are a couple of reasons why this is. First and most obvious to me is the shape of the trigger itself. The trigger has less of a curve than the other revolvers, and a straighter, or flatter, trigger is easier to pull.
The other reason has to do with the springs, but I won't speak about things I don't fully understand myself.
The standout feature for the Colt Cobra, in addition to the enlarged trigger guard, is the fact that this is the only 6-shot 38 Special revolver on our short list. You can learn more about this gun in the below video:
The Colt Cobra is the heaviest gun on this list, coming in at 24.8 ounces, unloaded, but you do get the added benefit of another round for defense. That extra round shouldn't be discounted, and is a huge selling point for this gun and its inflated MSRP starting at $699 and going up depending on your model.
The Colt Cobra is on this list of the best 38 special concealed carry revolvers because it gives you an extra round in the cylinder and other improvements.
S&W J Frame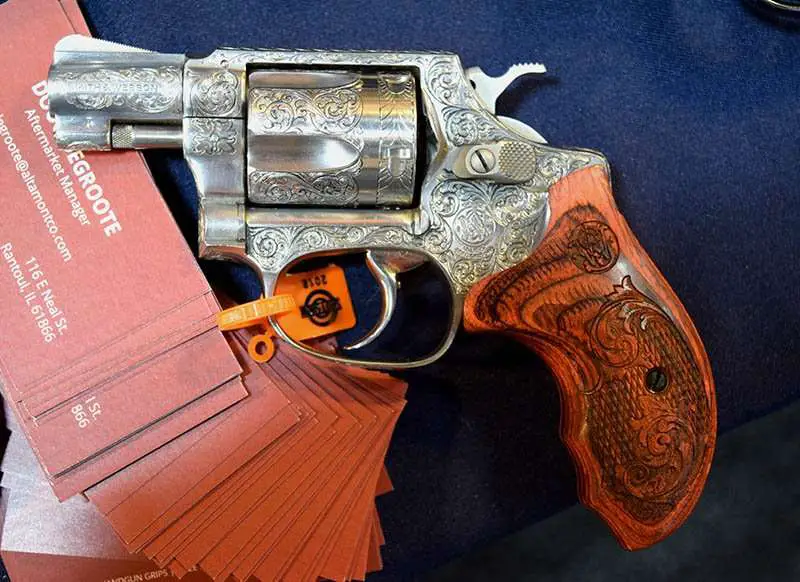 There are numerous different Smith and Wesson J-Frame models. Each of them are fantastic and it's really hard to narrow down to just one. The 642 is where it's at for me, though. I sadly didn't have a decent picture of a 642 Air Weight, but will make sure I can scrounge one up in the future.
The 642 is a "hammerless" design (though, it's just an internal hammer) that is great for pocket carry. Because the hammer is on the inside, this is a DAO revolver with a long, heavy trigger pull. It's not as hard to pull as the above Charter Arms is, but still requires hand strength to operate with any amount of accuracy.
The 642 is a snub nose revolver that weighs in at 14.4 ounces, primarily because of the aluminum alloy frame. If you were to ask most cops who carry a backup gun, what is strapped to their ankle, most would say a 642.
The MSRP on this 5-shot 38 Special revolver is just under $500 if you go with the base design. But, the Performance center option isn't that much more money and may be worth the extra price.
The PC version comes with a slightly better trigger and a few other options for less than $100 more.
I'm a big fan of the smaller, J-Frame sized revolvers because they're easily concealable and super reliable. They also have the benefit of having been around for many years with a ton of support.
This revolver is on the list of the best concealed carry revolvers in 38 special because of how long these have been around with proven reliability and huge aftermarket support.
Ruger LCR
The Ruger LCR is another revolver that has been around for a long time and has a lot of support. This revolver has a few standout features that demand its inclusion on this short list of the 4 best 38 special revolvers for concealed carry.
First is that it is lightweight. It's not just lightweight though. The revolver is lightweight in the right spots and for the right reasons. While the frame is made up of aluminum, there is a portion of the fire control housing that is polymer.
The polymer does a good job of helping to absorb recoil, while helping the handgun weigh only 13.5 ounces.
Another excellent feature is the grip. While the grip is short and doesn't allow the pinky on average size hands to rest on it, the grip is excellent.
The LCR comes standard with the Hogue Tamer Grip which provides a nice, sticky surface to hold onto, while also incorporating recoil absorption areas. This really helps the felt recoil seem lower than it is. And of course, this helps the shootability of this revolver.
I have several friends who own and carry these revolvers from time to time, when they need a smaller, lightweight and easily concealable gun. The trigger is long and heavy, but is non-stacking and is actually pretty good as far as double action triggers go.
The LCR is offered in various other calibers if 38 Special isn't your cup of tea, MSRP on this model, however, is $579.
This gun is included on our list of the best 38 special revolvers for concealed carry because it's a small, but easy to manage gun that conceals well.
Conclusion:
The 38 Special revolver is a good option for some people to conceal and carry for self-defense. I highly recommend you try out any of these guns before you purchase on a whim, however. This type of gun won't be for everyone, and not everyone can shoot them effectively.
A good amount of hand strength is required to pull the trigger with any amount of accuracy, and if you can't be accurate with a defense gun then there really is no point.
Read this next: Revolvers – 11 things you need to know.
Then: What's best for concealed carry, semi-auto or revolver?
Leave your thoughts in the comments below.