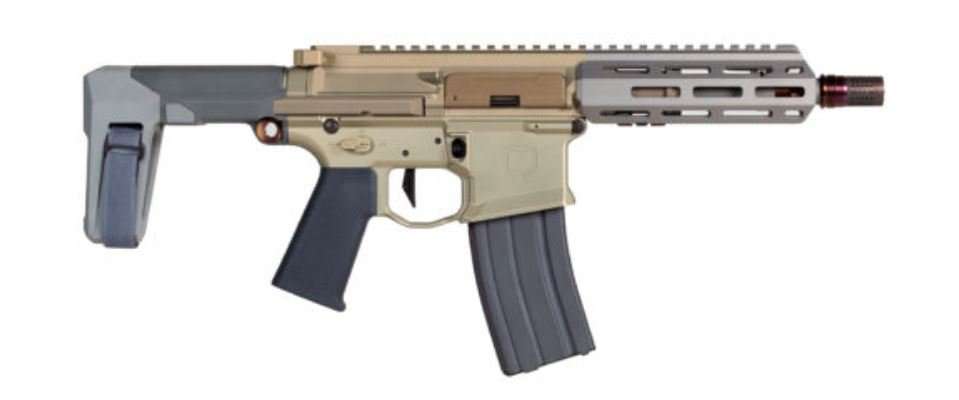 If you're currently in possession of an AR pattern pistol, hold onto your butts because the ride just got bumpier. The Bureau of Alcohol Tobacco and Firearms has made an announcement that Q's Honey Badger pistol is actually an SBR (short barreled rifle) and has sent the company a cease and desist letter.
As of right now it seems like it is just the Honey Badger and a few other pistols made by Q, but the BATFE has been itching to go down this rabbit hole for a while.
Here is a copy of Q's statement to their customers who have purchased these firearms in the past, and are now in violation of some made up law somewhere:
Dear Customer:

On August 3rd, 2020, the Bureau of Alcohol, Tobacco, Firearms and Explosives ("ATF") issued Q® a formal Cease & Desist letter, notifying us that ATF has taken the position that the Q Honey Badger Pistol is a short-barreled rifle ("SBR") regulated under the National Firearms Act ("NFA").  In response, Q has ceased all production of the Honey Badger Pistol, and submitted a comprehensive letter to ATF and the Department of Justice ("DOJ") stating why we disagree with this classification[1]. Additionally, we have provided recommendations on how to address the firearms already in circulation. Q is seeking solutions that best protect you, the individual, and Q's distribution network from falling out of compliance with ATF regulations, and federal law. At this time, Q has not received any definitive guidance from the ATF.

In the meantime, Q encourages possessors of the Honey Badger Pistol to take these proactive measures until a resolution is reached between Q and ATF.

1. Complete one of the following:

A: Remove the barreled upper receiver from the lower receiver and dedicate it as a replacement
for another AR-style pistol or registered short-barreled rifle; or

B: If you do not possess another AR-style pistol or registered short-barreled rifle, remove the barreled upper receiver from the lower receiver and temporarily transfer it out of your possession by, for example, transferring it to the dominion and control of another individual; and

2. Once the previous step is completed, you may file an ATF Form 1 to register the lower receiver as a short-barreled rifle. Upon Form 1 approval, the firearm may be reassembled.

Failure to complete option a or option b could result in prosecution and is subject to a $10,000.00 fine and up to 10 years imprisonment.

If you are concerned with this situation – as Q is – we urge you to contact the Department of Justice (ATF's parent agency) by using the below OneClickPolitics link.

…

Additionally, we encourage you to reach out to the White House and ask President Trump to halt and rollback ATF's efforts to issue arbitrary and capricious decisions affecting millions of legal gun owners.

Q takes extreme care to remain in compliance with federal law, and we share your frustration with this development.  We apologize for this situation and want to assure you that we, in conjunction with SB Tactical® and the National Rifle Association (NRA®), are doing everything in our power to resolve this matter amicably for all parties involved.

Regards,

Adam Johnson, CEO
The letter also said to contact your local representatives to let them know what you think about this, but I ended up omitting that part from the letter because this was getting kind of long. You hopefully know who to contact in your state and at the federal level.
Make no mistake here, there are plenty of us in the industry who have seen this writing on the wall and believe that the ATF is setting themselves up to come after our AR-15 pattern pistols that are equipped with any pistol brace.
They change their minds like a five year old girl who has stormed her mom's closet for the first time, trying on everything.
They don't care that they will arbitrarily make people criminals. What's the end goal here? The end goal is to confuse gun owners, disrupt and damage the industry, and enforce anti-2A gun control.
It's that simple. It's time to take a stand.
For more information on this and to read the letter in its entirety, go to Q's website for more information.