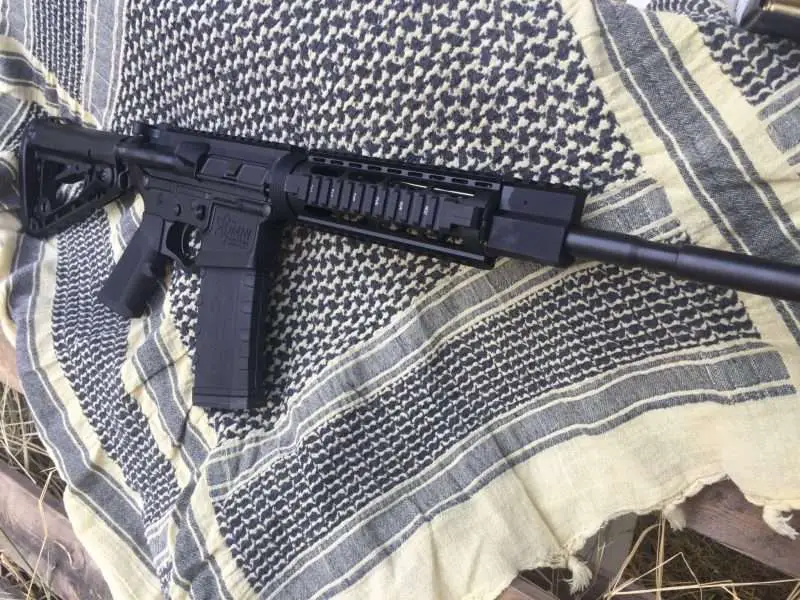 This is never an easy thing to write and I know I'm going to piss some people off. It's never easy to say that you should not buy a product, which is why many of the publications in our industry will avoid the topic altogether. Because I consider myself to be an ambassador for the gun industry's consumers, I'll tell you which AR-15 manufacturers to avoid.
I'm not trying to pick on anyone, but I believe I owe it to you to help you out. It goes further than which AR-15 manufacturers are the worst, because all of them actually make decent products–which makes this even harder. There are clearly some who are better than others, and some who get a bad rap based on the materials they use, alone.
We'll talk about materials in a minute, but first let's get one of the AR-15 manufacturers to avoid out of the way, right now …
Which AR-15 Manufacturers to Avoid:
American Tactical
Sorry guys, but it's true. Based on the customer service we've experienced, alone, we have to put them in the not recommended side of things. They actually make a decent product when it works. But, when it doesn't work and you expect it to get fixed, there can be issues.
There is no excuse for not taking care of someone who has a rifle of yours. And, when they do this to a reviewer, we have to believe that it'll be worse for an actual, paying customer who doesn't have as much pull in the industry to say negative things.
A gun that malfunctions or breaks can be fixed, but shoddy customer service can wreck a relationship or trust. Here is a quote of the problem:
A call to the factory resulted in a promise to repair the Omni promptly, and a shipping tag was sent my way. On the pre-printed repair order, the reason for return was listed as "gas block loose," which was not the case. Before shipping, I scrawled through that inaccuracy and wrote in "safety lever stuck."

The rifle was returned in approximately two weeks—not bad! Inside, an employee-signed paper described how the gas block had been inspected, re-tightened, and 15 test shots had been fired to confirm the repair.

I have a hard time imagining how someone could test fire a rifle with the safety stuck on "SAFE," as it still was when I received the rifle a second time.

An email to the factory was again promptly met with the delivery of a second call tag, and assurance that a different rifle would be shipped for testing.

That was more than a month ago. No word from American Tactical, and no rifle.

Things happen. Manufacturing processes and humans can fail. I've no problem with that when the company is willing to stand behind the product.

It's painful to say this about this US-made American Tactical Omni Hybrid Maxx rifle, but AT's repeated demonstrations of lack of attention to detail, once aware of a problem, are unacceptable.
That's a true story from one of our reviewers. If they're willing to put someone who works for the industry writing gun reviews through ringer, what are they willing to do to someone who is a customer?
For this, they are the AR-15 manufacturer to avoid. Again, not all of their rifles are garbage–but purchase at your own risk if you get one that needs to be repaired.
You can read the rest of her review, which actually started out great, here.
Lower Material:
The rest of this is a bonus, and transcends the AR-15 manufacturer and is considered just good advice from many of us who have had bad experiences with polymer lower receivers.
First, let me say that any lower that utilizes plastic instead of metal should probably be avoided like the plague. The reason why I say it like that is because these guns have weaker spots in them that are more likely to break down. In fact, they will break faster than aluminum for the simple fact that polymer cannot handle the same amount of stress that aluminum can.
Technology is improving, so this will likely not always be true. So, keep that in mind.
It is almost always better to buy a rifle that has an aluminum lower unless you have a disability that prevents you from handling the extra weight.
A lot of folks will say things like, well, the pressures are happening in the chamber, which is technically in the upper receiver. While that is true, there are things happening in the lower that do cause stress to certain parts of the lower.
So, therefore, when I say that plastic breaks faster than aluminum, I'm not talking about chamber pressures from firing the weapon. I'm talking about reciprocating parts that will break the polymer lower faster.
Think about it like this: The bolt carrier group reciprocates back and forth. That takes place solely in the upper receiver with the exception of the buffer tube. The buffer tube is attached to the rifle by way of threads on the lower receiver. As the bolt carrier group moves back and forth, with force, it puts added stress on those threads.
It also puts added stress on the buffer spring detent that stops the buffer spring in its forward travels. This is a very common spot for the polymer lower AR-15s to break. This is just truth.
What varies from one manufacturer to another, is how long it will take to break. Some of them can last a very long time.
Another issue that is less prominent these days, but still happens more often than with aluminum lowers, is that they are more easily out of spec.
When they go out of spec, or do so because they heat up too far under extreme use, they tend to fail even more.
Should you buy an AR-15 polymer lower? I can't answer that for you. For me, I'm waiting for things to get better with them.
If you're looking for more information on who many consider to be the top players in the AR-15 arena, give this article I wrote a look. I cover all the bases from the best budget ARs, to the best top tier manufacturers and everything in between. If you're looking for a budget AR-15 manufacturer who has come a long way and is still growing, I recommend Palmetto State Armory.
Then again, Brownells has this rifle from Aero Precision in stock from time to time that is an excellent price for a mid-tier AR.
I own a couple of their rifles and have never had problems. You can always look at getting a more expensive AR, later on.
Also, I wrote up this massive resource that's being called one of the best on the web for the difference between the different muzzle devices out there. Check it out.
Thanks for reading. As we test more rifles, we'll add any who suck, to this list.