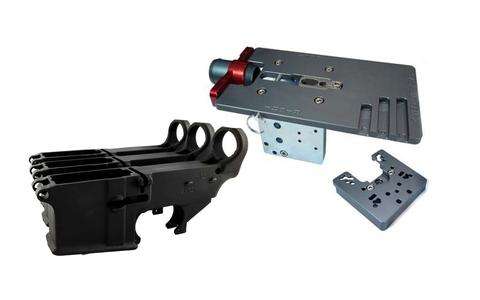 Assembling an AR is fun, but if it's starting to lack the challenge it used to you should consider building a gun from the ground up.
Building a gun goes a bit beyond just assembling your standard AR. Starting with a blank block of aluminum is a bit intimidating, so why not start with something a little easier first?
80% receivers are one way to start getting deeper into the gun building world.
Top 5 Best 80% Lowers:
AR-15
1911
Glock
Ruger 10/22
AK-47
The AR-15 80%
Of course, you can build an AR 15 from an 80 percent lower.
As far as I know, this was the gun that started the entire 80% lower craze. The AR-15 is the Barbie doll of rifles and is endlessly customizable for whatever the end user needs.
80 Lower receivers for the AR 15 are the most common of 80 lower builds and are very affordable. Options for tools and jigs to mill them out are common and come in a multitude of different styles and price points.
Outside of the AR-15 family, there is also AR-10 80% lower receivers for those shooters wanting to go a bit bigger. The process of finishing these lowers is the same as the AR 15 variants, with slightly different 80 lower jigs.
There is also AR-9 80 percent lowers for those looking to build out 9mm AR 15 rifles and pistols that take Glock magazines. With the AR being so universal in design and so accessible you can build almost any AR you want from an 80 lower receiver.
Why should you choose an AR 80% lower build?
The AR platform is universal in your ability to customize and tune a weapon. It can be made into nearly anything, from a close quarter's AR pistols to a long-range Special Purpose Rifle.
Whatever you desire, it can be done with an AR-15. Also, it's the only way I know of to own an AR pistol in California, so that's something to remember. If I'm wrong, please let me know in the comments.
80% 1911
This century-old design is one of the most popular guns on the market. Its following is cult-like in their worship of John Moses Browning's creation.
Should you be surprised that you can build a 1911 from an 80% kit? Building an 80% 1911 will make you feel less like a gunsmith and more like blacksmith smelting weapons for war.
The 1911 kits out there come in a wide variety of calibers and sizes, and building one is a bit simpler than most realize.
Is it easy? Well, not exactly, but it's not hard either. It's a challenge and one that makes you feel accomplished once you succeed. It's simple because it's over a century old and the design hasn't changed too much.
The 1911 is a popular platform and one that can be tuned nearly endlessly. You can finish your own 80% 1911 and then keep tuning, tinkering, and installing parts until you have the gun of your dreams.
Why choose an 80% 1911?
If you want a chance at learning the inside and outside of one of the most popular weapon systems ever, this is your chance. If you want a metal frame traditional pistol, this is the only option I know of that starts life as an 80% kit.
1911s are well known for their excellent triggers, grip angle, and ergonomics. You can tune a 1911 unlike any other gun on the market, and if you want to experiment with that kind of work, this is the platform to do it with.
Plus, you can build your ultimate race gun or concealed carry gun with this classic platform.
Polymer 80 Glock
I think its safe to say that Glock is the AR 15 of the handgun world. This platform is so ubiquitous that you could effectively build a Glock using almost no Glock parts.
This includes an 80% frame from Polymer 80 (<- review). The 80% Glock frames come in 9mm and 40 S&W and come in full, compact, and subcompact sizes.
These frames replicate some features many Glock owners have always wanted. Features include a textured, but finger groove free grip, and a standard Picatinny rail.
Check out our Ghost Gunner video from SHOT Show, 2020:
The polymer nature of these frames makes them simple to mill out. It lacks the classy nature of a 1911, but something can be said for designs that work.
The Polymer 80 frame allows you to fill it with whatever Glock parts you desire. Top it off with a slide from anywhere from Lone Wolf to Suarez and a barrel from Agency Arms, ZEV, or Battle Arms Development.
Polymer 80 lowers come with a jig, and you need some standard tools to finish them.
Why Choose an 80% Glock
If you want a modern double stack platform with a lightweight polymer frame here, it is. The frame is a little easier to mill if you are a little intimidated by metal.
An 80% Glock build gives you a robust platform for a modern handgun. There are also hundreds of upgrades and accessories out there.
The Ruger 10/22
The Ruger 10/22 is by far the most common 22 LR rifle on the market. I recently reviewed by very own 10/22 carbine, and it took the number 1 spot of my top 22 rifles list.
The 10/22 is a legendary platform because it's easy to shoot, lightweight, and capable of outstanding accuracy. It also helps that the Ruger 10/22 has tons of upgrades and customization options available.
A little company called Razor produces a variety of 80% Ruger 10/22 receivers for both the Long Rifle round and Magnum rounds. There is even a solid brass 10/22 80% receiver.
This is the perfect place to start when it comes to building a precision rimfire rifle.
You can start with nothing more than an 80% receiver and deck your gun out with a bull barrel, a BX trigger, precision internals, and more into what could easily be the rifle of your dreams.
Why Go with a Ruger 10/22 80% Receiver?
It's the only rimfire option on the list for one, and the only rimfire option I know of outside of a dedicated 22 LR AR. A Ruger 10/22 is a fun gun and one you could build as a project with your kids.
After built, it could serve double duty as a cheap plinker, and small game taker.
80% AK47
Finally, we get to the AK option for those looking to build their gun. The AK series is second only to the AR in popularity, and you can find several different companies producing 80% receivers.
Building an AK is a serious challenge if you're new to building guns in general. Since the weapon is made across the world there are little variances between parts kits, receivers and more. This does mean you have to match what works with what works.
You certainly need to know your AKs before diving into this kind of build. If you do, you will feel like a partisan building a gun to defend or take freedom.
You'll need a jig, a drill press, and a few more specialized tools to make your own AK. The goods news is that AK 80% receivers are cheap, so if you screw one up, you're not out too much money.
Why Go With an AK 80% Build
Building an AK does give you that I'm an underground partisan feeling. It's a fun and challenging build. The good news is once you master the AK series you'll never want to stop. You'll start with a Polish model, and then you'll need a Romanian, then a Yugo, and it will never end.
Building Guns
If you are ready to step beyond the assembling and get into building, the 80% route is the first one you should take. It's a challenge, but once you do your first build, it will be hard to stop.
Did I miss any other builds? Is there any other 80% receivers I should know of?
And, if you're just getting into this, there is nothing wrong with assembling a gun using parts like you'd find here.
Best Places To Buy 80% parts
You can buy the entire "Glock" pistol from the 80% kit and jig, to the slide, barrel, and parts (which may be changing soon.)
You can buy almost anything on Brownells, including 80% lowers and jigs.
I've found these to be some of the best jigs available for AR-15 milling.