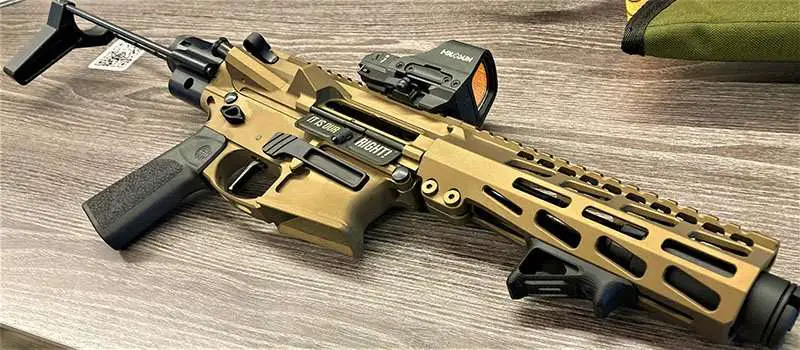 Recently I was fortunate to attend the Outdoor News America (sponsored by Blue August) writers conference. Once again, this year's event was held at the Texas Gun Experience facility in Grapevine, Texas. This 35,000 square foot building alone is worth a visit if you're in the area.
Aside from a well-stocked gun, knife, ammo and related products show room, they have 60 different makes and models of full auto machine guns that you can try out, including a Minigun! All can be fired on their multiple indoor ranges.
In essence this event is a mini–SHOT Show. Below are five products or companies I was not familiar with and that you as an outdoor/shooting enthusiast may find interesting:
Cosaint Arms
Cosaint meaning to "defend or protect" is based in North Carolina and have designed their single and double stack 1911 platform pistols to shooter flatter, with less felt recoil and greater accuracy. This means less felt recoil and control for faster follow-through and getting back on target. 
While competition pistols are part of their lineup, the COS11 (single stack) and COS21 (double stack) are carry guns based on a modular configuration for everyday carry.
If you have always wanted a class act 1911, but just never found quite what you were looking for you may want to take a hard look at Cosaint Arms.
Wolf Premium Oils
Needing a protective oil for all your outdoors gear…not just firearms? Wolf Premium Oil, based in Tennessee, has a varied selection depending on your specific need. Synthetic lubricants from Wolf include oils for firearms, fishing gear, archery, and knives.
All of Wolf products are designed to lubricate, protect, clean, and extend the life of your outdoor gear products that require a protective coating. 
Take a look at wolfpremiumoil.com for these and related products.
Simply Rugged Holsters
As the name implies, "Simply Rugged" builds leather holsters that are a simple design, but also rugged and will protect the gun in rough environments.
Simply Rugged uses full grain cowhide from Hermann Oak to build their leather holsters and leather accessories. Offerings are also available with more exotic leather including elephant, alligator, ostrich, and shark skin.
The company, based in Arizona, recently developed the removable "Inside/Out," add on belt loops which allow you to quickly and inexpensively convert your holster to a secure, comfortable, IWB holster.
Find their online store at simplyrugged.com.
WildEar
There is little doubt that high decibel levels of noise can do permanent damage to your hearing. WildEar is based in Minnesota and provides some of the most advanced technology in hearing protection and enhancement on the market.
Their products can protect your ears from extreme noise in any environment and also provides hearing enhancement for safety and communication when needed.
WildEar provides an advantage of ease-of-use, simplified controls, durability, and field adjustment under harsh field conditions along with product quality. Special attention has also been given to providing the absolute best fit in a custom product via specific fit and molding to your ears if you so desire.
Check them out at WildEar.com.
BOCO Ballistics
BOCO Ballistics are a full-service gun shop that focuses on custom gun builds, primarily in the AR Platform. Based in Justin, Texas their motto is "Buy Once, Cry Once", i.e.  BOCO.
Their goal is to deliver a unique and personal firearm to each customer. Building firearms specifically to the needs of each customer is what they do. Every gun they build has been carefully hand assembled, tested and tuned. Each build is to the customer's specific needs and requirements.
BOCO provides a "Forever Warranty" on all firearms they produce or service. If you are looking for that special firearm build that is unique to you, then take a look at bocoballistics.com.
Conclusion
The above products are provided by just a few of the US outdoor and shooting industry-based companies. Give them a look next time you are searching for that specific product for your next outdoor adventure.