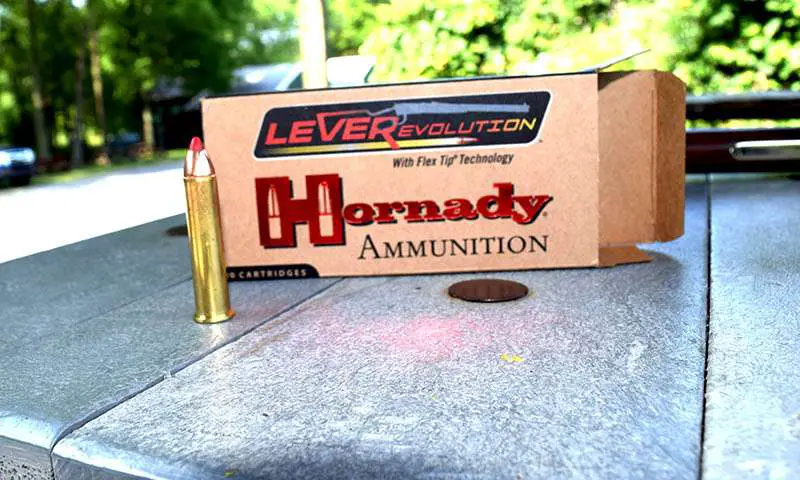 The 45-70 and the 450 Marlin are two very similar big bore hunting cartridges. Our goal with this article is to compare the two to each other with the hopes of figuring out which one is better for more circumstances.
They are so similar that this is no easy feat. Let's get started.
45-70 Gov vs 450 Marlin Trajectory
These two cartridges have roughly the same trajectory. At some point between 200 and 300 yards is where a major shift takes place, with the 450 Marlin winning.
At 300 yards the 45-70 drops 27.8 inches, while the 450 Marlin drops less at 21.3 inches. Therefore, the 450 Marlin is the flatter shooting cartridge at longer distances.
Up to that point, trajectory is the same.
450 Marlin VS 45-70 Recoil
Both of these calibers are hard hitting on both ends. While the 450 Marlin has slightly improved ballistics, there is barely a difference in perceived recoil to the shooter's shoulder.
45-70 Government VS .450 Marlin Ballistics Chart
Below you'll find modified ballistics charts for each caliber. They're modified in that they're simplified and show less data than each caliber's main page does.
We've got dedicated pages to each caliber if you'd like to see the entire ballistics chart and history for each one.
You can find them respectively at each page:
The below measurements are taken at the muzzle, 100 and 200 yards. Measurements taken are velocity measured in feet per second, energy measured in FT/LB, and drop or trajectory measured in inches.
45-70 Gov ballistics chart
The following is a 45-70 ballistics chart that shows 325 grain Hornady FTX factory loads.
| | | | |
| --- | --- | --- | --- |
| | Muz | 100 | 200 |
| Vel | 2050 | 1730 | 1451 |
| Energy | 3033 | 2159 | 1519 |
| Drop | -1.5 | +3 | 0 |
450 Marlin ballistics chart
The following is a 450 Marlin ballistics chart that shows 325 grain Hornady FTX factory loads.
| | | | |
| --- | --- | --- | --- |
| | Muz | 100 | 200 |
| Vel | 2,225 | 1,887 | 1,585 |
| Energy | 3,572 | 2,569 | 1,813 |
| Drop | -1.7 | +3 | 0 |
45-70 Govt History and Use
The 45-70 has a rich history dating all the way back to the 1800s when it was first developed. It was then adopted by the US Government in 1873.
The 45-70 was originally used for military use but the world would eventually see just how potent of a big game cartridge it could be.
It has recently seen a resurgence in popularity with several lever action rifle manufacturers, like Henry, making guns chambered in it.
As far as big bore cartridges go, the 45-70 is the one by which all others are measured, at least when it comes to hunting.
I go much further into detail regarding the 45-70's history and talk about black powder rifles, in this 45-70 article.
.450 Marlin History and Use
The 450 Marlin has a very short lived history. And it technically came about to replace the 45-70. The way Hornady and Marlin looked at things, was the 45-70 Gov was an old cartridge with unstandardized chamber pressures.
They wanted to make a new rifle and cartridge that could do all the things the Government could do, but standardized with SAAMI specs.
The 450 Marlin exceled in hunting big game animals. It could handle anything North America could throw at it and then some. But one day it just disappeared. It just could not compete with the popularity of the 45-70 and other big bore cartridges and eventually faded into memory.
As far as I know there are no guns currently being made in this big bore cartridge, but there are still some ammo makers like Buffalo Bore and Hornady who make ammunition for it.
.450 Marlin VS .45-70 Govt — Which is Better?
In terms of ballistics, the 450 Marlin has a slight edge over the 45-70 does. It has more velocity, energy, and a flatter trajectory for longer. That said, the 45-70 blows the 450 out of the water in so many other areas.
First is availability. You can actually buy new guns and ammo for the 45-70 Government. That's not necessarily true with the 450. You'd need a used gun for 450 Marlin, which is fine if you buy one that wasn't beat to death.
Most hunters take good care of their gear so that's not an impossible task.
The real problem is that only a handful of ammo makers still produce ammunition for it. Hornady is one and the only other I can think of off the top of my head is Buffalo Bore.
Both are excellent cartridges, you just won't be able to find guns and ammo for one of them.
Next, check out our big rifle ballistics chart for dozens of other calibers.