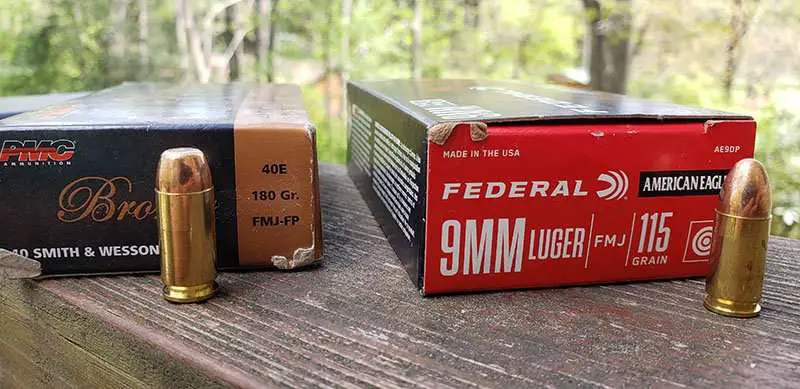 The caliber wars rage on but we don't participate in them the same way everyone else does. My goal here isn't necessarily to pick a winner, but to help you pick out the right gun for yourself. Though, I have to be honest, I will pick a winner at the end.
At least, it's my winner and what I tend to choose for my own self-defense purposes.
Continuing on in my honesty, I do currently have guns in both calibers.
9mm vs 40 S&W, which is better?
On a purely ballistics standpoint, the 40 S&W offers up better terminal ballistics than the 9mm Luger does. Because this is true, the 40 S&W is technically better at stopping an attack than the 9mm is.
This is just the tip of the iceberg though, and there is a lot more that goes into which caliber is better than just ballistics.
For example, we also have to take into account the capacity, shootability, cost to training ratio, and much more. We're going to dissect this much further like we did when I compared the 9mm VS 45 Auto.
Let's jump right in.
9mm vs 40 S&W, stopping power
At the same time, the term "stopping power" is both largely a myth and somewhat of a reality that can be achieved. Though, it is more myth than reality.
While a bullet may stop an attacker, there really is no such thing as "stopping power."
The main reason why stopping power is a myth is because any given person could get hit with either caliber and walk away from the attack. This is true because under stress most people cannot shoot a gun with proper accuracy.
They may hit their target, but miss all of the vital organs necessary for keeping a body moving.
For example, a defender may aim for center mass and hit the thigh or shoulder. Both of which are painful injuries, but a determined person will be able to fight through it.
Or, if that person is high on some sort of narcotic, your attacker may still be able to keep fighting unless you sever the connection between the brain and the rest of the body.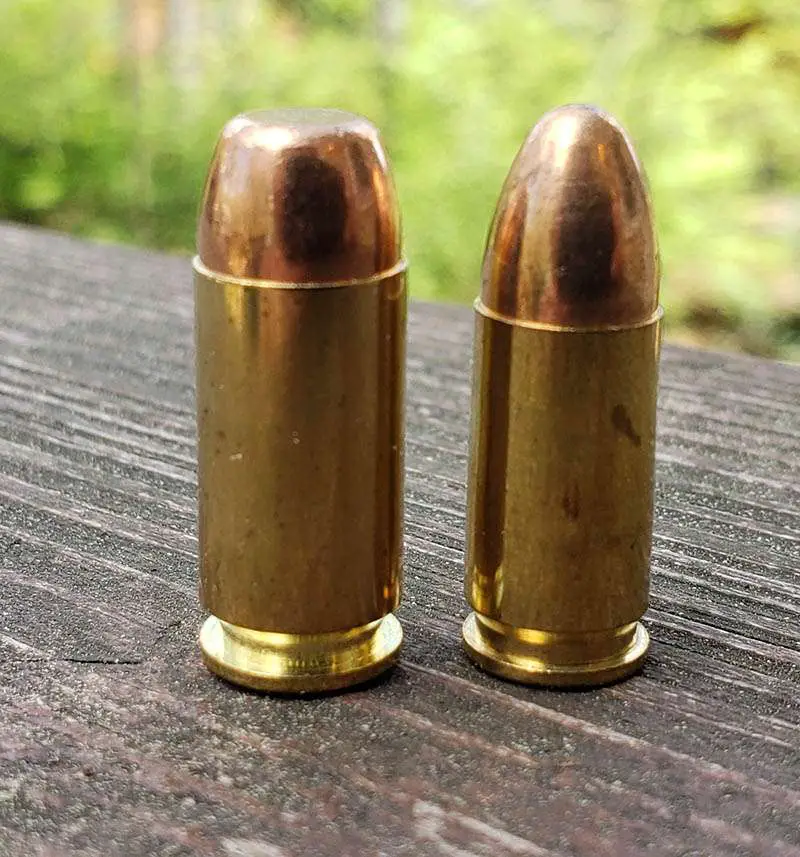 Having said all of that and tackled the myth of stopping power, let's get on to the reality of what is possible in the best case scenario with each round.
9mm Stopping Power
When it's all said and done, tremendous improvements have been made to the 9mm cartridge. While it is true that improvements have been made across all of the mainline self-defense calibers, 9mm seems to have benefited the most. The ballistics chart below shows this as the outlined HST hollow point travels at 1,150 feet per second and produces 364 pounds of energy at the muzzle. This hasn't reached the 40's power level, but isn't that far off. The 9mm Luger's true "stopping power" comes from its ability to hold more ammo that can be used on target. We'll get to that more, later on in the article.
40 S&W Stopping Power
The 40 S&W is a relatively powerful handgun cartridge, and it goes above and beyond the 9mm power level at all grain weights. The defensive 40 caliber rounds transfer over 400 pounds of energy to the target, which is more than sufficient to incapacitate an attacker with proper shot placement. Therefore, pound for pound, the 40 caliber will do more damage, theoretically, to the inside of a bad guy than 9mm will. The issue that usually comes to play is that the 40 usually comes with more stout recoil, is harder to land follow up shots on target, and generally holds less ammo than 9mm guns of the same size.
40 S&W VS 9mm Luger Ballistics:
Below, you'll see slightly modified versions of each caliber's ballistic charts. If you'd like to learn more about each one individually, please check out each one's dedicated page:
Then, if you want even more ballistic information, and to see all of our handgun calibers, visit our handgun ballistics chart page.
9mm Ballistics
This 9mm ballistic chart is my own personal favorite defensive 9mm round, the 124 grain Federal HST:
| | | |
| --- | --- | --- |
| | Muzzle | 25 YDS |
| Velocity (FPS) | 1,150 | 1,095 |
| Energy (FT/LB) | 364 | 330 |
40 S&W Ballistics
This .40 Smith & Wesson ballistics chart shows 165 grain Federal HST hollow point ammunition, to show similar ammo types:
| | | |
| --- | --- | --- |
| | Muzzle | 25 YDS |
| Velocity (FPS) | 1,010 | 980 |
| Energy (FT/LB) | 408 | 384 |
Not shown here, is the SIG V-Crown Ammo that I don't have complete ballistics stats on. But based on SIG's website the 124 grain V-Crown hollow points are screaming at 1,165 feet per second, with 374 pounds of energy at the muzzle.
The same ammo for the 165 grain 40 caliber hollow points travels at 1,090 feet per second with 435 pounds of energy at the muzzle.
Both of those are impressive numbers. I do own and carry the SIG V-Crown in some of my guns and is a great option for self-defense.
40 S&W vs 9mm, Recoil and other info
Until now, things have been a bit of a draw. The 40 S&W shows better numbers on paper in terms of ballistics, but it has been pretty close. Where things start to diverge in favor of what I'd call a winner, takes place with the below points.
In terms of recoil the 40 Smith & Wesson will recoil harder into the shooter's hands than the 9mm will. This is true because the 40 is bigger both in terms of projectile and the amount of powder used to propel it.
Because it is more powerful, it recoils more. That recoil is detrimental to some shooters under normal circumstances. It is detrimental to even more shooters once the crap hits the fan.
With the tunnel vision and loss of motor function associated with a critical defensive incident, the average defender will have a harder time shooting a 40 caliber weapon accurately.
That can be made up for with proper training, but most people go to the range and put rounds on paper and call it training. But that's not actually good training.
Good training is getting your heart rate up as much as possible while creating stress to try and mimic what you'd experience while in a defensive encounter. Then put some rounds on paper to see if you can still hit your target where you aim.
9mm VS 40 S&W Capacity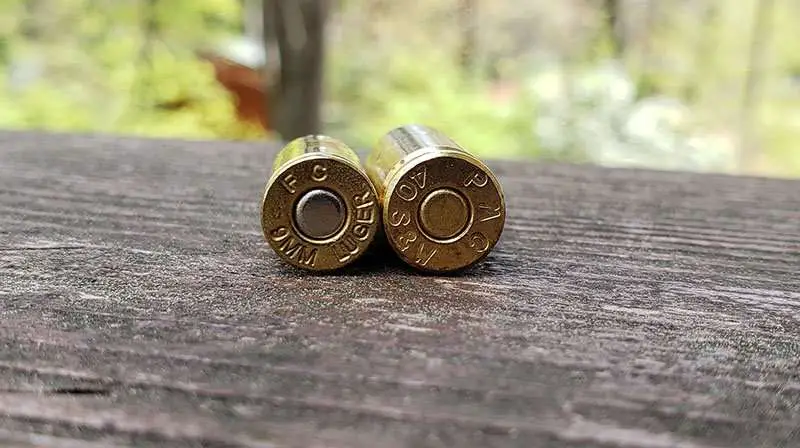 If you were to take a 9mm cartridge and lay it down next to a 40 caliber cartridge, the 40 is always going to be thicker. The reason why is because the 9mm is "technically" a 35 caliber projectile (.355″) while the 40 S&W is, well, 40 caliber.
Because the case and projectile is bigger, in girth, this means that the rounds take up more space in the magazine. Therefore, if you take a Glock 17 (in 9mm) and a Glock 22 (in 40), even though the guns are the same size the G17 will hold more rounds of ammo.
That's just the way it is.
Because the 9mm guns hold more ammo, you can technically shoot at more bad guys, little green men, or zombies.
40 S&W vs 9mm Cost
The same ammo in each caliber, so a box of red American Eagle in each caliber, will show the 9mm is cheaper 10 out of 10 times. This has gotten a lot harder to track as of late with the ammo shortage and price hikes taking place, but this is always true, at least as far as my experience is concerned.
And because this is true, it is easier to justify training with your guns if they're chambered in 9mm just because it's cheaper to shoot. Because it's cheaper to shoot you can master your gun more.
When you master your gun more, you become more proficient with it and will be able to use it when and if that time ever comes.
There is a direct correlation between the price of ammo and how well you shoot.
9mm Luger VS 40 S&W Availability and Aftermarket
Even though both of these calibers are in the "big five," meaning that these are two of the five most popular handgun cartridges available, the 9mm dwarves the 40 in terms of sales.
9mm is #1 in sales, and 40 is much further down on the list. Part of the reason why is because 9mm has been around since 1902 and there are just a lot more guns shooting it.
Why is this important? It's important because I've been in gun stores before who refuse to carry 40 caliber guns unless they're in on consignment. Even though 40 is one of the big sellers for handgun cartridges, its sales still suck compared to the others, and those gun store owners tell me that the 40 caliber guns only collect dust.
9mm vs 40 S&W, Which One Wins?
The 9mm is the clear winner, for most people, and it certainly wins in my book. While it is balistically inferior to the 40 S&W, it isn't by any measurable amount. And when 9mm +P gets thrown into the mix with its 396 pounds of energy at the muzzle, things narrow up even further.
Furthermore, 9mm provides sufficient ballistics and energy transfer on target with the right loads, is easier to shoot well, and is much more affordable.
To me, that's a clear winner.
Though, I do have guns chambered in both and the 40 S&W is a winner in its own right. I'd also say that the 40 S&W is far from dead, as some would suggest.