45 Auto VS 40 S&W … The caliber wars rage on, but we don't participate in them the way the rest of the industry does. Instead of picking out a straight up winner, we like to look at things a bit differently.
This time we'll be comparing 45 ACP vs 40 S&W to see which one is better for you, but not necessarily to pick a winner.
It's my goal to give you things to think about that are positives and negatives to each one to help you make the right choice.
I currently own guns in both calibers and I know which one I like more. Let's help you figure out which one is better for you concerning ballistics, cost to training ratio, and some other information.
45 Auto vs 40 S&W, which is better?
In terms of which round is technically the better round for self-defense, the 45 ACP has a very slight edge over the 40 S&W. It transfers more energy to the target and has more frontal mass. The reason why it does, is because it's propelling a big projectile at fast-enough speeds.
Most people think that the 45 Auto is a slow, fat, old cartridge that is outdated. In reality, it's taller and just nearly as fast as the 40 is. The only difference is that it's usually a bigger projectile with more frontal mass and is slightly better at stopping an attack.
This mass comes at a cost, though, which we'll see below.
45 Auto vs 40 S&W, stopping power
On one hand, there really is no such thing as stopping power. Stopping power, or knock down power, is more of a myth or legend than reality.
Then again, stopping power is something that can be achieved in the right circumstances with the right ammunition. You just can't depend on it. You can't count on it showing up because during a stressful critical incident where you need to defend your life, your shooting skills will likely go right out the window.
And, you don't really know what kind of condition your attacker is in.
Usually, you'd want to use the biggest, fastest moving projectile you can accurately shoot because these are the ones that transfer the most amount of energy to your target.
Energy transfer is usually what incapacitates an attacker.
Of course, the problem with this is that more recoil is usually found with that combination, which causes shootability issues.
These issues with shootability are usually why most defenders settle on 9mm because it tends to offer the best balance of recoil, shootability, and "stopping power."
Of course, these things can be trained for if you shoot your gun enough. Let's take a look at each caliber more in terms of "stopping power."
45 ACP Stopping Power
The 45 ACP is an old handgun cartridge that transfers a lot of downrange energy to the target. It propels a large projectile (ranging from 185 – 230 grains) between 800 – 1000 feet per second, which is good for more than 400 LB/FT of energy at the muzzle. It does that at much lower operating pressure (PSI) than the 40 caliber does.
Buy 45 ACP Snap Caps on Amazon to safely dry fire your pistol.
40 S&W Power
The 40 S&W is a newer handgun cartridge that was meant to replace less powerful cartridges for the FBI and law enforcement. It propels a relatively large projectile (160 – 180 gr) at about 1,000 feet per second, which also usually translates into more than 400 pounds of energy at the muzzle at higher operating pressures.
Buy 40 S&W Snap Caps on Amazon to safely try fire your pistol.
40 S&W VS 45 ACP Ballistics: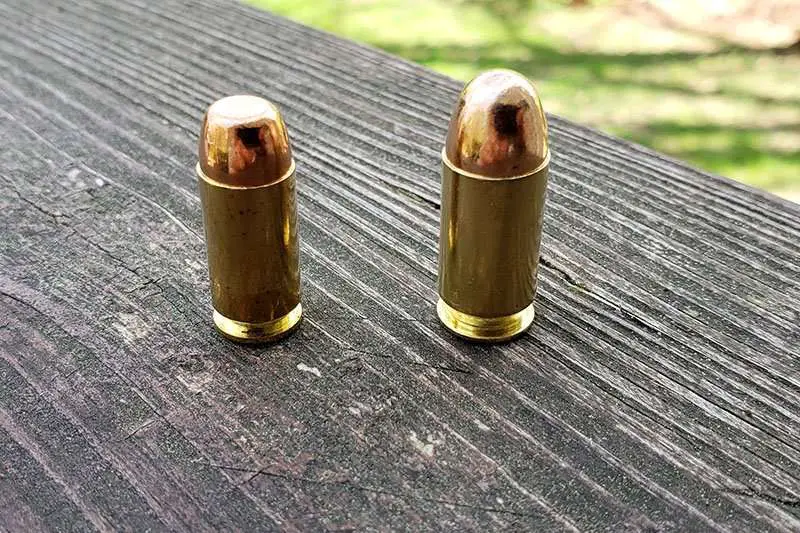 Below are two modified (to fit the page) ballistic tables for each caliber. I tried to choose comparable ammuntion to give an accurate representation.
If you'd like to see more in depth ballistics or other information on each caliber, please click on one of the following links:
Then to see the entire handgun ballistic chart, please click that link.
45 Ballistics
This 45 ACP Ballistics chart shows 210 grain Federal Premium Hydra-SHOK Deep hollow point rounds:
| | | |
| --- | --- | --- |
| | Muzzle | 25 YDS |
| Velocity (FPS) | 980 | 952 |
| Energy (FT/LB) | 448 | 423 |
40 S&W Ballistics
This 40 S&W ballistic chart shows 165 grain Federal Premium HST Jacketed Hollow Point rounds:
| | | |
| --- | --- | --- |
| | Muzzle | 25 YDS |
| Velocity (FPS) | 1010 | 980 |
| Energy FT/LB) | 408 | 384 |
Don't just go off of these two cherry picked rounds to compare ballistics on. Go into each page linked to above for more in depth ballistics information. Both calibers will do very well in a defensive situation.
40 S&W vs 45 ACP, Recoil and other info
Something that many folks find counterintuitive is that the 40 S&W recoils harder than the 45 ACP does when fired from guns of the same weight.
This is true because the 40 S&W shoots a projectile of significant size, but it's a smaller overall case design. In order to achieve the numbers they wanted, they had to work some magic.
Because it is a smaller overall case but needs a good amount of powder to propel it, it's loaded hotter than the 45 is.
Because it's loaded hotter to achieve the needed speeds, it recoils harder into the shooter's hands than the 45 does.
Another thing people forget to do is look at the pressure recommendations for each from SAAMI. 45 ACP is usually loaded to about 21,000 PSI while 40 S&W is usually loaded to about 35,000.
In other words the 45 ACP does about the same at lower pressures. Lower pressures will usually, depending on other factors like bullet weight, equal less recoil.
And because of that and some other things we won't get into here, it is actually easier to shoot a 45 caliber gun better than it is to shoot a 40 S&W gun.
45 ACP VS 40 S&W Capacity
This is where things start to take a turn in favor of the 40 S&W. The 40, being an overall narrower cartridge means that it takes up less space in the magazine.
Because it takes up less space in the mag, you can fit more of them in there.
In other words, if you take two guns of similar size, the 40 chambered gun will hold more ammunition.
That extra ammo can come in handy if you're finding yourself battling more than one bad guy.
40 S&W vs 45 ACP Cost
The cost difference between the two cartridges isn't as much as it is between other cartridges. Of course, this is a lot harder to keep track of with the current ammo shortage taking place, but 40 S&W is usually a little cheaper than 45 ACP is.
And as we all know, when something is cheaper it's easier to use. This means that the cost to training ratio is better with the 40 S&W, an important thing considering the 40 recoils harder.
45 Auto VS 40 S&W Availability and Aftermarket
The 45 Auto is the second most popular semi-automatic handgun cartridge and its sales are much bigger than the 40's sales numbers are.
Because of this you will usually be able to find more gun options in 45 than you will in 40 S&W. In fact, I've even been in gun stores before that won't sell any handguns chambered in 40 simply because the gun shops say that they won't sell.
Most of the guns in 45 will likely be 1911s. However, all of the major gun manufacturers build 45 caliber striker guns, as well.
45 ACP vs 40 S&W, Which One Wins?
At the end of the day I have to choose a winner. And, while I have guns chambered in both cartridges, I prefer the 45 ACP for defense applications than the 40.
For me, the 45 ACP being easier to shoot with excellent ballistics in the right ammo choice, the 45 makes more sense.
Then again, I do have a 40 S&W gun that is for travel purposes as sort of a get home gun that stays in my backpack during road trips.
At the end of the day, only you can choose what is right for you. I hope I provided you with enough information.
You can buy these cartridges direct from Federal Premium's website, with free shipping, when you spend a certain amount.
Next, check out our bigger chart for handgun ballistics, that shows all of them.