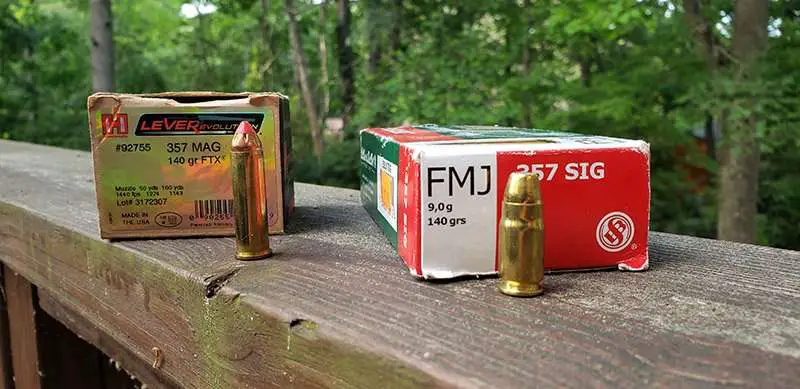 I see in gun groups and forums that there is confusion surrounding 357 Mag and 357 SIG. Some folks have bought one or the other, needing the one they DIDN'T buy, and were confused when they got it home.
Other folks just want to know the differences between these two cartridges or find out which one is superior.
I want to be clear right now that these cartridges are not interchangeable. You cannot take a 357 SIG and shoot it in your 357 Magnum gun or do the opposite. It just won't work.
This article, complete with ballistics charts on the 357 SIG vs 357 Magnum, is meant to address these differences as well as discuss uses and other info I consider important. We may even come to a conclusion about which one is better, though that is certainly not an easy feat.
357 SIG vs 357 Magnum Differences
These two cartridges couldn't be more different. In fact, the only thing they have in common are the numbers in their name, and that they move at similar velocities.
The 357 Sig is a bottle neck pistol cartridge that shoots a .355″ projectile. It's a bottleneck cartridge because it's technically a 10mm cartridge case that has been bottlenecked to accept a 9mm Luger cartridge. The extra case capacity allows more powder which propels the lighter 9mm bullet to much faster speeds than the 9X19 cartridge can go. That extra velocity was one of the reasons why the cartridge exists, as the designers tried to replicate the ballistics of the 357 Magnum.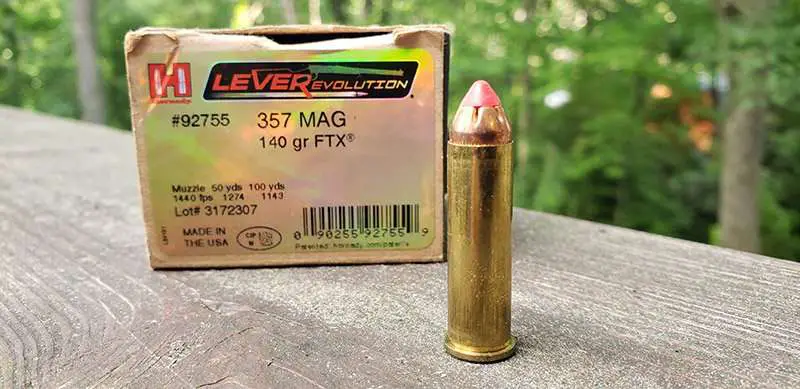 The 357 Magnum is a straight walled, rimmed revolver and rifle cartridge that is designed to move very fast and transfer a tremendous amount of energy on target. As said a moment ago, the 357 SIG does not shoot a .357″ projectile. The magnum cartridge does shoot a .357 inch projectile with varying grain weight bullets. The 357 Mag is an excellent cartridge for self-defense and even hunting, and stands on its own as a very effective round. Most gun owners know what it is.
357 SIG vs 357 Magnum, which is better?
Ultimately it depends on what your goals are. Either cartridge will work well for self-defense ammo. Pound for pound, and inch for inch, it's hard to beat the 357 Mag's ballistics over a wide spectrum. It can be loaded extremely hot and is also an excellent hunting cartridge.
Hunters can use handguns to hunt, where allowed, and rifles like this Henry Repeating Arms 357:
That said, the Sig cartridge is no slouch, either. It boasts excellent ballistics for what it is and has earned the favor of both law enforcement personnel and countless civilians for defensive applications.
Both cartridges offer pretty stout recoil and where they begin to diverge is actually a surprising point for some. In terms of a power to capacity ratio, the 357 SIG cartridge wins. What I mean by that, is that your average 357 Sig chambered Glock pistol will hold 13+1 rounds.
On the big end, your K or N framed sized 357 Mag revolver will only hold 8 rounds, but usually it's less than that at 6 rounds.
This is important if capacity is important to you. Then again, it's not important if capacity doesn't matter to you.
357 Magnum VS 357 SIG Ballistics:
One of the main things we do here on this gun blog is show ballistics charts. While things can certainly be different from one gun to the next and even from one round of ammo to the next, it's important to see the numbers to make accurate choices.
What follows in this section is the comparison of a couple different grain weight cartridges in each caliber. I try to match them up as evenly as I can, but things don't always work out perfectly. This is just meant to be a guide.
357 Magnum Ballistics:
This first 357 Magnum ballistics chart shows 135 grain Hornady Critical Duty FlexLock and 8″ barrel:
| | | |
| --- | --- | --- |
| | Muzzle | 50 YDS |
| Velocity (FPS) | 1,275 | 1,150 |
| Energy (FT/LB) | 487 | 397 |
This next 357 Mag ballistics chart shows 158 grain Federal American Eagle target loads and 4″ barrel:
| | | |
| --- | --- | --- |
| | Muzzle | 50 YDS |
| Velocity (FPS) | 1,240 | 1,139 |
| Energy (FT/LB) | 539 | 455 |
357 SIG Ballistics:
This first 357 SIG ballistics chart shows 135 grain Critical Duty FlexLock from Hornady and 4″ barrel:
| | | |
| --- | --- | --- |
| | Muzzle | 50 YDS |
| Velocity (FPS) | 1,225 | 1,125 |
| Energy (FT/LB) | 450 | 379 |
This next 357 SIG Ballistic table shows the pictured Sellier & Bellot 140 grain FMJ with a 5″ barrel:
| | | |
| --- | --- | --- |
| | Muzzle | 50 YDS |
| Velocity (FPS) | 1,352 | 1,147 |
| Energy (FT/LB) | 563 | 406 |
What the above charts don't show is the real meat and potatoes of the magnum cartridge when loaded by some of the smaller manufacturers, like Grizzly Cartridge. I've got some of their magnum 357 loads and they're screaming downrange at 1,400 FPS.
Others still are hitting 1,700 feet per second. The magnum cartridge excels in places where most others cannot.
Why all the confusion between the SIG and Magnum ammo?
There is a lot going on here. Some of this is the fault of the manufacturer and original designer and how they chose to name the cartridge. There is always a certain amount of ambiguity surrounding calibers and the names they're given.
There has never really been an industry standard for the naming of "calibers." Some cartridges are named after the size of the projectile, others are not.
38 Special, for example, is technically not a "38" caliber. They take the same size projectiles as 357 Magnum.
If you wanted to get technical about it, this applies to 44 Special and 44 Magnum as well. It's the same thing, only they're similarly named. But they're technically not 44 caliber — they're technically .43 caliber.
Check out our big handgun ballistics chart for other calibers that weren't named after their size.
Glock 32 and others:
Also not helping matters is the Glock 32 and other 357 Sig chambered guns that don't say "SIG" on the gun itself, but just 357. I'm not sure how much this hurts, but when there are a couple different 357 cartridges, it might help to label the guns correctly.
I get it. Glock probably didn't want another gun manufacturer's name on their guns. Just like the G22 doesn't say S&W after the number 40. But there are also no other mainline 40 caliber cartridges. 10mm is technically .40″, but it is a totally different cartridge.
It can be confusing, especially if you're new to guns.
357 Magnum VS 357 SIG, Other Considerations:
There are other considerations and things to think about when comparing these two. Try to keep in mind, however, that they're ultimately not comparable to each other because they're just too different. Hopefully I've been able to drive that point home by now.
357 Mag vs 357 SIG, Cost
Both cartridges are fairly expensive. Having said that, the SIG cartridge is even more expensive. There are several reasons why this is true, which kind of blurs into the next heading about popularity, so we'll end with that one.
But another reason why the SIG cartridge is more expensive is because it hasn't been around as long and doesn't have the same following that the magnum cartridge has.
357 SIG vs 357 Magnum, Popularity
The 357 Magnum has been around for a lot longer. Because it has, there are a lot more guns for it. Not just revolvers and rifles, there are even semi-auto 357 magnums, as pictured here:
Because there are more guns, that means that there is also a lot more manufacturers making ammo for them. Because this is true, it helps to keep prices lower because there is more competition.
The SIG ammo doesn't have that, and the sky is the limit on how much ammo companies can charge if they so desire.
Conclusion:
In conclusion, the 357 Magnum is a tried and true cartridge. It has a lot of different uses from self-defense to hunting, and is versatile. The cartrdiges themselves can be loaded to the extreme to achieve excellent ballistics for any application.
That said, the 357 SIG is a great defensive tool, as well. If you can find a gun and some ammo for it, the extra capacity given from the SIG cartridge affords a lot of defensive firepower. But it comes at the loss of more expensive ammo that is also hard to find.
Ultimately the choice is yours, but they cannot be interchanged.
I compare 9mm vs 357 SIG in that article.