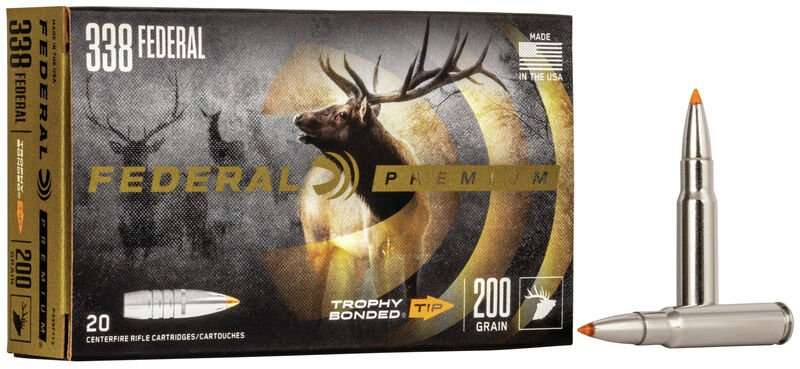 The 338 Federal got its start as a 308 Winchester, necked up to accept a 33 caliber bullet. 338 is generally a hard hitting caliber, but this one is a bit different than the others that bear the same caliber designation, like the 338 Win Mag.
The 338 Federal is a short action cartridge, meaning that you can cycle the bolt faster to get any needed follow up shots in. The 338 Federal also holds less powder than other similar 338 cartridges, and is easier to shoot, recoil wise.
And because its recoil is lighter than the other 33 caliber cartridges, more in line with 30 caliber cartridges, it's easier on the shoulder while still being capable of taking most North American big game.
.338 Federal is a relatively new centerfire rifle cartridge, being introduced to the shooting public in 2006. It offered the promise of being a lighter in recoil while still offering up excellent downrange ballistics.
338 Federal Ballistics Chart:
The following 338 Federal Ballistics Chart shows Federal Premium Trophy Bonded Tip 338 Federal cartridges with 200 grain bullets.
| | | | |
| --- | --- | --- | --- |
| | Muzzle | 100 YDS | 200 YDS |
| Velocity (FPS) | 2630 | 2431 | 2241 |
| Energy (FT/LB) | 3071 | 2625 | 2231 |
| Drop (Inches) | / | 0 | -4.4 |
338 Federal Uses
This cartridge is not as popular as it should be. It is capable of taking deer sized animals with ease up to and including moose. It's also fine for hunting smaller bear.
338 Federal Popularity
As of right now the only mainline ammo manufacturer that I know of making this ammo is Federal. Hopefully others will jump on board, because this cartridge has excellent potential, and I'd like to see it start to get chambered in more rifles.
And guns are even harder to find for this cartridge.