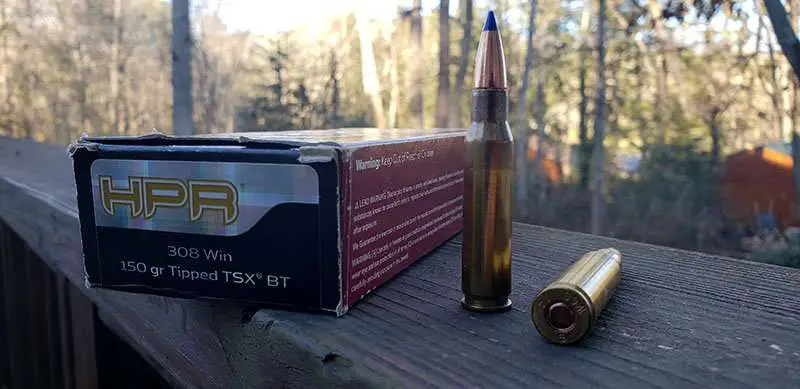 The purpose of this 308 vs 270 Winchester ballistics article isn't necessarily to tell you which caliber is better, but to help you decide which direction you might want to go for your first or next rifle.
I will tell you which one I choose for myself based on my own experiences and needs, but what works well for me may not work well for you.
There is no wrong choice here.
308 VS 270 Ballistics
On paper, the 270 Winchester is a better performer. It's faster and produces more energy than the 308 does. It's also flatter shooting, which we'll get to in a few moments.
The main reason why the 270 shows better ballistics is because it's essentially a 30-06 case that shoots a much lighter bullet. So it holds more powder than 308 does, and moves a lot faster for that reason.
For space reasons and how this article is setup, I cannot include the entire ballistics chart for each cartridge. I urge you to check out each cartridge's dedicated ballistics page by clicking each of the below links:
| CALIBER | MUZZLE VELOCIY | MUZZLE ENERGY | 100 YD VELOCITY | 100 YD ENERGY |
| --- | --- | --- | --- | --- |
| 308 Win 150 GR | 3000 | 2997 | 2772 | 2559 |
| 270 Win 130 GR | 3200 | 2956 | 2984 | 2570 |
308 VS 270 Trajectory
The 270 Winchester is generally a flatter shooting cartridge than the 308 Winchester is. With a 100 yard zero the 270 drops 11 inches at 300 yards with a 145 grain bullet.
The 308 Winchester with a 150 grain bullet and a 100 yard zero drops 14.3 inches at 300 yards.
270 VS 308 Winchester Recoil
In terms of recoil, the two are very similar, with the 308 offering up slightly less recoil than the 270 if all things else are equal.
And by "all things else" I'm specifically talking about the weight of the rifle, the type of stock it has, etc. All of those attributes will really tell you how much recoil your gun is going to produce.
270 Winchester History and Use
The 270 Winchester is a much older cartridge that can be traced all the way back to 1923. The 270's parent case is the 30-06 Springfield that has been necked down to accept a 277 caliber bullet.
The 270 Winchester is a true, dual purpose cartridge. It can be used to hunt varmint and predator sized animals with its lighter loads, as well as deer sized game with its heavier loads.
In terms of use, the 270 Win excels as a rifle hunting cartridge with bolt action guns.
270 Availability
In terms of availability, the 270 is a moderately available cartridge. What I mean, is that it's popular enough that there are a lot of rifles and ammo manufacturers producing for it.
There are also a few different grain weights available.
However, it is not as popular as the 308 is.
308 Winchester History and Use
The 308 Winchester traces its roots back to 1952 and is a 30 caliber, centerfire rifle cartridge that's used heavily for hunting and use on the battlefield.
The 308 Win is a good medium-sized game hunting cartridge for animals up to and including lighter moose and bear with the right loadings.
The military would also then adopt the 308 Winchester, with downladed pressures in 1954. The newer cartridge would be called 7.62X51 NATO. Rifles chambered in 308 Win will also be able to fire the NATO cartridge.
In addition to hunting with bolt action rifles, like the Winchester Model 70, these are also a popular chambering for the bigger AR variant, the AR-10 like this one from Adams Arms.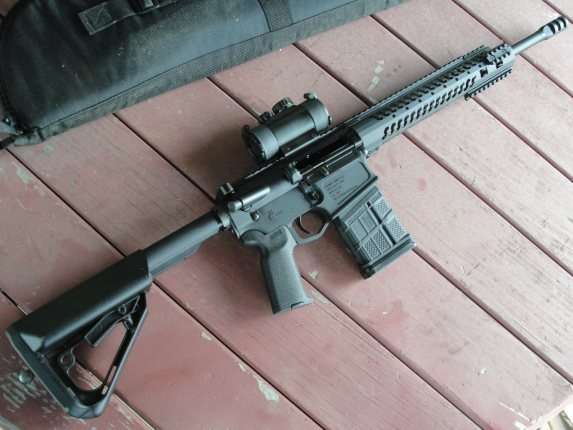 308 Availability
The 308 is a widely available cartridge due to its extreme popularity as a short action rifle that is the most popular chambering in the AR-10 platform.
Because it is so popular, there are generally more options in terms of ammo.
308 Winchester VS 270 Win — Which is Better?
For my purposes and because I'm a Marine who is very comfortable with the AR platform, I'm partial to the 308 Winchester.
However, the 270 Winchester is the better performer and offers up dual purpose hunting if needed.