3 Near Extinct Pistol Calibers, and their more popular counterparts:
In recent years we have seen a dramatic rise in the popularity of some pistol cartridges. I have had personal experience with these but as is often the case with rifle cartridges, we are now seeing a decline in the demand for some more recently developed pistol calibers.
Before looking at what cartridges may go extinct, let's confirm those that will most likely be around for the next millennium.
There is little doubt that 9mm (9×19 Parabellum) has been and will continue to be in high demand in the military, law enforcement, and concealed carry markets for many years to come. Many agencies that were utilizing other calibers for a duty pistol have now come full circle and back to the 9mm.
Along the lines of 9mm we cannot overlook the .380 ACP. It has been around for over a century and continues to be used as a backup and concealment cartridge for many and isn't likely to fall off the map anytime soon, if ever.
The old .45 ACP has been around for what seems like eons. While its use as a duty cartridge or an everyday carry gun has slowed, it will always be a mainstay in the pistol world having been used in every war from WWI to present.
The .40 S&W is still on the shelf, but in the last few years its use in the law enforcement and carry gun markets have slowed, more so year by year it seems. Despite this, the cartridge will most likely be around for a long time to come as it has been in use far and wide since 1990.
Moving on to those cartridges that may not be long for this world:
.357 SIG —
The 357 Sig is essentially a bottlenecked .40S&W, with a narrowing of the case down to fit a .357 bullet. Developed in 1994, the .357 Sig was intended to replicate the performance of a .357 magnum in a semi auto pistol. I have carried this cartridge as a duty pistol during my tenure in law enforcement.
There is little doubt that it is a hot, flat-shooting cartridge. However, due to wear and tear on pistols and the issue of recoil for some shooters, the 357 Sig has lost its appeal for both the public or private sectors.
While this ammo is still readily available there is limited interest by civilians and much less use in the government sector. In several cases I am familiar with, law enforcement has traded their Glock or S&W M&P in the 357 Sig for other models in a different caliber, usually 9mm.
Some dealers taking these guns on trade have been stuck with them for months, unable to find interested users.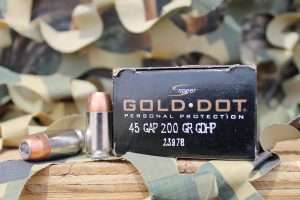 .45 GAP —
I believe it would be fair to say that the .45 GAP (Glock Automatic Pistol) is nearing extinction. Developed In 2002 specifically for Glock and was a shorter case length than the 45 ACP, the cartridge initially enjoyed some acceptance by the law enforcement community.
It may have also had a following in the concealed carry market because of compact and subcompact models produced by Glock. Most law enforcement agencies using the .45 GAP have replaced it with the 9mm.
In the many years I have instructed firearms both on a civilian and government level, only twice have pistols chambered in this caliber shown up on the range.
10mm —
The 10mm was designed in 1983 by Col. Jeff Cooper. For a time in recent years, it seemed the cartridge had was virtually dead and buried. It is however, currently experiencing a resurrection of interest, primarily in the hunting community. The 10mm Auto had a following when it was first introduced in 1983 and was adopted by the FBI Hostage Rescue Team.
But it never gained significant popularity, and there has been minimal demand for the ammunition for at least the past thirty years. As mentioned, it has gained some popularity among handgun hunters recently most likely due to production of the Glock Model 40 long slide chambered in 10mm.
But, as a serious carry pistol, the 10mm has few followers. It remains to be seen if this cartridge will stand the test of time.
Most folks who have a pistol, pistol caliber carbine, or revolver for that matter that they enjoy shooting and intend to keep, have taken the necessary steps to have a long term supply of their favorite cartridge. If, however, you are on the road and far away from your precious supply of ammunition, you may want to consider the following:
Longtime instructor John Farnam wrote in one of his recent weekly "Quips" this criterion he considers important when selecting a carry gun: Will it pass the Walmart rule? In other words, when times are hard or you are in an immediate need for ammo, can I walk into a Walmart and find a selection of ammunition (or any at all) in the caliber you carry? If your answer to that question is no, perhaps you may want to give it some thought.
Also, want to see handgun ballistics for all of the mentioned cartridges here?