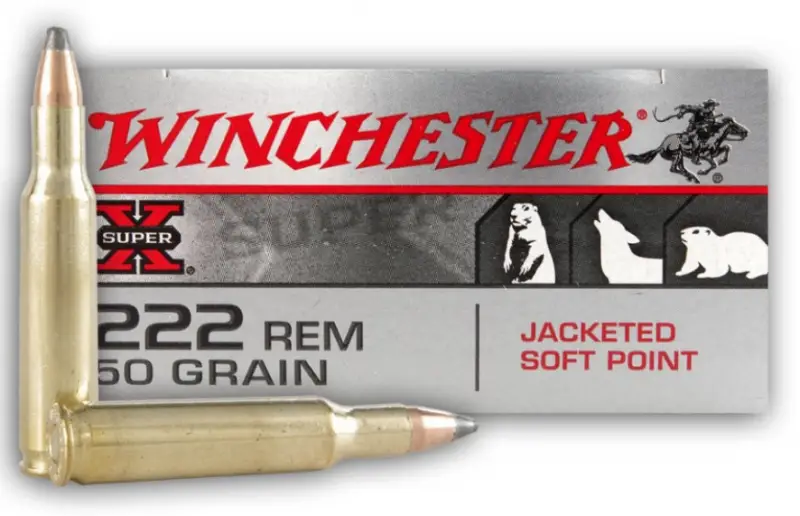 222 Remington:
Introduced in 1950, the 222 Remington was a completely new 22 caliber center fire rifle cartridge design. And, in the United States of America it was seen as the first rimless 22 cal center fire cartridge. 

Because the 222 Remington recoils lighter than others, it remains one of the top varmint hunting rounds in the US. Most sporting rifles will successfully shoot 1″ groups or less right out of the box.
With a 50 grain bullet traveling about 3,300 feet per second, varmints don't stand a chance out to about 250 yards.
The 222 Remington is a great cartridge for those new to varminting because it recoils less and is more of a pleasure to shoot, but ammo can be sparse in smaller brick and mortar stores.
In the bigger sporting stores, like Cabela's and Bass Pro Shops, you're more likely to find it. Of course, it can be found online as well, from fine retailers such as this.
222 Remington Barrel Specifications.
Common Barrel Twist Rate – 1/14
Bore Groove Diameter – .224″
222 Remington Reloading Specifications.
Bullet Diameter – .224″
Maximum Case Length – 1.700″
Trimmed Case Length – 1.690″
Primer Size – Small Rifle
222 Remington Loading Data Hints.
The 222 remington is extremely accurate when loaded with bullet weights of 50 – 55 grains. I.M.R. powders 4198, 4895, 4320 and 3031 are extremely effective in the 222 remington case.
222 Remington Trajectory and Hunting Applications.
 This is a down range trajectory chart for the 222 Remington cartridge with the scope mounted 1.5 inches above the bore center line plus if you were using this load, its effective hunting bullet energy range with well placed shots on,
Varmint / Predator size game, such as Bobcat, Cougar, Coyote.
Deer size game, such as Antelope, Blacktail, Hogs, Javelina, Mule, Whitetail.
Elk size game, such as Caribou, Black Bear, Sheep.
Moose size game, such as Brown Bear.
Bullet diameter .224″
Bullet weight 50 grains
Bullet ballistic coeffecient .223
Bullet velocity 3,300 feet per second.

Range

100 yds.

200 yds.

300 yds.

400 yds.

500 yds.

+

+ 1.4

0

– 7.4

– 23.2

– 50.5

901

658

473

334

232

 Varmint

+

+

+

–

–

–
For an in depth center fire rifle ballistics chart on many different calibers, push on that link.