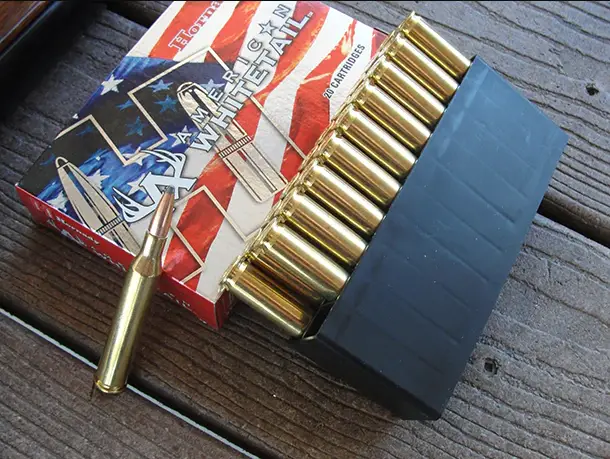 Both the 22-250 and the 25-06 have been called the ultimate in predator or varmint hunting cartridges. Both of them are well equipped with fast-moving projectiles that shoot flat. Having said all of that, they are really two totally different cartridges with wildly varying bullet weights.
Which one you choose will be based largely on your hunting needs. Before we take a bigger look, let's give a brief overview of the two —
22-250 Remington VS 25-06 Remington Ballistics
Bullet sizes for each caliber vary widely with 22-250 ranging from 35 to 65 grains. A 50 grain 22-250 Rem projectile fired out of a rifle with a 24″ barrel has a muzzle velocity of 3,810 feet per second with 1,611 pounds of energy. This projectile has dropped about 1.6 inches by the time it travels 200 yards. Comparatively, bullet sizes for the 25-06 range from about 80 grains up to 120. A 115 grain bullet shot from a 24″ barrel has a muzzle velocity of 3,060 feet per second, with 2,391 pounds of energy. By the time this projectile travels 200 yards, its impact is 1 inch higher.
22-250 VS 25-06 Trajectory
When you've got to go a longer distance, the 25-06 wins out both in drop and its wind bucking ability, but not by much. Because it's a heavier round, the wind doesn't affect the 25-06 as much, keeping it on target better.
When it comes to drop, the 25-06 actually impacts the target higher than your targeted area at 200 yards and is one of the flattest shooting cartridges available.
Having said that, the 22-250 is certainly no slouch and is also a very flat shooting round only dropping between 1 and 2 inches at 200 yards, depending on the weight of the projectile being fired.
22-250 Remington VS 25-06 Remington Recoil
Recoil is one of those things that is hard to discuss because many things need to be taken into account in order to accurately calculate it. Things like the weight and size of the rifle, bullet weight, etc., all need to be discussed.
That said, if all things that could be equal were such, the 22-250 definitely produces less recoil and is much more fun to shoot for extended periods of time. In addition, it is also better for newer shooters to help build confidence.
The 25-06 with the bigger grain weight bullet recoils the hardest of the two.
22-250 VS 25-06 Ballistics Chart
What follows below is a small ballistics chart comparing the two different cartridges to each other. For more in depth info and ballistics, make sure you visit the pages on our website that we've got dedicated to each. You can find the 22-250 page here, and the 25-06 page here.
| CALIBER | MUZZLE VELOCITY | MUZZLE ENERGY | 100 YD VELOCITY | 100 YD ENERGY | 200 YD DROP |
| --- | --- | --- | --- | --- | --- |
| 22-250 – 50 Grain | 3,810 | 1,611 | 3,339 | 1,238 | -1.6″ |
| 25-06 – 115 Grain | 3,060 | 2,391 | 2,845 | 2,066 | +1.0″ |
Any decent rifle will need a good scope. Check out this one from Bushnell.
22-250 Remington History and Use
The 22-250 Remington is designated primarily as a varmint and small predator cartridge. Animals such as groundhogs, prairie dogs, skunks, bobcats, coyotes, fox, and up to antelope can be safely taken by this rifle cartridge.
White tail deer can be taken at closer ranges with the heavier bullets.
This cartridge began its life as a wildcat based on the 250 Savage that was necked down to .224. In 1965 Remington adopted it, naming it the 22-250, and chambered their Model 700 bolt actions to shoot it.
25-06 Remington History and Use
The 25-06 also started out as a wild cat cartridge that was originally developed back in 1920. It is based on the 30-06 and is necked down to accept a .257 caliber bullet.
The .25-06 was picked up by Remington in 1969. The original rifle for this caliber is the Remington 700, and it is still a popular choice today.
This cartridge is sort of a jack of all trades in that the lighter bullets are capable of taking bigger varmints and predators while the bigger ones can go all the way up to large deer, hogs, and even elk at closer distances under 200 yards.
22-250 Remington VS 25-06 Remington – Which is Better?
If you had to pick just one rifle caliber to fill a variety of needs, the 25-06 is by far a better choice. It is a flat shooting, fast projectile capable of taking any animal from varmint sized up to medium-large game like white tail deer and even elk at closer distances.
If your primary targets are smaller varmints up to coyote sized predators, the 22-250 is the better choice as the quarter bore is overkill at that point. In addition, the 22-250 produces less recoil and is easier to shoot.
Please note that these are average, commercial rounds being tested. Some manufacturers make their ammo hotter with slightly different ballistics.
Check out our full rifle ballistics chart.